Huawei's Long Road to Global Tech Leadership
Can Huawei become a global leader in the tech sector? It's possible, but obstacles remain.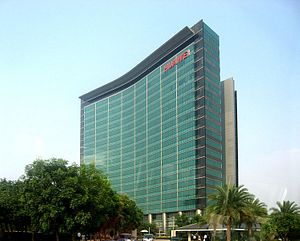 The globalization of the world economy is entering a transformative period of evolution from the traditional mode of the knowledge economy to the age of artificial intelligence (AI) and other digital-based technologies. Accompanying this comes a fundamental shift in what it means to be a leader in the marketplace and in the technology sector in particular.
In this invisible battlefield, China has long been active, with a greater edge than many observers appreciate. As one of the world's largest investors and adopters of digital technologies and home to one-third of the world's so-called unicorn companies, it persists in expanding the scale of innovation and entrepreneurship to aggressively consolidate this global position, according to a discussion paper by the McKinsey Global Institute. Comparatively, it is in mobile payments, for instance, that China becomes a true leader, with 11 times the transaction value of the same technology in the United States. Although the latter still remains dominant in the global landscape of the technology sector as a whole, China's gap with other actors is shrinking.
In addition to other internet companies, Huawei is a formidable company that fuels the country's competitiveness and has recently commanded the most attention from outside. With its exceptional growth over the past few years in the telecommunication sector, Huawei is "the only Chinese company to feature in the annual ranking of the World's Most Valuable Brands 2018 compiled by Forbes." It has also moved up to 48th place on The Most Innovative Companies of 2019 list compiled by the Boston Consulting Group (BCG).
Even though Huawei trails both Apple and Samsung so far, its sustained growth has been widely witnessed, in both content production and management. First and most visibly, technology innovation has driven Huawei to reach its full potential in the cell phone and telecommunications space. Despite perceived national security and privacy concerns from certain recipient countries, its breakthroughs had bred a convincing reputation across the world, accompanied by tremendous stakeholder support. This, in no small part, could be credited to the great amount of investment in fields primarily pertaining to research and development. Huawei's annual report in 2018 unveils that the company invests more than 10 percent of sales revenue in R&D every year, with an input of over 8000 employees in this field, accounting for 45 percent of its total workforce. Owing to a13.2 percent year-to-year soaring rate in R&D spending, Huawei is expected to keep the quality and efficiency on the same or higher level while lowering the unnecessary costs, ending up with a translation into meaningfully greater profitability. As a case in point, by testing in sixty-six countries with over 182 carriers, Huawei has offered to build 5G critical infrastructures worldwide, especially in Europe, for a competitive price, and signed MoUs with wireless providers in at least eight European countries.
R&D spending is undeniably of great significance, but it is not the only factor that matters. As Steve Jobs stated in 1998, "Innovation has nothing to do with how many R&D dollars you have… It's about the people you have, how you're led, and how much you get it."
Indeed, it is the advancement of management and organizational techniques that will also push Huawei forward to become a global technology leader within a foreseeable future. Given its deep market penetration, Huawei has accordingly formulated an end-to-end business continuity management system to cover all aspects of its business. Not only are its core business services like full-stack cloud solutions famous for being quick-responding and widely applied worldwide, but Huawei's innovative ownership structure and governance system provide itself an advantage over its peers and should be learned by domestic state-owned enterprises in particular. Explicitly, Huawei is wholly owned by its employees, which has been the cornerstone of continuous growth over the past three decades. Thanks to this Employee Shareholding Scheme, it is able to maintain independence and turn into the positive reinforcement that spurs individuals to work efficiently. Besides, the traditional model of top-down management gets evolved as well, enabling shareholding employees to feel obligated to oversee the company's operational compliance.
However, speaking on the side of weakness, Huawei still needs a lot of work to do to catch up with western bellwethers. For instance, with the further expansion of Huawei's business abroad, the deficiency of international management talent is getting more problematic. Roadblocks to investment in the European Union and political issues are two typical cases. In order to cope with the global market environment and political volatility, it is urgent for the company to assemble and institutionalize a team with multiple specialized backgrounds to assist the company to accelerate its internationalization process, including professional talents in international law, intellectual property, foreign relations, strategy consultancy, negotiation, and so on.
As cutting-edge technologies are ushering in a Fourth Industrial Revolution, the global telecommunication equipment industry has seen a shift toward China, bringing trending investment opportunities to the industry. Meanwhile, digital transformation tends to break down barriers, and synergy across industries will soon become the new normal. While Huawei is ahead of the curve in the field, threats are running parallel to the opportunities as well. Potential risks highlighting homogenization among products, market access barriers, trade discrimination, and technical standards might largely hamper the implementation of its international strategy and global reach.
The seemingly unbridgeable gulf between the life chances of a small mi­nority of the world population and the vast majority keeps widening. In the book Chaos and Governance in the Modern World System, Giovanni Arrighi proposed, "In order to provide a viable and sustainable solution to this problem, the 'tracklaying vehicles' of East Asia must open up a new path of development for themselves and for the world that departs radically from the one that is now at a dead end."
To hold it fast is to develop a new organization with the significance of paradigm shift on the original basis first. And Huawei has a great chance to be such a "tracklaying vehicle" in the technology sector someday in the future, despite the fact that it still has a long way to go.