Is Avengers: Endgame a Masala Movie?
A formula made up of mixed genres that is sometimes viewed by outsiders as awkward in Indian movies works fine for Marvel.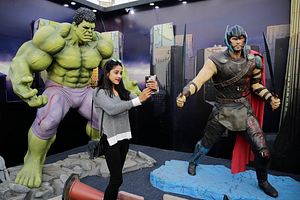 No, this is not a review of Avengers: Endgame. And no, there won't be any spoilers – unless I spoil somebody's day by challenging their views. I will not really focus on Endgame alone, anyway.
What does Marvel's latest hit have to do with India? A stereotypical Indian movie — and I stress "stereotypical" — is three hours long, with its plot interspersed with songs and dance sequences. The genres of romance, family, action, comedy, and drama mingle on the screen with each other. Perhaps one of the best symbols of such a perfect mix was Main Hoo Na (2004). There, the hero finds his lost brother, his antagonist, and the love of his life all during the same mission, while living a double life as a military officer and a student – and by performing heroic, comic, and romantic deeds one after another. Some in the West (and actually in India as well) find the formula ridiculous.
This type of work is often called a masala movie. In Hindi, masala stands for any kind of mixture, often in the sense of a combination of spices. A masala movie, therefore, is not just one coherent genre; it is a mix of genres and moods, somewhat similar to how some classical Indian arts contain various aesthetic tastes. There must be comedy but also drama; there necessarily must be love but there also should be some action.
What formula has Marvel used? It has relieved its films of stiffness and offered them as packages of different emotions. The epic mood is interwoven with threads of anti-climatic comedy; the fabric of action has the embroidery of love on its edges. Avengers: Endgame is the culmination of this process. The heroes sometimes become their own caricatures, as the film continuously shifts from being serious to joking. As in an Indian movie theater, we are supposed to laugh, tear up, gasp, and be amazed, all during one show.
I am not claiming that Marvel has begun to make Indian-style masala movies. Obviously the story, style, and technology are very different. The moods may be mingled in both cases, but their proportions are not similar. Unlike what we would find in a stereotypical Bollywood film, action is prominent in Marvel's cinematic universe, while love and family are only additions (although family matters greatly in the particular case of Endgame). The Black Panther did not amuse us with a dance sequence. Spiderman did not turn out to be Iron Man's long-lost son. Black Widow and Hulk did not push for a love marriage through their families despite coming from different communities.
And yet the similarity I claim is in the combination of moods. If the antics of caricature-like personae can fit in the epic canvass of a war for the future of the universe, then I do not see the point of laughing at Indian movies for churning their own mix. If the overdrawn Thor of Endgame does not cross the limits of awkwardness, then including a scene in which the hero chases after a SUV in a bicycle rickshaw (as in Main Hoon Na) does not either.
The resemblance may be accidental. Marvel films have very particular origins: They are, after all, the silver screen versions of popular comics (which have been a large part of an American pop culture, unlike in India). But the obvious similarity is the targeting of a wider audience. Marvel started with a comic book fanbase, but wants to reach a much wider audience, as well as sate the tastes of both the younger and older audiences (hence the lack of sex scenes and somewhat toned-down violence). In India, the cinema halls are often frequented by full families, so the country's filmmakers must follow similar considerations. Moreover, Indian film producers hedge their bets by often offering works that would attract people of various backgrounds. In a nutshell – both Marvel films and masala movies are attempts at a catch-all film. And, by the way, Avengers: Endgame is three hours long (like a stereotypical Bollywood work, sans the dances) and already scored the biggest opening in Indian theaters of all Western movies so far.  
This, of course, does not mean that one must like masala movies or cannot criticize them for a number of aspects – or that one cannot dislike Marvel and masala movies for the same reasons. My point, however, is that anyone who finds Marvel's formula a good strategy should not single out Indian movies for using their own unique mixture of moods, as they have done for decades before Marvel.