PNG's Prime Minister Delays No-Confidence Vote by Adjourning Parliament
A vote of no confidence against O'Neill was slated to take place on May 16, but parliament has been adjourned until May 28.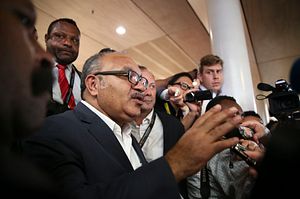 A vote of no confidence was slated to take place on May 16 to remove Papua New Guinea's Prime Minister Peter O'Neill from office. O'Neill had rejected calls by members of his ruling People's National Congress (PNC) party to resign earlier this month.
The latest developments in Papua New Guinea began when Finance Minister James Marape resigned on April 11 and quit the PNC on April 29. His resignation triggered mass defections from O'Neill's ruling coalition in the following weeks, culminating in the opposition's plans for tabling a no-confidence vote on May 16. The vote must nominate an alternative prime minister, who will assume office if the vote is passed by a simple parliamentary majority. On May 6, a day before parliament was scheduled to resume sitting, the opposition coalition – who declared themselves the "alternative government" – announced Marape as their prime ministerial candidate.
O'Neill, a seasoned political strategist, disrupted the opposition's plans by obtaining a parliamentary adjournment on May 7. The constitutional grace period that prevents the tabling of no-confidence votes in parliament expired earlier in February this year. However, following the adjournment, opposition members of parliament (MPs) can now only table a no-confidence motion once parliament resumes operations on May 28.
The recent defections to the opposition coalition were triggered over a $13 billion liquefied natural gas expansion project with France's Total S.A. and U.S. company ExxonMobil. Marape reportedly resigned due to the lack of consultation by O'Neill over the agreement, which was signed in early April. The agreement included tax provisions and other economic benefits that are perceived to favor the foreign companies and not benefit local communities enough. However, the planned no-confidence vote was driven largely by underlying frustrations with O'Neill's administration over poor economic governance and unequal wealth distribution. Opposition parliamentarians had already been planning to remove O'Neill since last year; 22 opposition members of parliament signed a memorandum of understanding in November 2018, in collective agreement to vote against O'Neill after the end of the grace period.
O'Neill is no stranger to such leadership challenges. He faced and defeated a no-confidence vote in his previous term, and even managed to gain re-election in 2017 amidst allegations of corruption and poor economic governance. O'Neill has once again proven adept in an increasingly unstable political milieu, defeating a vote to remove the parliamentary speaker and obtaining the adjournment on May 7.
The continued support of the parliamentary speaker, Job Pomat, appears to be key in ensuring the continuity of O'Neill's prime ministerial tenure. An opposition speaker would be able to suspend standing orders and bring about a vote of no-confidence against O'Neill. The targeted removal of Pomat – who is a member of the ruling PNC party – suggests that the opposition had failed to persuade Pomat to defect, and is evidence of his importance. The speaker wields significant influence in parliament, and is able to engage in partisan practices as parliamentary proceedings are non-justiciable; this means that they cannot themselves be a cause of litigation.
O'Neill overcame the opposition's motion to remove the speaker of Parliament with 59 votes to 50, and obtained the adjournment with a similar margin. His success on both fronts is evidence of his political capital, and is especially telling given the opposition's confidence prior to the parliamentary sitting on May 7; the opposition coalition had declared the day before that they held the support of the majority of parliamentarians. However, the slim margin suggests that support for the prime minister has sharply declined since his first term; he defeated a no-confidence in July 2016 by a vote of 85 to 21, even after weeks of high-profile student protests and strikes by members of the aviation, maritime and public transportation sectors.
No-confidence votes are the norm in Papua New Guinea's political system, and the latest developments only serve to highlight the fluid and unstable nature of the political milieu. Politics is generally dominated by personality and patronage allegiances, with shifting allegiances creating a fluid and relatively unstable system. A high proportion of candidates run as independents and then proceed to join a party, resulting in low levels of party loyalty. There are also no restrictions on the movement of members of parliament once they have been elected, and members often change parties more than once over the course of their five-year terms. Attempts in recent years to lengthen the grace period for the prevention of no-confidence votes in an effort to ensure political stability have all been unsuccessful.
Parliament will resume sitting at the end of this month, leaving O'Neill with just two weeks of horse-trading to save his job. Failure to defeat a no-confidence vote would spell personal disaster for O'Neill, and leave him vulnerable to corruption charges brought by the new administration. He notoriously sacked senior government officials and defunded the corruption taskforce that called for his arrest in 2014.
The replacement of O'Neill also has wider geopolitical consequences; the next federal Australian government may seek the opportunity to counter the growing Chinese influence in the Pacific Islands, starting with Papua New Guinea. China has been steadily increasing investment into the region and, since 2006, has sent at least $632 million in aid to Papua New Guinea alone. The change in personal circumstances is likely to provide adequate motivation for O'Neill, but it remains to be seen if his political finesse is sufficient to reverse the opposition's momentum and grant him a chance at finishing out his second term in office.
Sebastian Liu, based in Singapore, is a Global Threat Analyst for Asia Pacific with Healix International Risk Management Services, a global risk management group headquartered in the United Kingdom.