Sri Lanka: A New Pattern of Transnational Terror
The recent attacks are part of Islamic State's global expansion through local 'franchises.'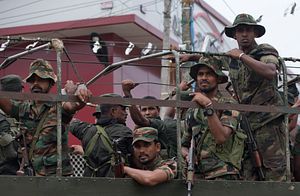 On Easter Sunday morning, April 21, the world witnessed one of the century's biggest terror attacks. The multiple suicide bombs that ripped through three churches and three luxury hotels in Sri Lanka ended the lives of at least 259 people. As the massive death toll indicates, the attack was not an ordinary one by any measure.
The Islamic State (IS) or Daesh claimed the coordinated bombings two days later through three separate communications – including a Bay'ah (oath of allegiance) video message – on its official channel, Amaq.
Even by the Islamic State's notorious standards, the Sri Lanka bombings are big, both in terms of body count and magnitude. In fact, it is among the deadliest terror attacks in the world since 9/11, and the second deadliest assault on civilians claimed by IS. Only two other IS-claimed attacks in the recent past – the coordinated bombings in central Baghdad's Karada suburb in 2016 that killed around 340 people and the multiple suicide bombings in the Syrian city of Sweida two years later that killed more than 250 – come close to the Easter Sunday tragedy.
Churches and Christians are much-favored targets for IS. In January this year, it claimed a double suicide bombing in a cathedral in the southern Philippines' Jolo island that killed at least 20 people. In November last year, IS claimed a bus attack on Coptic Christians outside Cairo in Egypt, slaughtering at least seven. In April 2017, the group claimed a bombing on a Coptic church in Egypt's Alexandria, killing at least 40.
Westerners or those belonging to the "U.S.-led coalition" in IS parlance — who seem to have been the primary target for the hotel bombers in Colombo — are also a common target. In Bangladesh, for instance, IS-linked militants targeted Westerners from 2015 to mid-2016, including during the July 2016 Holey Artisan Bakery attack in Dhaka. Other places — Algeria, Tunisia, France, Egypt, Denmark, and California in the United States — have seen similar attacks.
The names of two other local, lesser-known organizations — the National Thowheeth Jama'ath (NTJ) and the Jammiyathul Millathu Ibrahim (JMI) — have surfaced in the Sri Lanka investigations. Zahran Hashim — identified in some reports as Mohammed Zaharan, Moulvi Zaharan Hashim, or Zaharan Hashmi — has been identified as the bombing's mastermind. He was the lone unmasked figure visible in the Islamic State's video to claim responsibility.
Hashim is a Sri Lanka-based, extremist preacher who founded the NTJ and is known for his insidious, hate-filled sermons, which were relayed on his now-removed YouTube channel. Hashim was reportedly under the Indian intelligence's watch since last year for his alleged role in recruiting for IS.
New Template of Terror?
Around the same time as the Sri Lanka bombings, three other incidents took place that missed media scrutiny.
On April 18, IS claimed an attack in the Democratic Republic of Congo (DRC) and announced the launch of the "Central Africa Province" of the "Caliphate." On April 20, Islamic State's regional arm in Afghanistan attacked the Ministry of Communications building in Kabul, killing at least a dozen. On April 22, IS claimed a foiled attack on a police station in Saudi Arabia's central Riyadh province.
All three attacks reveal a certain pattern of transnational jihad that IS has been perfecting for the past five years now. The Easter Sunday bombings too should be seen in this evolving context.
Ever since a 79-member coalition began pounding IS in its core territory in Syria and Iraq in mid-2014, the Salafi jihadist group started seeking new means of survival. A key part of this was to build extraterritorial alliances and create foreign franchises, a transnational expansion strategy first tried by al-Qaeda.
In September 2016, IS leader Abu Bakr al-Baghdadi told foreign fighters not to come to the fast-shrinking caliphate and instead move to one of the organization's extraterritorial branches. Now that both Mosul and Raqqa — the two power centers of IS — have fallen, extraterritorial expansion becomes doubly imperative.
The alliance-building began to show results as early as in 2014, when the Philippines-based Maute group, which was behind the infamous 2017 siege of Marawi, pledged fealty to al-Baghdadi. This was followed by other local groups in West Asia, West Africa, Southeast Asia, and Afghanistan pledging allegiance to IS.
The symbiotic relationship here is obvious: For smaller local groups looking for more traction, aligning with or fighting for a well-known organization like IS brings the perks of working under a global jihadist umbrella and consequently, improves their chances of finding fresh recruits and building new networks of mobilization. For IS, this means continuity and global clout.
"The group's global reach remains robust, with eight official branches and more than two dozen networks regularly conducting terrorist and insurgent operations across Africa, Asia, Europe, and the Middle East," notes the U.S. National Strategy for Counterterrorism, released in October 2018.
It is possible that the NTJ and JMI in Sri Lanka allied with IS to carry out the Easter bombings. Yet some grey areas remain. For instance, no new group pledged fealty to the "Caliphate" before the attacks, unlike in most other franchise attack cases. So, it is also possible that breakaway factions of these groups, constituted by IS returnees from Syria or Iraq, carried out the attacks. The returnee link has already emerged, revealing yet another common pattern from earlier attacks.
Regional References
Closer to home, IS managed to spur a distinct franchise in Bangladesh around mid-2015 by the name Dawlatul Islam Bengal (DIB) — a merger between a breakaway faction of the already-existing Jama'atul Mujahideen Bangladesh (JMB) and the newly-established Jund at-Tawhid wal-Khilafah (JTK).
This shadowy entity, under the organizational leadership of Japanese-Bangladeshi jihadist mobilizer Sajit Debnath, aka Muhammad Saifullah Ozaki, and a Canadian-Bangladeshi IS returnee, Tamim Chowdhary, is said to have masterminded the July 2016 attack on the Holey Artisan Bakery in Dhaka's high-profile Gulshan neighborhood. Among the gunmen were a graduate of a leading private university in Bangladesh, a foreign graduate, and the son of a ruling party official.
Uncannily, at least three of the nine Sri Lankan bombers – identified as 33-year old Inshaf Ahamed Ibrahim; his younger brother, 31-year old Ilham; and a third by the name of Abdul Lathief Jameel Mohamed – seem to have similar family and educational backgrounds. While the Ibrahim brothers are sons of local millionaire spice trader Mohammed Yusuf Ibrahim, Abdul was a student in the United Kingdom and then in Australia.
This elite recruit pool strongly indicates the patterned emergence of a new IS-sponsored network, much like Bangladesh's, in Sri Lanka that relies on upper class, well-educated radicalized youth.
Another particularly disturbing commonality of the Sri Lankan case and similar IS-linked outgrowths in the region is the involvement of an entire family in the radical ecosystem. According to fresh reports, on April 25, Abdul's wife blew herself up along with her two children during a police raid at their house. This has uncanny resemblance to two recent IS-linked cases in Indonesia and Bangladesh.
In March this year, the wife of an IS-affiliated terror suspect in Indonesia blew herself up alongside her child during a police siege at their home. In December 2016, five months after the IS-claimed Dhaka Holey Artisan Bakery attack, a woman and her teenage boy blew themselves up during a police raid on a suspect's house.
Notwithstanding these, the Sri Lankan case is somewhat different. Unlike Bangladesh, the island nation neither has a history of Islamist militancy, nor did it have longstanding groups like the JMB to provide a functional pre-existing network. The NTJ, in itself, was quite basic in its strike and recruitment capacities, territorial influence, and choice of targets.
It is, however, possible that Hashim played the same galvanizing role as Ozaki in fostering an entirely new cell, drawing recruits and liaising with the IS core group for operational planning.
In Pakistan, further, IS has managed to find common ground with existing local groups like the Tehrik-i-Taliban Pakistan (TTP), Lashkar-e-Jhangvi (LeJ) Al Alami, and Jamaat-ul-Ahrar (JuA) to create a new "Caliphate" franchise under the larger Islamic State Khorasan Province (IS-KP) banner, and stage at least four major attacks in Balochistan.
Interestingly, the LeJ al-Alami only claims to maintain a "working relationship" with IS-KP. Could the NTJ have played a similar allied role in the Sri Lanka bombings?
Looking at the prima facie signs, what we might have here is an IS regional branch spurring another extraregional arm for a particularly dramatic attack. One may refer to this as a new variant of the existing "subcontractual" jihad IS model. One identifiable feature of this may be the staging of a violent act that doesn't fit with the local political-religious context. In Sri Lanka, for instance, one minority religious group targeting another so forcefully departs from the dominant sociopolitical faultlines.
Thus, the Sri Lanka bombings herald the emergence of a mutated form of transnational jihad that is certainly willing to adapt to local contexts, but is also capable of creating new communal and sectarian fissures. Fair to say for now that this is an evolving model that warrants further scrutiny and subsequently, dynamic policy responses.
Angshuman Choudhury is a Senior Researcher at the Southeast Asia Research Programme, Institute of Peace and Conflict Studies.
Sarral Sharma is a Senior Researcher at the Centre for Internal and Regional Security, Institute of Peace and Conflict Studies.