Why Did the Islamic State Target Sri Lanka?
Was the attack on Sri Lanka an example of the Islamic State's opportunism?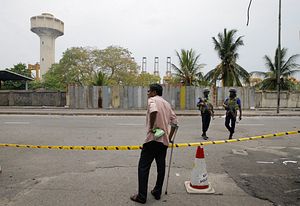 Why did the Islamic State terror group choose Sri Lanka, and a persecuted minority in it, as the target for one of its deadliest attacks ever? This question puzzles many, given that this tiny island nation has largely been non-aligned in its foreign policy and is nowhere on the global radar of the fight against terror. What's more, Christians here have had cordial relations with the local Muslim community, which, along with the Christian minority, has been under attack by fringe Buddhist extremist groups.
This question, being raised by security analysts and experts, is perhaps presumptuous, and therefore not particularly helpful in making sense of what really happened. We should perhaps first ask, did the Islamic State, or ISIS, really look at the world map and say "we need to attack Sri Lanka?"
The Sri Lankan government has blamed the attacks on a local radicalized group, called National Thowheed Jamath (NTJ), a splintered faction of the hard-line Islamist organisation Sri Lanka Thowheed Jamath. On April 21, NTJ's nine suicide bombers, including a woman, struck two Catholic churches in and around Colombo and an evangelical church in the eastern city of Batticaloa as well as three Colombo hotels frequented by Western tourists, killing at least 257 people, mostly Christian worshipers, and injuring around 500 more.
Of course, the sophistication involved in the attacks points to external involvement, and the government has said that the NTJ had ties with ISIS, whose leader Abu Bakr al-Baghdadi has also claimed in a video message that the attacks were to avenge the recent defeat of his fighters in the eastern city of Baghouz in Syria, the outfit's last known hideout in the Levant region.
At least one of the bombers, identified as Jameel Mohammed Abdul Latheef, went to ISIS recruiters in Syria in 2014, according to the Wall Street Journal. Perhaps Latheef reached out to the group not too long after it proclaimed itself to be a worldwide caliphate with al-Baghdadi as the caliph. At the time, its commanders and fighters were releasing videos of hostages in orange jumpsuits being beheaded. The messaging through such images was meant to attract Muslim youth for recruitment and training. ISIS reportedly trained hundreds of foreigners in Iraq and Syria when they still had a territory to rule.
However, having been driven out of Iraq and Syria four years later, thanks to a military intervention by a U.S.-led international coalition, ISIS lost its ability to carry out direct attacks. So it began using home-grown killers to carry out not-so-sophisticated attacks, such as in Europe. It also continued using encrypted messaging platforms and other online communication methods, including social media, to promote its anti-West/anti-Christian narrative and to urge its supporters around the world to launch attacks on suggested targets, irrespective of local communal dynamics in the attacker's home country.
Therefore, a better question to ask at this stage is, why were some Sri Lankan Muslims attracted to ISIS?
This would lead us to the NTJ's formation in 2016, when the planning for the attacks and the establishment of sleeper cells and other preparations must have begun. The bombers reportedly used a 43,500-square-foot walled terror training camp in the eastern town of Kattankudy, near the home of the prime suspect, identified as Zahran Hashim.
The terms "Thowheed" and "Kattankudy" should ring a bell with any Sri Lanka watcher.
In the 1980s, Salafist Islam, a version of which many believe supports violent extremism, began to spread in Sri Lanka in Kattankudy. An ultra-orthodox Salafi group is often referred to as a "Thowheed," meaning monotheism and also written as "Tawhid." Its followers in Sri Lanka initially had intra-faith tensions, including with Sufis, whom they called apostates. The worst episode of persecution of Sufis came when the property of their organization, Thareekathul Mufliheen, was vandalized and houses of more than 100 Sufis were burned down in December 2006. Possessing arms was easier during the time due to the then-ongoing civil war in the east and the north.
Preoccupied with the threat from the separatist Tamil Tigers, who had officially pulled out of peace talks indefinitely a few months earlier, Mahinda Rajapaksa, then the president of Sri Lanka, apparently saw the growth of Salafism as an unimportant matter.
Rajapaksa's government also overlooked the potential long-term threat from an existing sense of alienation among Muslims, who had been under attack in the east and the north by the Tamil Tigers. Whether the tensions between Muslims and the Tamil Tigers were organic or organized by some previous governments remains debatable.
The International Crisis Group noted in a report in May 2017 that "[s]ecurity forces were implicated in several violent confrontations between Muslims and Tamils. One of the worst was an attack on the (Tamil) village of Karaitivu in April 1985, when Muslim youths, apparently with the support of the security forces, went on a rampage, killing several people and burning hundreds of houses. Thereafter, violent incidents became relatively common between Tamil militants and Muslims. Some Muslims were armed by the government for their own protection but they were also involved in vigilante action against neighboring Tamils, provoking more reprisals."
After the Sri Lankan government defeated the Tamil Tigers militarily in 2009, at the cost of tens of thousands of lives, according to human rights groups, tensions between Muslims and sections of Buddhists emerged.
In 2012, a Buddhist extremist group, Bodu Bala Sena (Buddhist Power Force or BBS), was created allegedly with the support of some influential politicians, apparently to promote Buddhist nationalism among the majority Singhalese community. It could be seen as an attempt to portray the government's victory over the largely Hindu Tamil Tigers as a reason for national pride and thereby absolve those responsible for the killing of civilians. Several attacks against mosques and anti-Muslim campaigns as well as attacks on churches and Christians have been attributed to the BBS since then. At least in the initial years after the end of the war, Sri Lanka looked like an "ethnocracy" with the dominion of Sinhalese Buddhists, which further deepened the sense of alienation among Muslims.
While ISIS claimed responsibility for the Easter bombings – as the bombers on their own declared allegiance to the embattled terror group – Sri Lanka's "targeting" was most likely accidental or opportunistic from the point of view of ISIS, as parts of the island nation had become a fertile ground for indoctrination. And that gives a stronger reason for the world to condemn the successive governments of Sri Lanka for allowing that to happen – and not just for ignoring warnings about the suicide bombings issued by foreign intelligence agencies prior to Easter Sunday.