Understanding Indonesians' Souring Sentiment Toward China
Longstanding anti-Chinese prejudices, coupled with foreign policy fears, are bringing down China's image among Indonesians.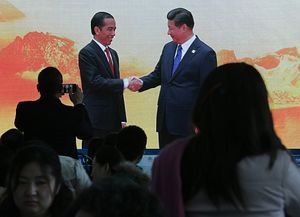 On April 26, Luhut Binsar Pandjaitan, the Indonesian coordinating minister of maritime affairs, signed 23 memoranda of understanding (MoUs) with China, for a total investment of $14.2 billion. Economists believe that this collaboration is only the beginning of a flow of funds from China that will enter Indonesia in the near future.
That's no surprise. While China has been actively realizing its Belt and Road Initiative (BRI), Indonesia has been spending massively on building its infrastructure. Although the Indonesian government is currently the major source of that spending, the huge burden not only undermines the health of the state budget, but is also expected to slow the pace of macroeconomic improvements. For this reason, the government has been interested to take part in the implementation of China's BRI, which help to fund a variety of mega development projects.
However, the government cannot breathe easy just yet. China's entry into Indonesia is not without obstacles – particularly, the strong resistance from the public toward China. According to one of the Pew Research Center's latest reports, Indonesians' view of China is increasingly negative. In 2018, 53 percent of respondents viewed China in a positive light, down from 66 percent in 2014.
Anti-China Sentiment in Indonesia
For a long time, there has been a deep undercurrent of antipathy toward Indonesians of Chinese descent, which has occasionally peaked into acts of violence. Most famous are two incidents of discrimination and violence targeting ethnic Chinese Indonesians. The first was the massacre of 30,000 ethnic Chinese in West Kalimantan Province in 1967; the second the 1998 riots. At that time, ethnic Chinese were victims of violence, looting, and discrimination.
According to Amy Freedman, adjunct associate research scholar at the Weatherhead East Asian Institute, Suharto's divisive ethnic policies intensified bias toward ethnic Chinese. In a study entitled "Political Institutions and Ethnic Chinese Identity in Indonesia," Freedman wrote that Suharto forced ethnic Chinese people to assimilate while identifying them as non-indigenous. The state was active in igniting hatred toward ethnic Chinese for their distinct racial identity.
But decades after Suharto's downfall, the continued prevalence of anti-Chinese sentiments in Indonesia stems from the way a number of groups and individuals use racial tensions in order to maximize their political or economic interests. In other words, anti-Chinese sentiment is not only caused by a still fragile sociopolitical and legal order, but also fanned by elites who created the politics of discrimination and segregation for their own interests.
Elites, to some extent, help spread the idea that Chinese people in Indonesia are forever immigrants; thus they often become scapegoats for a number of social problems. And the media increasingly fosters that prejudice without any reconciliation efforts.
Anti-Chinese bias, for example, has accompanied President Jokowi's political journey since he was the governor of Jakarta. He was the target of a rumor campaign that alleged Jokowi had a Chinese grandfather. The alleged case of blasphemy against then-Jakarta Governor Basuki "Ahok" Tjahaja Purnama – a Jokowi ally — stirred up anti-Chinese sentiments yet again.
Criticism Toward Chinese Investments
The pre-existing anti-Chinese sentiment in Indonesia is also being heightened by widespread criticisms of Chinese investments.
Investment financing for the BRI employs a preferential buyer's credit (PBC). The funding terms do seem generous; however, such loans require not only that at least 70 percent of project materials must be purchased from China, but also that Chinese workers be allowed to work on projects.
That's why Indonesian has seen a rapid increase of around 21 percent of China's workforce in the country, which climbed from 17,515 people in 2015 to 21,271 people in 2016. The surge in workers was accompanied by a rise in the number of Chinese projects — 1,052 in 2015, then climbing up to 1,734 projects in 2016, as detailed by the Investment Coordinating Board. Clearly, the more Chinese investments there are in Indonesia, the greater the number of Chinese workers — legal or otherwise.
This influx of Chinese workers may increase negative sentiments toward China, because Indonesia's unemployment rate is high (at 5.33 percent as of February 2017).
The anti-China sentiment is also exacerbated by the widespread criticism, both domestically and abroad, that China is engaging in "debt trap diplomacy" by extending excessive credit with the alleged intention of extracting economic or political concessions from the debtor country. There is a growing worry among Indonesians that the implementation of the BRI will leave Indonesia unable to pay back Chinese debts.
Despite these concerns, current trends indicate that Chinese investment in Indonesia will not slow down. On the contrary, it is likely to increase, especially as Jakarta continues to plan massive infrastructure projects.
At the same time, however, the negative sentiment toward China may also increase if there is no effort from both Jakarta and Beijing to address the issue.
Dikanaya Tarahita is an independent journalist on Indonesian socioeconomic affairs and holds a Master's from the University of Manchester in the U.K.
Dr. Muhammad Zulfikar Rakhmat is a lecturer at Universitas Islam Indonesia and a research associate at Jakarta-based Institute for Development of Economics and Finance (INDEF)