Armored Fighting Vehicle Delivery Highlights Ukraine-Thailand Security Cooperation
The development spotlighted some of the ongoing security collaboration between the two countries in spite of ongoing challenges in this realm.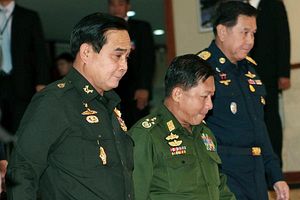 Late last month, a Ukrainian firm announced an additional step taken on a partnership with respect to armored fighting vehicles with Thailand. The development put the focus on the defense aspect of ties between the two countries in spite of the challenges evident in recent years.
As I noted before in these pages, while Thailand has been relying on a series of partners for its defense needs, one of the relative newcomers in this regard has been Ukraine. Despite the fact that there have been some challenges with individual deals, including delays, both sides have been discussing other potential areas for collaboration, including efforts that would facilitate more joint production and technology transfer for Thai enterprises.
One of the aspects of this collaboration has been armored fighting vehicles. For instance, the Royal Thai Army had previously ordered BTR-3s, originally manufactured by Ukraine's Kharkov Morozov Design Bureau (KMDB), and an agreement had been in place covering various aspects of this as well between the two countries.
Late last month, this aspect of the defense relationship between the two sides was in the headlines again with a newly announced partnership with Thailand. Ukrainian defense industry group UkrOboronProm announced that it had a partnership with Thailand by which the Southeast Asian country would build a new version of the BTR-3 8X8 armored fighting vehicle (AFV).
Per a statement on the firm's website released on July 25, the director general Pavlo Bukin said that the firm had sent the "first machine kit" of the BTR-3KSH that will be produced locally. While Bukin acknowledged that that the production of the BTR-3KSH was linked to a previous agreement inked between the two countries covering various aspects including production, modification, and some additional services, he also noted the significance of the development as being "a marker" of deepening cooperation with Thailand, which was labeled as a strategic partner in Southeast Asia. He also noted the broader importance of Thailand in helping drive mass production of the vehicles to advance innovation and realize Ukraine's national interests.
Thus far, further details, including the number of vehicles being produced or the specifics on the provisions in place for both sides, which is being facilitated by the Defense Technology Institute (DTI) under the Thai defense ministry, remain unclear. Nonetheless, given the significance that has been attributed to it, this aspect of the defense relationship between the two sides will be important to monitor in the months to come.