Commissioning Ceremony Highlights Philippine Maritime Capabilities
The event put into focus some of the developments in the Southeast Asian state's arsenal.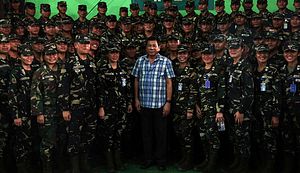 Last week, the Philippine military held another activation ceremony to commission new equipment into its arsenal. The development highlighted some of the ongoing activity within the Southeast Asian state's efforts to upgrade its military capabilities.
The Philippines has invested more in its military in recent years to make up for previous periods of anemic and at times astrategic investment, including through advancing a phased Armed Forces Modernization Act out to the future. That process has continued on under President Rodrigo Duterte, despite some changes therein due to various factors including administration priorities and the range of internal and external challenges that the Southeast Asian state faces.
Last week, the maritime aspect of Philippine military capabilities was in the spotlight again with an activation ceremony. The ceremony, held in Manila on September 23, saw the formal commissioning of new defense equipment into various services of the Armed Forces of the Philippines (AFP).
Per the Philippine News Agency (PNA), specifically, the ceremony saw the commissioning of four armored amphibious vehicles (AAVs) into the Philippine Marine Corps and three multipurpose attack craft (MPACs) into the Philippine Navy.
The development itself came as no surprise. Both batches of equipment are part of ongoing line items for the AFP. The AAVs were part of a contract for eight vehicles signed back in 2016 with a South Korean defense manufacturer, with the first four of them commissioned in June at the PN's founding anniversary. The MPACs follow three previous ones that had originally been added to the PN in 2017.
Yet they are not without significance. The AAVs are part of the wider Assault Amphibian Company within the Philippine Marine Corps, and the amphibious landing vehicles afford them armored protection, surface mobility for amphibious and mechanized operations, and the ability to mount coastal defense. The MPACs, subsequently equipped with Spike-ER surface-to-surface missiles, had given the PN its first capabilities of this kind in what was termed a historic development.
Speaking at the ceremony at PN headquarters, Philippine Defense Secretary Delfin Lorenzana noted that these constitute boosts for the Philippine military's capabilities and illustrate the government's continued investment in assets to respond to threats to the country. And in separate remarks, PN chief Robert Empedrad also highlighted additional developments Philippine military capabilities, which included the acquisition of at least 16 more AAVs and the equipping of the new MPACs with Spike-ER surface-to-surface missiles, following what had occurred with three other earlier commissioned craft.