Aaron Connelly on the Rohingya Crisis
The current implications and future prospects of the world's highest-profile and fastest growing humanitarian crisis.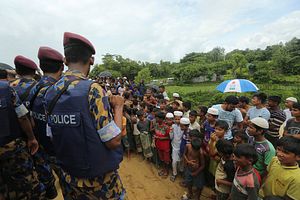 In 2017, a military-led crackdown in response to an attack by Muslim militants on police posts drove the flight of hundreds of thousands of Rohingya from Myanmar's northwest Rakhine State to Bangladesh. The developments precipitated what has often been referred to as one of the world's highest-profile and fastest growing humanitarian crises, the consequences of which continue to be felt in the region. To explore the current implications and future prospects of the ongoing Rohingya crisis, The Diplomat's Prashanth Parameswaran recently spoke to Aaron Connelly, a research fellow at the International Institute for Strategic Studies.
You've written and spoken extensively on the significant implications of the Rohingya crisis, not just for Myanmar or for Southeast Asia, but potentially for the wider Asia-Pacific and the international community. To start with, how would you frame the implications of the Rohingya crisis in this sense, both actual as well as potential? 
There are four broad implications. The first is humanitarian in nature; the ongoing humanitarian needs of nearly 1 million Rohingya in Bangladesh and around half a million in Rakhine State remain largely unmet. Humanitarian conditions continue to worsen in Rakhine State, from which Rohingya continue to flee, and plans of the government of Bangladesh threaten to make things much worse there as well.
Second, a decision must be made regarding where the displaced populations should go next, when, and under what circumstances. The default option is to leave Rohingya in the camps around Cox's Bazar, but the Bangladeshi government refuses to consider this possibility, and since August has undertaken efforts to make life more difficult for the Rohingya in an attempt to make that option unpalatable.
Third, the international community must navigate a path to accountability for the alleged crimes against humanity that led to the exodus, despite opposition from three of the five permanent members of the UN Security Council.
And finally, the longer these challenges fester, the greater the likelihood that poor treatment will lead to a more violent response from Rohingya populations.