At the UN and at Home, Tokayev Represents Continuity
Tokayev spoke at the UN of the need for a "profound political transformation" in Kazakhstan. But to date, his leadership has represented continuity.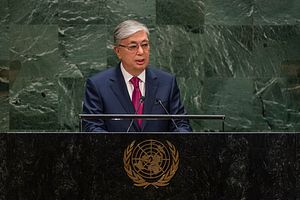 Last week, Kazakhstan sent its first new president since independence, Kassym-Jomart Tokayev, to the UN General Assembly (UNGA) in New York. Tokayev, the only Central Asian president to attend the UNGA this year, spoke in his address of the need for a "profound political transformation" in Kazakhstan, but his leadership in action and words represents continuity with President Nursultan Nazarbayev's approach to foreign and domestic policy.
After three decades in charge of Kazakhstan, Nazarbayev resigned from the presidency in March, stating he would facilitate a transition to "a new generation of leaders who will continue the reforms that are underway in the country." Although no longer the head of state, Nazarbayev has no intention of receding into irrelevance. In his resignation announcement he further said that as lifetime chairman of the security council he will retain, "major powers to determine the country's external and domestic policies."
"There is more of an openness from Tokayev, but it is not enough to have one leader dictate what is allowed," Erica Marat, associate professor at the National Defense University's College of International Security Affairs, told The Diplomat. Tokayev's conciliatory language so far, "fits the pattern of Kazakhstan soliciting public opinion, but cherry-picking what to use for the interests of the government."
Like his predecessor, Tokayev presented Kazakhstan to the UNGA as a responsible leader in international affairs on global concerns of arms control, peacemaking, and sustainable development. At home, Tokayev declared intentions to improve protections for human rights and make politics more inclusive. However, tangible reform remains elusive as the swell of public demonstrations this year has often been met with excessive police responses. Hundreds were detained for protesting the uncompetitive presidential election in June and in May a man was bizarrely detained for holding a blank sign in public.
Kazakhstan emerged as an independent state following the collapse of the Soviet Union, with minimal foreign policy expertise and its economy oriented toward Moscow. Seeking to avoid dependence on Russia, Nazarbayev partially liberalized the economy to attract foreign investment from the United States and Western Europe to develop Kazakhstan's rich energy resources, while keeping political power concentrated within a close-knit elite. In his Kazakhstan 2030 strategy, published in 1997, Nazarbayev institutionalized the use of oil and gas wealth to fund public goods and services. However, it is no longer clear that this strategy is enough to maintain socio-political stability.
Tokayev himself acknowledges that future economic development in Kazakhstan is not possible without a modernization of socio-political life. Toward the end of his UNGA address, Tokayev said he is "committed to building a modern welfare state," and that, "big changes will affect all law enforcement agencies and the courts." These comments echoed his State of the Nation address on September 2 in which he claimed, "We have moved away from excessive repressive measures and harsh punitive justice practices."
To date, changes in political freedoms have not matched Tokayev's promises. In his State of the Nation address, Tokayev said peaceful protests "should be embraced." And yet, on September 21, just days before his UNGA address, dozens were detained at unsanctioned anti-China protests organized by the banned opposition movement, Democratic Choice of Kazakhstan (DVK).
"To achieve major changes in law enforcement and the judiciary the key is to establish oversight mechanisms," Marat told The Diplomat. This cannot be done without working with existing civil society groups like Oyan, Qazaqstan that do not have political ambitions per se, but do have ideas about how government should reform. "Until this is done any changes that may be made will be in favor of the government."
Despite outlining more detailed proposals for economic reform in the State of the Nation, Tokayev is unlikely to significantly alter what scholars Joachim Ahrens, Herman Hoen, and Martin Spechler call Kazakhstan's dual economy, in which the state dominates core sectors to distribute patronage to elites and only allows economic freedom in peripheral sectors for small enterprises.
Tokayev recognizes the suspect international competitiveness of state-owned companies and said in his State of the National address that, "In order to reduce the unjustified presence of the state in the economy, I decided to introduce a moratorium on the creation of quasi-state-owned companies." However, he did not specify what constitutes a quasi-state-owned company and said the state would retain control over strategic sectors.
The Kazakh government may act on Tokayev's stated plans to protect small and medium sized enterprises (SMEs) from corporate raiding, exempt them from income taxes for three years and implement a further three-year ban on state inspections of small businesses. However, according to Marat, small economic handouts will not satisfy the public because they are performative actions, not systemic changes.
Tokayev's introduction to the international community at the UNGA and his routine assertions that domestic reforms must be gradual to maintain stability indicate that he plans to continue with Nazarbayev's policies. Public promises of political transformation are unlikely to be matched by government action. The emergent constellation of civil society groups and their occasional clashes with Kazakh authorities suggest the public desires more rapid and far-reaching reforms.
Ian J. Lynch recently graduated with a Masters in Middle East, Caucasus, and Central Asian Security Studies from the University of St Andrews in Scotland. He previously led the development of girls' education programs in Afghanistan. He tweets at @Ian_J_Lynch.