Can the US Bring Cambodia Back from the Brink?
The road to democratization in Cambodia is paved with obstacles.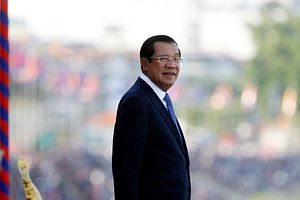 In 1993, the United States believed Cambodia was on the path to democracy. In July of that year, Secretary of State Warren Christopher presented Hun Sen and Prince Norodom Ranariddh at an event at New York's famed Waldorf Astoria Hotel as Cambodia's co-premiers — and as the supposed guarantors of the United Nations' $2 billion investment in the country. 
Secretary Christopher could not have been more wrong. 
American support helped empower Hun Sen, who had in fact lost the 1993 elections, but nonetheless forced his way into power. Hun Sen ousted Ranariddh in 1997 and soon after eliminated the largest rival party. He then took control of the country's security forces. Hun Sen has since consolidated power, targeted political opponents and placed himself at the center of a nationwide web of patronage. 
And although Hun Sen for years maintained his profitable autocracy while balancing the United States and China, he is now leaning almost exclusively on the latter, whose backing has enabled the strongman to more firmly tighten his iron fist, further frustrating U.S. interests in the region.
Hun Sen's Cambodian People's Party (CPP) performed poorly in the 2013 and 2017 elections. So a CPP-controlled court banned the main opposition party in 2018; the CPP then secured 80 percent of the vote in that year's sham elections. Hun Sen's CPP has since "intensified its onslaught on the political opposition, civil society groups, and independent media," per Human Rights Watch.
In the wake of Hun Sen's crackdown, the Trump administration has thrown away the carrots and doubled up on the sticks. Presidents George W. Bush and Barack Obama had maintained functional, although tense, relations with Hun Sen, hoping to utilize Cambodia geopolitically and salvage the international community's investment in the country's democracy. Trump has made no such efforts. Last year, citing "deep concerns" over "setbacks in democracy," the White House cut aid to Cambodia, suspending funding that supported Hun Sen's regime: the military, taxation department, and local authorities. Additionally, a bipartisan team in Congress is pushing to remove Cambodia from a preferential trade scheme for developing countries, and to sanction senior Cambodian government officials for "acts to undermine democracy in Cambodia." (The European Union is likely to end its own preferential trade agreement with Cambodia, a move that analysts believe will "flatten" Cambodia.)
In the meantime, Cambodia has become a Chinese vassal state. Phnom Penh receives steady political support and financial aid from Beijing. In return, the Southeast Asian capital has repeatedly blocked the Association of Southeast Asian Nations (ASEAN) in its efforts to counter China's expansive claims to the South China Sea. Long-running rumors of a potential Chinese military base on Cambodian territory — about which U.S. Vice President Mike Pence has expressed concern — are, to some scholars, indicative of Beijing's plans to secure hegemony over the Mekong Delta. More concretely, Phnom Penh announced on July 29 that it would increase arms purchases from China by $40 million. The Wall Street Journal's July report that Cambodia will allow China to utilize a naval base on its soil should only further raise these concerns.
But ordinary Cambodians despise China's presence in their nation. This is abundantly clear in Sihanoukville, a formerly sleepy beach town, whose residents have been displaced by Chinese development. The city of 300,000 has become a de facto colony of Beijing: Chinese nationals own 90 percent of businesses, including hundreds of hotels and restaurants, and four dozen casinos. The recent deadly collapse of a Chinese-owned building in the city killed nearly 20 Cambodians, only increasing such simmering animosity. Given these extant anti-China attitudes, it is well within the United States' interests to support Cambodian efforts to resist Hun Sen, chiefly as a long-term means to weaken Beijing's grasp over the region, in which the United States retains strong strategic and economic interests. 
The Trump administration's 2018 aid cuts are an effective first step in the effort to counter Hun Sen's crackdown and frustrate the rapprochement between Cambodia and China. But the United States government wisely has two clearly delineated policies: A hardline approach to the Cambodian government, on the one hand, and a soft overture to the country's people, on the other. The United States, by building on the latter, can take additional steps to rebuild the "people power" that Cambodians need to claim their democracy and, given domestic anti-Chinese sentiment, to potentially counter Chinese expansion in Southeast Asia.
Accordingly, the United States should support independent digital Khmer-language media — such as Voice of America Khmer — to compete with Chinese-influenced governmental outlets. Beijing is keenly aware of the importance of the digital sphere and has already sought to introduce Chinese viewpoints to Cambodia's journalists. While the State Department under Trump has demonstrated an unwillingness to assist media elsewhere, the Cambodian situation should prompt a reconsideration from the State Department, especially given country's geostrategic importance, Cambodians' pro-American sentiment, and the country's technological connectedness.
A 2016 survey reports that 85 percent of Cambodians hold a positive view of the American impact in the region. Over 49 percent of the population is 25 or under, and support for the United States is high and particularly acute among Cambodian youth, according to sources in Phnom Penh familiar with recent private polling. The 2017 elections made Cambodian dissatisfaction with Hun Sen abundantly clear. The opposition managed a surprise success, securing about 43 percent of the vote. With almost half the country repudiating Hun Sen in elections ahead of which he'd threatened violence, it is obvious that the Cambodian public, especially the youth, has not resigned itself to eternal life under the CPP.
This generation, in addition to being increasingly open to international influence, has little direct memory of the Vietnam War or the Khmer Rouge regime. "The national psyche," writes former Cambodia Daily editor Tej Parikh, "has evolved from one seeking stability above all toward one seeking increasing freedoms." 
Cambodians are overwhelmingly young, technologically-connected, change-oriented, and both anti-Hun Sen and anti-China. For the United States, or any U.S.-backed outlet, this is an easy audience. In Cambodia, everything American still carries an allure of freedom, meaning that the United States, by publicly rebuking Hun Sen — and by encouraging independent media to do the same — can strengthen domestic yearning for change. And, of course, emboldening ordinary Cambodians serves to weaken China's grasp over the country, ultimately advancing American interests in the region. 
The United States can also boost its own credibility and expose Hun Sen's lack thereof by providing a targeted aid package designed to fill in the gaps left by the CPP's kleptocracy, such as healthcare — especially mental health — and education. 
Psychologists have found that most Cambodian youth live with mental health issues. The problem resurfaced in mid-October when a personal Facebook post proclaiming that Cambodian "society suffers from constant stress and mental health crisis" went viral. While taboo, the issue is becoming increasingly normalized in Cambodia, as Dr. Sotheara Chhim, executive director of TPO Cambodia, told the Phnom Penh Post in 2017. 
This is simply another tangible front on which the United States can highlight Hun Sen's failures and subsequently bolster anti-CPP sentiments. But the problem does not admit a quick solution. Sen, who is only 66 years old, said in March that he will serve at least 10 more years. He later claimed that he would rule beyond that, "until those who want to overthrow the government are all dead." Still, when he inevitably abdicates his position or dies, the CPP seems prepared to attempt to pass power to his son Hun Manet. This transitional moment is when the ruling regime will be weakest, for reasons both inherent to patrimonial successions and unique to Cambodia, and when the country's nascent democratic opposition needs to be in a position to push back. 
The road to democratization in Cambodia is paved with obstacles. The United States, by both catering to and strategically assisting Cambodia's youth, can support the development of a civic sentiment and empowerment necessary to bring the country back from the brink, and prevent its quiet decline into hereditary dictatorship, perhaps simultaneously disrupting Beijing's ambitions in Southeast Asia.  
Charles Dunst is an M.Sc. candidate in International Relations at the London School of Economics, and a journalist formerly based in Phnom Penh, Cambodia. He reported from that country for The New York Times, The Atlantic, Foreign Policy, and the Los Angeles Times, among other publications. Follow him on Twitter @charlesdunst.