Europe's Next Move and the US-China Standoff
In the face of the US-China trade-tech standoff, there's need for EU action.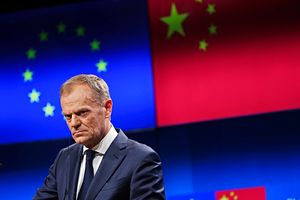 As the trade war between the United States and China evolves into a state of permanent conflict, it is apparent that a defining feature of the deepening geopolitical contest is technology. The race is on for the leader in the development and use of emerging technologies, and thereby the writing of norms and the rules for their use. In this context, the foreign investments,  the screening thereof, and the question of how to deal with China's telecom giant Huawei ride high in the headlines. But few are aware that the related issue of export control is equally, if not more, challenging. 
In charting a path forward, European governments have to act in this field before they are caught again between the demands of two rival powers. Specifically, this requires the EU and its member states to recraft their own export control regimes to uphold European norms for the use of certain technologies challenged by China, in particular. Moreover, there is a need to shield European companies against U.S. extraterritorial jurisdiction.
In August 2018 the U.S. government announced the Export Control Reform Act (ECRA), seeking to limit the export of emerging technologies to end uses, end users, and destinations of concerns. As the law is being filed with new regulation – expected to enter into force in 2020 – third countries need to brace for its impact. Also beyond the U.S. push for unilateral action, the issue of export control is increasingly politicized. Japan's imposition in summer 2019 of export controls against South Korea, set against a context of continued political tension between the two neighbors, illustrates this.
Considering the vast risks, it is surprising that so little attention is paid to the U.S. government's attempts to weaponize trade by identifying emerging technologies that could be used against the U.S. in hostile hands. The proposed reforms to control the export of U.S. technologies and products outlined in ECRA largely mirror the intelligent manufacturing sectors identified in Beijing's Made in China 2025 industrial policy. Washington seeks to maintain its competitive advantage (particularly in relation to China), thereby also ensuring its power to design future standards and norms. As such, U.S. actions now are reminiscent of Washington's push for an export control regime for military goods during the Cold War, when the Soviet Union was the adversary. A key difference is that back then the United States acted multilaterally, whereas for now it is adopting a unilateral course. As illustrated by the call to ban Huawei from providing 5G infrastructure, however, alliance partners of the United States should not be surprised if the Washington demands their support in its trade–tech stand-off with China on this matter.
Export control is best described as measures that governments implement to limit the spread and/or use of certain goods and services with the ultimate aim of protecting national security and promoting foreign policy. Restrictive measures – primarily customs and licensing – implemented by governments in regard to export controls currently cover two categories: (conventional) military goods and (traditional) dual-use items, consisting of goods, software and technology that can be used for both civilian and military applications.
Today, next to military and dual-use items, there are two additional categories that governments may wish to control. The first is critical infrastructure, such as gas, water and electricity, which are deemed of paramount importance for national security as well as the economic safety of any country. Companies delivering these items should be protected against hostile takeovers at all costs, as they are critical for a country's sovereignty and functioning. 
The second category that governments may wish to control is emerging technologies. These are increasingly digital technologies that can be transferred between countries without physically crossing national borders, thereby bypassing the customs authorities that are normally tasked with dual-use export control. Adding to the regulatory challenge is the fact that, more so than traditional "dual-use" technologies, emerging technologies could be used for a range of purposes simultaneously, from improvements in healthcare and infrastructure to exceptionally efficient surveillance and military operations. Moreover, emerging technologies are integrated at all levels of society, especially amid the increasing convergence of software and information flows, making them also omnipresent in society. One can, therefore, speak about the "omni-use" of technologies rather than a clear dual-use.
The U.S. call for an export control regime tailored to omni-use technologies will impact trading nations with a strong focus on high-technology sectors most drastically. Regulations that will follow from this process will have great implications for the operations of global companies with U.S. headquarters. In fact, the impact extends beyond U.S. borders, because of the extraterritorial jurisdiction of U.S. law. This means that foreign products containing more than 25 percent of U.S. material may require a re-export license from the United States. For one, the Netherlands – home to leading companies in emerging technologies, including semiconductors, photonics and quantum technology – will be deeply affected by such regulations as they operate both on the United States and the Chinese markets. The Dutch government and the EU share the United States' concerns about the proliferation of non-Western norms and standards through emerging technologies. They do not, however, wish to use export control as a political instrument to curb China's rise as a technological power.
Therefore, upholding European norms for the use of certain technologies challenged by China and shielding against Washington's attempts to exercise authority beyond its territorial boundaries are both key challenges to act upon. Extraterritorial jurisdiction could well result in broad sanctions against European companies and disruption of the value-chains that businesses depend upon to innovate and competitively sell their products. After all, economic integration and interdependence between the United States and China and the importance of trade with China to the rest of the world are far greater now than at the time of the Cold War with the Soviet Union. 
This disagreement requires the Netherlands and other EU member states – in coordination with key stakeholders from business and academia – to redouble their efforts and recraft their own approach to export controls of omni-use technologies. While continued bilateral dialogue with the United States is important, now is the time to engage actively on the EU level to create a truly efficient EU-wide export control system for emerging technologies. Next to a coordinated response to the U.S. shift, adoption of the proposed EU autonomous dimension and introduction of electronic licensing are crucial steps. 
As the EU formulates its own response, it can also liaise with like-minded countries with similar concerns. The EU should first and foremost formulate its own strategy, but could already explore some possible like-minded partnerships to work together and align policies within the years to come  Japan – with its strong high-tech sector – stands out as a valuable partner in dealing with the push for reform in Washington, even if this is complicated by economic competition in the same sector. The vast economic, political and security consequences of Washington's unilateral push through ECRA require that joint action starts today rather than tomorrow.
Brigitte Dekker and Maaike Okano-Heijmans are affiliated with the Clingendael Institute in The Hague, The Netherlands. 
This article is an extract from the Clingendael Report 'The US-China trade-tech stand-off and the need for EU action on export control', August 2019, available here.