Integrated Strike Exercise Puts US-Singapore Air Force Ties into Focus
Both sides held the latest iteration of Exercise Forging Sabre.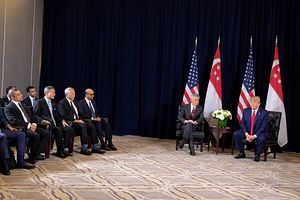 Earlier this month, Singapore and the United States held another iteration of an integrated strike exercise. The exercise highlighted an important aspect of the security ties between the two countries amid wider domestic and regional trends and developments.
As I have noted before in these pages and elsewhere, Singapore and the United States have long had a defense relationship as part of what is officially termed as a strategic partnership. The United States is a key supplier of defense technology and facilities for military training for Singapore, while the city-state is a valuable regional partner across a range of issues from counterterrorism to maritime security. Both sides have continued to enhance this aspect of ties into 2019 as well, with a recent case in point being the renewal of a key military facilities agreement just last month.
Last week, the U.S.-Singapore defense relationship was in the headlines again with the holding of the latest iteration of an integrated strike exercise, one of several which the two countries conduct that help enhance interoperability between them and providing Singapore with training airspace and an operational environment to improve their competencies and enhance their readiness. The seventh iteration of Exercise Forging Sabre (XFS 19), which had first started back in 2005, was held from September 30 to October 10.
Per Singapore's defense ministry (MINDEF), XFS 19 involved around 600 personnel from the Singapore Armed Forces (SAF), including the Singapore Army's Commandos, and assets from the Republic of Singapore Air Force (RSAF) such as the F-15SG and F-16C/D multi-role fighter aircraft, AH-64D Apache helicopters, and Heron 1 Unmanned Aerial Vehicles (UAVs).
This iteration of XFS 19 also saw a number of significant developments. For instance, per MINDEF, in terms of participating assets, this iteration of the exercise saw the inaugural participation of Singapore's A330 Multi-Role Tanker Transport in an overseas exercise. In addition, this was also the first time that Exercise Forging Sabre was held at Mountain Home Air Force Base (MHAFB), Idaho, and it occurred as both countries were also commemorating 10 years of F-15 SG fighter aircraft training at MHAFB.
The exercise was witnessed by Singapore officials as it occurred, including Chief of Defense Force Melvyn Ong last week, Chief of Air Force Major-General Kelvin Khong, and Senior Minister of State for Defense Heng Chee How. In his remarks after witnessing the exercise, where he interacted with participants, was briefed on the mechanics of integrated, complex strike missions, and saw the SAF's capabilities, Heng noted the significance of such training to acquire and hone Singapore's military capabilities "much better and faster," once again reinforcing the value of this aspect of U.S.-Singapore defense relations for the country.