Military Chiefs Conference Highlights Five Power Defense Arrangements
A recent engagement spotlighted some of the ongoing activity related to the regional multilateral security arrangement.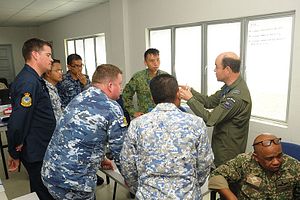 Last week, the defense chiefs of the five countries that belong to the Five Power Defense Arrangements (FPDA) – Australia, Malaysia, New Zealand, Singapore, and the United Kingdom – completed yet another iteration of a conference between them. The engagement put the spotlight on the FPDA as a regional multilateral security arrangement amid wider domestic and regional developments.
As I have observed previously in these pages, the FPDA was initially formed in 1971 to help defend Singapore and Malaysia after their independence following the withdrawal of British forces east of Suez. The FPDA remains the longest standing multilateral security arrangement in Southeast Asia today.
Last week, the FPDA was in the spotlight again with the holding of the latest iteration of the FPDA Defense Chiefs Conference (FDCC). The FDCC, hosted alternately by Malaysia and Singapore, is the highest professional military forum of the FPDA and serves as an important platform for dialogue and exchange of views among defense chiefs from participating countries.
This year's iteration of the FDCC was held in Singapore from October 14 to October 16. It was chaired by Singapore's Chief of Defense Force Melvyn Ong and attended by defense chiefs and vice chiefs from the other four countries.
Per Singapore's defense ministry (MINDEF), during the meeting, the countries discussed a range of matters including the state of the current security environment and the role of the FPDA within it. They also issued the FPDA Exercise Concept Directive, which will guide the development of future FPDA exercises and activities and strengthen the interoperability and interaction between the defense forces of the five member nations.
Apart from the FDCC itself, the member nations also had other interactions as well among themselves. The defense chiefs were hosted to lunch by Singapore's Defense Minister Ng Eng Hen. They also visited Exercise Bersama Lima at Butterworth Air Base, which was held from October 1 to October 17, comprising shore planning and a field training exercise and featuring about 3000 personnel, seven ships, 48 aircraft, one submarine, five Ground-Based Air Defense units, five Army platoons, two dive teams and various support elements.
To be sure, the holding of the FDCC itself is just one among several interactions within the FPDA as an institution. But such engagements, along with periodic milestones for the FDPA such as the upcoming 50th anniversary in 2021, will be important to assess how the participating countries are continuing to work to ensure the FPDA's relevance in the current and future regional security environment.