North Korea's Struggling Taxi Industry
Once flourishing, North Korea's taxi industry is struggling to remain profitable.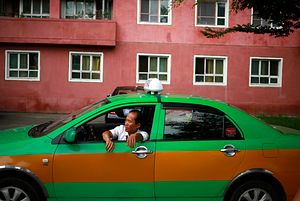 Working as a taxi driver used to be highly sought after position by many North Koreans thanks to its high earning potential and stable income amid increasing demands in big cities including the capital Pyongyang.
Public sentiment toward the taxi business, however, has soured recently. Among other reasons is a government efforts to promote public transportation coupled with growing competition.
In particular, there is an increasing number of taxi drivers in Pyongyang who financially struggle and even fail to make enough profit to pay for their "tax" to authorities, according to Seoul-based online newspaper Daily NK.
Taxi drivers in North Korea are required to pay some part of their profits to the authorities, a tax to maintain their licence and operate legally.
The recent Daily NK report introduced the case of a taxi driver in Pyongyang who reportedly chose to commit suicide after failing to meet the high cost of the tax for a long time.
The average daily tax ranges between $80 and $130. Last year, drivers reportedly were able to make up to $100 in profits even after such fees, but this is not the case anymore.
In a country where the public's economic activities are strictly controlled by the central government, the taxi drivers' struggle might not be a coincidence. Pyongyang has pushed public transportation recently.
In August last year, for instance, the country's state-run Rodong Sinmun newspaper publicly dismissed taxi businesses, calling them a "vestige of some wealthy classes."
The newspaper even quoted Kim Jong Un, who visited a bus factory in Pyongyang at that time, as saying that he was "concerned" to see a growing number of taxis on the streets of the capital.
Kim added, as quoted by the paper, that he felt "relieved" to see newly developed busses at the factory, which could improve the city's public transport system.
North Korean authorities appear to have cracked down on taxi businesses as well. The authorities reportedly launched an investigation of a married couple of active-duty North Korean military officials in August for illegally conducting a taxi business in Pyongyang, according to Daily NK. 
Activities to gain personal profit are banned for North Korean military officials with the fear of a breach of military discipline and political problems. The couple was found to have purchased two taxis in 2014 and have operated a service until recently. 
A source based in Pyongyang said authorities even formed a "special team" to investigate them. 
This is not an isolated example. There was another report that the North Korean government ordered all registered taxis to be painted with a specific color amid the increasing number of unregistered taxis.
The order was made in March, with concerns that unregistered taxis carry people without proper passes in the border area with China.
Some suggest that the authorities might have an ulterior motive for cracking down the taxi industry.
Rumors have circulated in Pyongyang that one of the taxi operators under the North's security department is owned by Kim's wife Ri Sol Ju, and that the company is gradually monopolizing the market.
The emergence and expansion of taxi business have been often cited as a barometer to gauge its economic growth and changes. It might become, however, difficult to do so soon given the signs mentioned above.
The number of taxis operating in Pyongyang is estimated to be 6,000 based on data published last December by South Korea's state-run Korea Institute for National Unification. Most taxis in Pyongyang are taxi companies commissioned by state agencies, but private-licensed taxis also operate.