Russia's Northern Sea Route Faces Setbacks, Low Interest
Despite warming Arctic, competition among great powers remains cool.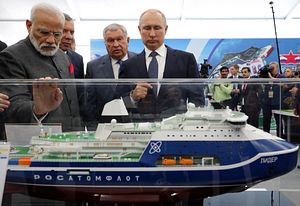 A Russian icebreaker made an emergency mayday distress call on Tuesday after apparently losing all four of its main engines, leaving it adrift in a storm off of Norway's western coast. Norwegian rescue vessels were on their way to assist when the ship regained power and cancelled the call. Russian maritime authorities said the distress call was sent accidentally during an equipment outage.
Though the incident occurred off the coast of Norway, Russia is keen to maintain international confidence in its icebreaking capabilities because they are critical to realizing its Northern Sea Route as a shorter alternative to existing shipping routes between Asia and Europe that go through the Suez Canal. So far shippers are skeptical, and predictions that the Arctic will open up to new international competition appear premature, at minimum.
One anticipated economic implication of climate change is that receding arctic ice would open the far north to large scale shipping and resource extraction for the first time. Defense observers, and even the U.S. Secretary of State, assert that these developments make the Arctic a new arena for "great power competition" between the United States, Russia, and, somewhat improbably, China as well.
Russia sees its Northern Sea Route as an attractive alternative for shipments between Europe and Asia. Instead of transiting through the South China Sea, across the Indian Ocean, through the Suez Canal in Egypt and across the Mediterranean Sea to Western Europe, the Northern Sea Route stretches 3,000 miles across Russia's northern coast between Norway and the Bering Sea between Russia and Alaska.
The Northern Sea Route could cut some distances ships need to travel nearly in half but the treacherous conditions require more expensive ice-rated cargo ships and extensive icebreaking services, demand higher insurance rates, and despite the retreat of arctic sea ice from global warming, the route is still only navigable for a few months each year. As a result of these liabilities, some estimate that the cost of using the Northern Sea Route is still at least a third higher than the much longer southern route through the Suez Canal.
Bloomberg reports that Russia is considering a state shipping project to assume the costs and responsibilities of the arctic portion of the route from commercial shippers and bring the overall costs and liabilities closer to that of the Suez route, but hasn't made a final decision whether to proceed.
Still, Russian authorities remain optimistic that the commercial tonnage using the Northern Sea Route could quadruple by 2024 to around 80 million metric tons, but this would still be a scant share of the traffic that moves through the Suez Canal, which sees more than a billion tons move through each year.
International shippers are skeptical of diverting their ships north from the Suez canal route, however, and many are not swayed by Russia's cost subsidies.
Over the summer, Danish shipping giant Maersk confirmed it was exploring a partnership with Russia's state-owned icebreaker company to provide shipping services between the Asia and western Russia. However, Maersk maintains that it has no plans to utilize the Northern Sea Route despite conducting a trial voyage in 2018, saying the route remains uneconomical and too treacherous.
In August, France's CMA CGM, the world's fourth largest container shipper, pledged not to use the Northern Sea Route out of concern for the environmental impact that increased shipping would have on the Arctic's fragile ecosystem. Just this month, two more of the world's major shipping companies similarly pledged not to use Russia's Northern Sea Route. Germany's Hapag-Lloyd said it too had no plans to use the Northern Sea Route while doing so posed an environmental threat to the Arctic and Swiss-owned MSC cited similar environmental concerns and has said it is focused on improving the efficiency of its vessels using alternative routes.
This largely leaves China which, despite being located south of Russia, has begun calling itself a "near arctic state" to stake its own interests in the region.
China sees its dependence on the Suez route as a strategic vulnerability if other states sought to cut off its access to the Malacca Strait and the Indian Ocean beyond it, and possibly sees the Northern Sea Route as a solution to its "Malacca Dilemma." China's polar endeavors have not been without setback, but has steadily expanded its nascent icebreaking and scientific capabilities.
In anticipation of intensifying competition, the U.S. Navy has begun sending warships to patrol above the Arctic Circle, but its capability to conduct Arctic operations is limited. Some experts consider the U.S. Navy's Arleigh Burke-class destroyers its best option for patrolling northern waters but they are not ideal. The United States has not had warships with ice rated hulls since the Cold War, meaning its warships need significant support from the U.S. Coast Guard's small and aging icebreaker fleet to operate in icy conditions, and many critical engineering systems are not designed to operate in extreme cold water. The U.S. Coast Guard currently operates a single heavy ice breaker, but expects a fleet of three new heavy ice breakers to begin to be delivered in 2023.