The Chaos of Kyrgyz Politics
The 2017 presidential election touched off a political crisis with much deeper roots in Kyrgyzstan's polity.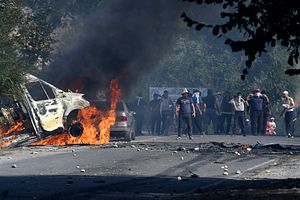 Political confrontation between the former and incumbent presidents of the Kyrgyz Republic took a violent turn in August when Almazbek Atambayev and his supporters staged an open rebellion against security forces dispatched to capture the former president at his mansion outside the capital Bishkek on August 7.
The botched raid resulted in the death of one officer from the State Committee for National Security (GKNB) force and the embarrassing capture of several others by Atambayev's supporters. Current President Sooronbay Jeenbekov cancelled his vacation the night of the initial failed arrest attempt and conducted an emergency meeting of the nation's Security Council. A second raid was initiated to capture Atambayev. The massive deployment of the police forces to the former president's compound the next day and subsequent clashes led to atambayev's surrender. The former president was taken by the police to an Interior Ministry detention facility.
In the following days, the Prosecutor General's Office charged the former president with murder, hostage taking, the illegal accumulation of wealth, and orchestrating mass unrest. Atambayev has denied the charges, calling them politically motivated. Kyrgyz authorities have frozen at least 25 bank accounts associated with Atambayev and his family, as well as their assets in the Central Asian country. The former president's wife, Raisa Atambayeva, is the subject of a criminal investigation in an unrelated case pertaining to the allegedly criminal takeover of a business from Chinese entrepreneurs and interference in a court trial involving a former district judge in Bishkek city. Atambayeva has denied the allegations leveled against her. A number of the former president's allies and supporters have been detained and brought in for questioning in the aftermath of Atambayev's arrest.
As shocking as the August raids to detain Atambayev were, these developments are hardly a surprise.