An Attack on Artistic Freedom Highlights Pakistan's Crackdown on Free Speech
When an artist tried to highlight the harrowing human cost of police violence, her exhibit was shut down – one more voice silenced in Pakistan.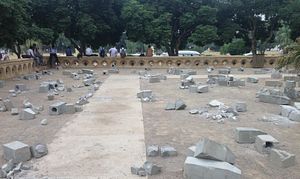 Last week, renowned Pakistani artist Adeela Suleman set up a remarkable installation in Karachi, the sprawling capital of southwestern Sindh province. In the garden outside the colonial-era Frere Hall, she erected 444 gravestones topped with wilted metal roses, each symbolizing a victim of police extrajudicial killings. "The Killing Fields of Karachi," as Adeela called the installation, was one of the centerpieces of the city's second-ever biennial art festival.
Sadly, few people will actually get to see it.
On the morning of Sunday 27 October, men in plainclothes forced the exhibition's closure. When activists held a press conference to protest this apparent attack on artistic freedom later on the same day, a government official disrupted the proceedings. He shouted that the installation was "vandalism, not art," and that artists should not "showcase our dirty laundry to the world."
The incident highlights not only the Pakistani authorities' unwillingness to rein in abuses by their own security forces, but also growing threats to freedom of expression, not least for artists tackling human rights issues through their work.
Adeela's installation focused in particular on the bloody track record of Rao Anwar, a notorious Karachi police officer accused of hundreds of killings (specifically, 444, the number of gravestones Adeela erected). Anwar was a specialist in so-called "encounters," a euphemism for staged police killings of individuals already in custody.
In 2018, the death of a young man — the ethnic Pashtun and aspiring model Naqeebullah Mehsud — sparked mass protests by Pashtuns who demanded an end to ethnic profiling and police brutality. Although a police investigation found Anwar guilty of staging the killing, he remains out on bail while his Supreme Court trial is ongoing. (Incidentally, Adeela's husband is the lead lawyer for the prosecution in the case.)
As shocking as Anwar's alleged death toll is, it only marks the tip of the iceberg. Human rights groups have long accused the Pakistani police force of rampant abuses, including torture, arbitrary arrests, and enforced disappearances. In 2017 alone, police were responsible for 495 "encounter" killings according to the Pakistan Human Rights Commission, while hundreds of others were "disappeared" and never heard from again. An almost complete lack of accountability for these cases has meant that police violence has continued unchecked for decades.
As Human Rights Watch has pointed out, abysmal working conditions for many police officers have also created an environment where abuses are not just tolerated, but even encouraged. Many police officers work long shifts on measly salaries and lack the basic resources to do their jobs effectively, but also face intense pressure to deliver "results" or even to kill.
The toxic situation means that voices like Adeela's are needed more than ever. Unfortunately, Pakistani authorities have instead intensified a crackdown on free speech, often on the pretext of "national security."
While Pakistan has a vibrant media landscape, journalists have long faced threats, intimidation, and even violence from state and nonstate actors alike. Such harassment has increased in recent years: in 2018, the Pakistani media watchdog the Freedom Network documented more than 150 violations against media workers in the country, noting that "the situation of press freedom has deteriorated." Many of those targeted have exposed or reported on abuses by state security forces, a subject that has become increasingly taboo. In January 2017, for example, five bloggers known for their online criticism of the military were "disappeared." While four were returned a few weeks later amid a national outcry, the fifth remains missing.
Authorities have also relied on the legal books to target critics. In 2016, the national assembly pushed through a widely-criticized Cyber Crime Law that has since been used to stifle free speech online. Just last month, the government announced its intention to create specialized "media courts" to hear cases against journalists, sparking an outcry from civil society. With media workers increasingly fearing for their safety and freedom, self-censorship is thought to be widespread. In 2019, Pakistan ranked 142nd in Reporters Without Borders' global press freedom index, down three places from the year before.
Instead of focusing on silencing journalists or artists like Adeela, Pakistani authorities must do what they can to protect freedom of expression. This includes repealing or reforming all laws used to stifle debate, and immediately dropping criminal charges against those who have done nothing but peacefully expressing their opinions. In particular, those brave enough to highlight violations by security forces deserve protection — not harassment, criminalization, or to fear for their lives. In this context, it is also crucial that the government redoubles efforts to curb violations by the security forces.
Ironically, by shutting down Adeela's exhibition in Karachi, authorities have given it a wave of free publicity it would have missed out on otherwise. Over the past week, photos of the gravestones have been shared widely on social media, media houses have passionately defended the role of art in public discourse, and civil society groups have taken turns to express their outrage. Adeela tried to highlight the harrowing human cost of police violence through her art – Pakistani authorities must now take a step in the right direction by ensuring it was not in vain.
Binaifer Nowrojee is Regional Director for Asia-Pacific at the Open Society Foundation.