Climate Change and South Asia's Pending Food Crisis
Are South Asian governments adapting to climate change's impact on agriculture in the region?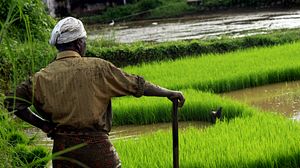 Experts predict that ensuring food security for South Asia's expanding population will be one of the chief problems the subregion faces in the coming years. Countries of the region will need to place addressing food insecurity among their top policy agendas to ensure stability.
South Asia is currently home to nearly 1.8 billion people — the majority living in India, Pakistan, and Bangladesh — and has been the fastest growing region for the past five years. The UN estimates that the population of the region will grow by 40 percent by 2050.
Climate experts say that the challenge to secure food for South Asia's growing population is exacerbated by the threats of climate change.
Several published reports in recent years have established the importance of a policy agenda that addresses securing food availability keeping in consideration the impact climate change will have on food production in the region.
A report by the Intergovernmental Panel on Climate Change (IPCC), has stated that climate change and rising temperatures will affect food production across Asia differently, but the most food insecure populations are likely to be found in South Asia.
Currently, agriculture is one of South Asia's biggest employers. Nearly 70 percent of the region's population is employed in agriculture and the majority of people in the region live in rural communities.
Last year, the International Food Policy Research Institute released their Global Food Policy Report, which pointed out how the intensity of climate change will impact food security and agriculture globally but particularly in South Asia.
The report states, "climate change is the most pressing issue facing [South Asia], given its implications for the food security of already vulnerable populations."
While a 2 degree Celsius temperature rise is expected by the end of the 21st century, predications by the Asia-Pacific Network for Global Change Research expect South Asia to experience a rise in temperature of 2-4 degrees C between 2046 and 2065.
The IPCC reports that by the end of this century, and provided current climate change projections prove to be accurate, crop production in South Asia is expected to decrease by 30 percent — particularly rice, wheat, and maize production.
As agricultural production declines, not only will cereal consumption patterns be affected but the price of feed will also increase, which will push the price of meat up.
In places where farmers have access to information about changing conditions and the resources to change their practices, they are already turning to innovative methods that are likely to be climate adaptive.
In Rajasthan, India, an NGO called Sahayog Sansthan is successfully supporting rural communities in conserving communal pastureland as well as water. And in Bangladesh, an NGO called RDRS is working with farmers to develop low-yield produce to cope with seasonal food shortages.
Rabiya Jaffery is a freelance journalist and multimedia producer covering stories from Middle East and South Asia. She reports on climate, culture, and conflicts for regional and international publications. She tweets at @rabiyasdfghjkl
Update: An earlier version of this article quoted an "expert" named "George Stacey." The Diplomat learned after publication that "Stacey" does not exist and appears to be part of an elaborate effort to obscure the history and online presence of NorVergence, a New Jersey-based telecom accused of operating as a Ponzi scheme before declaring bankruptcy and whose owner is on trial for fraud, as exposed by The Philadelphia Inquirer in November 2021. The story's author was not aware that "Stacey" was a fabricated persona. The Diplomat regrets printing the comments from "Stacey" and they have been removed from the article.