India Had Good Reason to Pull out of RCEP
The mega-trade deal could have undermined India's strategic interests in Southeast Asia.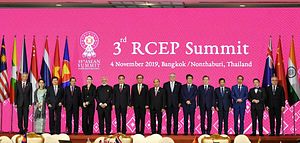 During a summit in Bangkok, Thailand on November 4, India decided to opt out of the Regional Comprehensive Economic Partnership (RCEP) agreement. The official reason given for opting out was that India's key concerns about agriculture and domestic industry were not addressed by RCEP.
Indian Prime Minister Narendra Modi visited Thailand from November 2 to 4 to attend the 16th ASEAN-India Summit, 14th East Asia Summit, and 3rd RCEP Summit. Although there were several issues of concerns surrounding these summits, especially the U.S.-China trade war and China's activities in the South China Sea, the greatest focus was on the RCEP negotiations. It was expected that RCEP, a free-trade agreement which was being negotiated among the 10 member countries of ASEAN, China, India, Australia, New Zealand, Japan and South Korea, would be finalized during this summit. Instead, India announced its withdrawal and the remaining members now hope to sign the deal in 2020.
The development was not entirely surprising. There has been considerable opposition to the RCEP within India. Different organizations, especially in the agricultural sector, have been opposed to India becoming a part of this agreement. Traders are also worried that RCEP may lead to Chinese products flooding Indian markets and affecting local businesses. If India had joined RCEP, it would have meant tariff elimination on almost 90 percent of items in trade with ASEAN, Japan, and South Korea. India would also have had to eliminate tariffs on more than 74 percent of items in trade with China, Australia, and New Zealand. India already has a trade deficit with China of $53 billion, down $10 billion from the previous year. Accepting RCEP on the current terms would have further increased this deficit.
Modi had called for a mutually beneficial RCEP that protects the interests of all involved, but accepting and implementing RCEP as currently envisioned would have had an impact on India's domestic politics. More broadly, an economic imbalance between India and China caused by RCEP could have an impact on India's strategic interests in Southeast Asia. It would also affect India's standing against China as a competitor.
Modi, in his first term from 2014 to 2019, had focused on Southeast Asia more than previous governments. In 1992, India had launched the Look East Policy as a means to focus on Southeast Asia. More than two decades later, in November 2014, at the annual India-ASEAN Summit Modi proposed reframing Look East to the Act East Policy. This was done with the intention to accelerate engagements with the region and increase India's strategic outreach to Southeast Asia.
As a result, there has been a rise in bilateral and multilateral diplomatic engagements between India and the Southeast Asian countries. India has interacted with Southeast Asia on a number of occasions at different forums since 2014. Two of the most notable engagements came in 2018. First, on January 26, which is India's Republic Day, India had invited the heads of state/government of all the member countries of ASEAN as the chief guests of the Republic Day parade. It was first time the leaders of the 10 countries attended the ceremony together. This was an important step toward reiterating India's commitment to expand its ties with Southeast Asia. Then, in June 2018, Modi was the keynote speaker at the Shangri-La Dialogue in Singapore, the region's foremost security forum. In his speech, Modi put forward India's vision for the Indo-Pacific region. Even while doing so, he emphasized that India's Indo-Pacific policy would be ASEAN-centric.
In the past few years, India has increased its diplomatic outreach to Southeast Asia. But now India needs to back up its growing diplomatic engagements with a concrete policy that defines its strategic interests. Further, India also needs a speedy implementation of such a policy. The Quadrilateral Security Dialogue (the Quad) is yet to take shape into a working mechanism – and furthermore, all the members (India, Australia, Japan, and the United States) are extraregional powers with respect to Southeast Asia. With the future of Quad uncertain, India should look to form an alternate mechanism with participation from Southeast Asian countries themselves.
An important step for India should be to present itself as more than just a market. Doing so would enable India to negotiate favorable terms in future economic agreements. India should clearly define its interests in Southeast Asia and project itself as a stakeholder in the region.
Niranjan Marjani is an independent journalist based in Vadodara, India. Follow him on Twitter.