Keel-Laying of T 994-Class Patrol Vessels Highlights Thailand's Maritime Capabilities
A Thai shipbuilder laid down the keels for two patrol vessels for the country's navy.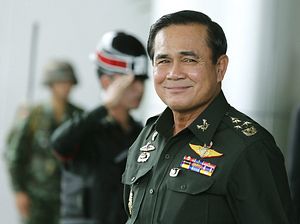 Earlier this month, a Thai shipbuilder laid down the keels for two patrol vessels for the country's navy. While the development was expected, it nonetheless spotlighted the ongoing effort by Thailand to develop its maritime capabilities despite the challenges that remain in doing so.
As I have noted before in these pages, Thailand has been looking to boost its naval capabilities as part of its ongoing efforts to address a series of maritime challenges in surrounding waters in the Andaman Sea, the Gulf of Thailand, and beyond. That has continued on under the current government led by Prime Minister Prayut Chan-o-cha, despite the constraints that remain following elections finally held earlier this year, including with respect to the defense budget. 
With respect to patrol vessels, one of the classes is the T 994, with the vessels in this particular class meant for a range of purposes including law enforcement, search and rescue, security, and preventing infiltration. The class has an overall length of 41.44 meters, an overall beam of 7.2 m, and displaces about 215 tons at full load, with a speed of over 27 nautical miles. The fourth and fifth boats of the class were ordered under a contract worth approximately 720.1 million baht ($23.5 million) and are expected to be delivered to the Royal Thai Navy (RTN) by around July 2021.
According to the official social media channel of the RTN, Thai shipbuilder Marsun laid down the keels for two more T 994-class coastal patrol vessels on order for the service. The vessels were laid down on November 14 at Marsun's facilities in Thailand's Samut Prakan district.
The vessels will be known as the T 997 and T 998 once they are commissioned. They will make up the fourth and firth vessels in the T 994 class overall, representing the continued growth of this aspect of Thailand's maritime capabilities.
Unsurprisingly, few additional details were officially disclosed about the vessels, including specifics on timelines and weapon systems, though IHS Jane's noted that the pair would be the first vessels to be equipped with China-supplied weapons. Nonetheless, within the broader spotlight on Thailand's building up of its maritime capabilities, classes of patrol vessels such as this one will continue to be notable to watch in the coming months and years.