Prabowo's Introductory Visit Highlights Indonesia-Malaysia Defense Relations
The new defense minister's first overseas trip spotlighted some of the ongoing security collaboration between the two neighboring Southeast Asian states.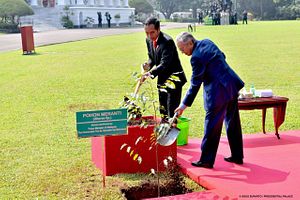 Last week, Indonesia's new defense minister, Prabowo Subianto, paid his first visit to Malaysia in his current capacity. Though the high-level engagement was just one among several, it nonetheless highlighted the development of bilateral defense ties between the two countries amid wider changes at play in their domestic and foreign policies.
As I have observed before in these pages, despite some disagreements on the security side that they continue to manage – ranging from illegal fishing to the outstanding Ambalat dispute – Malaysia and Indonesia, the two main Muslim-majority countries in Southeast Asia, do maintain an overall defense relationship, with components including exchanges, visits, and some components of education and training collaboration as well as exercises.
The development of defense ties has continued on into 2019, even amid changes in wider regional dynamics as well as domestic politics, with the shock election victory by Malaysia's opposition in elections last May bringing former prime minister Mahathir Mohamad back to power or the reelection of Indonesian President Joko "Jokowi" Widodo earlier this year.
Last week, the defense aspect of the relationship was in the headlines again with the visit of Subianto to Malaysia. Subianto and his accompanying delegation were in Malaysia for his first overseas visit since he was installed as a member of Jokowi's new cabinet in October, an event that attracted no shortage of headlines considering Subianto's past record as a special forces commander, which included human rights abuses, as well as his contemporary status as Jokowi's principal rival in Indonesia's last two elections.
Subianto's visit consisted of a series of interactions. In terms of meetings, when at the Malaysian defense ministry, he met with officials including Malaysian Defense Minister Mohamad Sabu, Deputy Defense Minister of Malaysia Liew Chin Tong, and Malaysia's Chiefs of Staff of the Air Force, Army, and Navy.
During the meeting between the two defense ministers, they discussed a range of issues including security issues such as terrorism. At a joint press conference, Mohamad noted that defense ties had seen improvements in recent years, including through the trilateral patrols in the Sulu Sea, while Subianto noted the significance of this being his first visit and also recalled the years of his childhood that he had spent in Malaysia.
The two sides also discussed areas of collaboration that they can build upon. Though specific areas were not publicized, Subianto for instance made note at the press conference of a desire to "achieve better forms of cooperation" in areas such as exchange of officers, exchange of students, and cooperation in defense industry. How exactly both sides look to operationalize this will continue to be interesting to watch in the coming years.