South Korea's Coffee Craze
As Koreans' taste for coffee continues to grow, global brands are taking notice.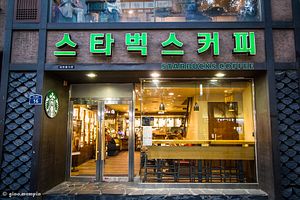 In May, South Koreans were more than enthusiastic about the news that a famous American coffee brand, Blue Bottle Coffee, will officially begin its operations in the country. On opening day, social media outlets in South Korea were flooded with photos of coffee cups printed with the brand's logo, proving its popularity.
Blue Bottle Coffee is not alone in making a foray into South Korea. As the number of coffee lovers in the country has significantly increased in recent years, more foreign players are looking to take advantage of that trend.
Sales at coffee shops in the county jumped more than TEN-fold from $300 million in 2007 to $4.3 billion last year. In terms of sales volume alone, the country ranked third in the world after the United States with $26.1 billion and China with $5.1 billion. Japan, whose population is more than twice that of South Korea, was fourth with $4 billion. This is according to a recent report released by KB Financial Group's Institute for Management Studies.
The same report estimated that 14,000 new coffee shops opened last year alone in South Korea – compared to under 3,000 opened in 2008. As of the end of July, about 71,000 coffee shops were up and running across the country.
Accordingly, coffee imports have also been on the rise every year. Imports of stir-fried coffee, including beans, increased from 5,400 tons in 2012 to 13,300 tons last year. It has been growing more than 13 percent year-on-year every year since 2012.
The increase in the number of coffee shops is mainly due to the high demand for coffee, the report noted.
The Institute estimated that each adult in South Korea consumes 353 cups of coffee a year. In other words, most adults in the country drink one cup of coffee roughly every day. That rate is 2.7 times bigger than the global average of 132 cups a year.
Consumer spending on coffee is also increasing every year. The average monthly expenditure for coffee was 15,815 South Korean won ($13.80) last year, up 108.2 percent from 7,597 South Korean won five years ago.
Not all coffee shops are doing well, however. Operating costs are increasing due to overheated competition stemming from a surge in the number of stores. Operating profit per company was 11.8 million South Korean won, down 1.9 percent over the same period. About 7,800 stores, or 11 percent of the total, suffered losses. The number of shops that had to close each year doubled between 2008 and 2018, reaching 9,000 last year.
Such competition has forced many players to come up with new business strategies. The increasing number of themed cafes is one example. In particular, many coffee shops in local cities redecorate their stores based on famous tourist attractions nearby. Some shops launch new menus based on local specialties to stand out.
Some companies have launched completely automated coffee shops to serve those who want to save time while others launched a door-to-door delivery service.
In general, the outlook for South Korea's coffee market is promising.
The size of the domestic coffee market, which stood at 5.9 trillion South Korean won in 2016, is estimated to have increased to 6.8 trillion last year. It is expected to further grow to 8.6 trillion in 2023, according to the report.
Currently, Starbucks is leading the market. Last year alone, the sales of the foreign brand stood at 1.52 trillion South Korean won, accounting for more than 10 percent of the market share.
Starbucks is followed by domestic brands such as CJ Group's Twosome Place with 274.25 billion South Korean won in sales. Next were Ediya Coffee and Coffee Bean Korea, which posted sales of 204 billion and 166.6 billion, respectively.
Local media reports suggest that two or three more Western coffee chain brands are gearing up to enter the market, hinting that South Korea would continue to be an arena for global coffee chains.