Thailand Defense Industry Ambition in the Headlines With Technology Transfer Prioritization
The development reinforces the government's determination to make inroads despite the challenges that confront it.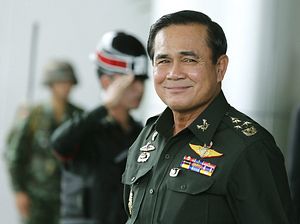 Last week, the Thai defense ministry suggested that technology transfer would be prioritized in the country's defense deals and arrangements under the current government, which secured a controversial election win earlier this year. The development reinforced Thailand's determination to make inroads on a priority for its wider defense modernization.
As I have noted before in these pages, Thailand has been trying to further develop its defense capabilities over the past few years despite the challenges faced in doing so. Thailand's previous modernization plan for its armed forces, dubbed Vision 2026, articulated various goals, including an ambitious spending target of 2 percent of GDP on defense over the next few years.
One of the components within that military modernization effort has been the promotion of local defense industry. As we have seen with some other Asian states, Thailand has been attempting to develop its indigenous defense industrial base through various means, including offset requirements and technology transfer. Previous documents, including the Master Plan for Defense Industry, have laid out how Thailand plans on supporting the development in indigenous capabilities in several areas.
Last week, this aspect of Thailand's defense policy was in the headlines with further suggestions of prioritization. The Thai defense ministry suggested that technology transfer would be prioritized to emphasize the development of local industry.
According to local media reports, Kongcheep Tantravanich, the spokesman for Thailand's defense ministry, told reporters in late October that Prime Minister Prayut Chan-o-cha had prioritized technology transfer for defense procurement programs to support the development of local industry. Kongcheep indicated that various steps would be taken in this respect, including ensuring that defense deals are accompanied by technology transfer packages to facilitate localized production and further research and development as well as supporting research and development and defense manufacturing through collaborative programs, including those featuring the defense ministry's Defense Technology Institute (DTI).
The development is far from surprising. The prioritization is in line with indications that we have seen coming from Thai government previously. And with the Prayut government currently facing high levels of scrutiny with respect to aspects of its defense policy as well as its legitimacy more generally, the strengthening of a local defense industry would make sense for officials to demonstrate that efforts are being made to manage costs and to build indigenous capabilities.
Yet details still remain unclear about how this would be carried out. While Kongcheep unsurprisingly did not offer specific examples of where this prioritization would go into effect, these are precisely the specifics that would be needed in order to assess the degree to which the prioritization has begun to be operationalized. And given various factors inherent in Thailand's defense policy in recent years, including increased diversification of partners and repeated delays on some deals, getting a sense of those details will be even more important in any sort of assessment of that kind as well.
Nonetheless, Kongcheep's comments illustrate Thailand's continued determination to make inroads on the development of local defense industry. How the Prayut government works to translate this rhetoric to reality will continue to be important to watch in the coming months and years within the country's wider military modernization.