The Asia-Pacific's Education Crisis
Educational gaps and shortcomings in the Asia-Pacific could make or break the 2030 SDG challenge.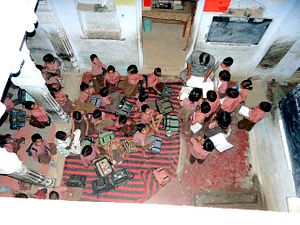 The Asia-Pacific region has made considerable strides in increasing the accessibility of basic education, but challenges remain. About 16 million primary school-aged children and 34 million lower secondary-aged adolescents are out of school in the region, two-thirds of whom are in South Asia. Ensuring universal access to and completion of a full 12 years of basic education is still an unfilled goal, but Sustainable Development Goal 4 (SDG 4) on inclusive, quality education also spotlights another emergency regarding students who are already in school, including the quality of their education and learning outcomes.
An estimated nine out of 10 children and adolescents (241 million) in low-income countries in the Asia-Pacific, and three out of four children and adolescents in low middle-income countries, are enrolled in school but do not achieve basic literacy and numeracy skills. More than 42 percent (43 million) of the world's illiterate youth, 56 percent of whom are female, and almost 60 percent (446 million) of the world's illiterate adults, two-thirds of whom are female, live in the Asia-Pacific region. This amounts to nothing less than a crisis.
The 5th Asia-Pacific Meeting on Education 2030 (APMED2030) in Bangkok last month brought together more than 200 participants from education ministries, civil society organizations, academic institutions, and international institutions from the Asia-Pacific region. The focus was on progress and recommendations for SDG 4 Target 4.1 to "ensure that all girls and boys complete free, equitable and quality primary and secondary education leading to relevant and effective learning outcomes" and Target 4.6 to "ensure that all youth and a substantial proportion of adults, both men and women, achieve literacy and numeracy."
From the outset, the challenges were clear. "There are signs of stagnation," said Francisco Benavides, Regional Education Advisor for UNICEF Regional Office for East Asia and Pacific (UNICEF EAPRO), who urged participants to remember promises made to students and out-of-school children. Failing to achieve the SDG 4 targets means failing to achieve the Sustainable Development Goals (SDGs) as a whole because of the central role of education, he said, adding that significant progress had been made but more needed to be done.
As noted above, over half of the world's illiterate adults reside in Asia. This is a result of shortcomings in quality education with important implications for the development of societies. Sustainable development is dependent on a literate population, who are more likely to hold meaningful and fulfilling jobs, as well as actively participate in society.
Literacy and numeracy are key in breaking cycles of poverty and addressing structural inequalities. "Of all factors considered, low literacy skills are most strongly associated with poverty, socioeconomic disparity, and particularly the gap between rich and poor," said Shigeru Aoyagi, director of UNESCO Bangkok. "Reducing poverty requires that countries invest in equipping their populations with functional skills in reading, writing, and numeracy."
To strengthen these skills, there must be equitable participation in education. Learners with differing abilities, socioeconomic backgrounds, geographic locations, genders, languages, religions, and ethnicities must be prioritized in the classroom as well as education policies, curricula, and assessments. Students cannot gain a quality education if their realities are ignored in the classroom.
"Equity in education is vital to any country's development," said Karin Hulshof, regional director of UNICEF EAPRO. "We must ensure that a girl from an ethnic minority, living in a remote village has the same opportunity to develop, learn and thrive as her peers living in a city."
Educators and policymakers need to implement more flexible learning paths and assessment plans to accommodate all learners as well as listen to the voices to whom they are accountable. Ensuring inclusive and quality education is a shared enterprise, while a lack of accountability for these goals jeopardizes progress, creates empty promises, and allows for harmful practices to embed further and further into education systems.
Achieving the goals of SDG 4 means reimagining education approaches, as well as instilling a heightened sense of urgency. "First we have to transform ourselves," Aoyagi of UNESCO Bangkok said, highlighting the increase of borderless issues such as climate change, migration and refugees, poverty, and conflict. "How education can address these issues is extremely important," he said.
Many of these crises require urgent immediate action, but reforms extending at least quality primary and secondary education to all is critical to long-lasting and intergenerational progress. The challenges of the 21st century, reflected in the 2030 Agenda for Sustainable Development, will persist long past the end of the next decade, with lifelong consequences for future generations.
In that sense, shortfalls in education are inseparable from progress toward the 17 SDGs as a whole. Quoting the young climate activist Greta Thunberg, Hulshof said: "We can't solve a crisis without treating it as a crisis." As is almost always the case, vulnerable populations stand to lose the most in a crisis, testing the Agenda 2030 commitment to "leave no one behind."
At the APMED2030 meeting, the diverse participants, including leading education policymakers in the Asia-Pacific, focused on three areas of critical recommendations to accelerate progress on the SDG 4 goals. Policy and financial mechanisms need to be reformed to enable more holistic and flexible learning, while ensuring policies reflect expanded notions of literacy and numeracy that include multi-literacies and skills for life and work that are inclusive of all learners.
In the second area, strategies and interventions include aligning curricula, pedagogy, and assessments to reflect students' unique needs, and reforming teacher competency frameworks to reflect changes and provide alternative pathways for children to effectively learn. Last, participants called for improved monitoring and strengthened coordination between education ministries and relevant institutions to provide harmonized and consolidated data and indicators tracking equity and inclusion.
Five years into Agenda 2030, there are large gaps between the promises made for education and the reality today. Failure on SDG 4 will prevent the full achievement of many SDGs. Improved education has the immense responsibility of shaping the skills, attitudes, and behavior of future generations and will have significant effects on poverty, health outcomes, peace and justice, gender equality, and climate change.
There will still be challenges in 2030, and in our rapidly changing world, there must be rapidly changing approaches to undertaking these challenges. The education crisis must be addressed now in order to equip the youth with the skills and knowledge to confront the challenges of today and tomorrow. Dr. Kazuhiro Yoshida, co-chair of the SDG 4 Global Steering Committee and Director for the Center for the Studies of International Cooperation in Education at Hiroshima University, summed up the ambitions of Asia-Pacific participants: "The world is watching this region and we can be an example."
Lateisha Ugwuegbula is an intern with the Inclusive Quality Education section at UNESCO Bangkok and a master's student in Development Practice at the University of Waterloo.