Vietnam's New Defense White Paper in the Spotlight
The new document offers some insights into Vietnam's defense thinking at a significant time in its foreign and security policy.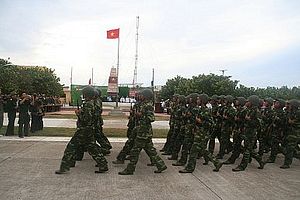 On November 25, Vietnam finally released its 2019 defense white paper – the first document of its kind in a decade. While the white paper is just one among several publicly disclosed reference points related to Vietnam's military and defense policy, it nonetheless spotlights aspects of Hanoi's thinking at an important time in the evolution of its foreign and security policy.
As I have noted before in these pages and elsewhere, over the past decade or so, despite lingering challenges and limitations, the Vietnam People's Army (VPA) has emerged as one of the more capable militaries in Southeast Asia. Vietnam spends about 2 percent of its GDP on military expenditures and remains one of the world's largest arms importers. In particular, the past few years has seen Hanoi investing more in building up its maritime and aerial capabilities and diversifying its defense relationships in the face of various challenges, including China's rise in Southeast Asia and its assertiveness with respect to territorial disputes in the South China Sea.
One of the key developments that has helped occasionally shed light on the evolution of Vietnam's defense policy is the publication of its defense white paper. Vietnam published its first defense white paper in 1998, and this was followed by subsequent iterations in 2004 and then in 2009. While they are only one reference point and only include publicizable information, these defense white papers have nonetheless provided important insights into the extent of continuity and change in aspects of Hanoi's defense approach, be it aggregate aspects such as defense spending or organizational structure or components such as new legal amendments or policy shifts.
On November 25, as anticipated and after previous delays, Vietnam released the latest iteration of the country's defense white paper – its first in a decade. The 2019 Vietnam National Defense White Paper was launched in a ceremony led by Deputy Defense Minister Nguyen Chi Vinh which was also attended by top party and government officials, representatives from departments and ministries, and local and international media outlets.
The development was not without significance. At a broad level, apart from being a demonstration of Vietnam's desire to display its continued commitment to transparency on the defense front, as the first document of its kind to be released in a decade, it provides an update into Vietnam's defense thinking amid changes in the regional security environment and of its own role within it, whether it be its development of international defense alignments as well as broader trends such as the development of the regional security architecture. It also comes amid a big year for Vietnamese foreign policy in 2020, with Hanoi holding both the annually-rotating ASEAN chairmanship and a non-permanent seat in the UN Security Council as well as navigating domestic transitions out to its National Party Congress in 2021.
More specifically, the white paper also gives a sense as to some of the defense trends and developments that are of note to Hanoi. The document itself is structured familiarly into three parts – the strategic context; the broad framework for defense policy; and the development of the Vietnam People's Army (VPA) – with a combination of references to history, policy, strategy, doctrine, and concepts to the extent that these are publicizable. And it includes references to aspects of continuity in Vietnam's defense policy – such as its focus on self-defense and the relationship between the party, the state, the military, and the people – as well as aspects of change including the shape of Vietnam's international engagements and certain policies.
During his remarks at the ceremony, Vinh touched on several notable aspects of this. According to the official account of the event by Vietnam's defense ministry, he noted that the white paper confirms the basic tenets of Vietnam's defense policy, including mutual and reciprocal respect for independence, sovereignty, unity, and territorial integrity and upholding the traditional three nos – though his addition about not using force or threatening the use of force was interpreted as the addition of a fourth no. And while he did not refer to China by name in response to a question on the South China Sea, the white paper and Vinh's remarks clearly reinforced the importance that Vietnam is placing on the issue.
Apart from the defense white paper itself, the launch of the white paper also saw other related developments that spotlighted aspects of Vietnam's defense policy and broader regional dynamics. For instance, other Vietnamese representatives present at the ceremony also mentioned some of the engagements that would be at play for Vietnam's defense policy in 2020 with its holding of the ASEAN chairmanship and the UN non-permanent seat, including the holding of the next iteration of an ASEAN multilateral naval exercise (the first of which was held in Thailand back in 2017); a Vietnam defense industry exhibition on the sidelines of the ADMM-Plus conference; and international events on peacekeeping, post-war legacy issues, and the environment.
For close observers of Vietnam's defense policy and its military, the unveiling of Vietnam's defense white paper was no doubt a significant development in and of itself in terms of what it reveals about what Hanoi wants the world to think about its military and defense policy. The key, as ever, is how the rhetoric interacts with the realities that Vietnamese policymakers will continue to face in a big foreign policy year in 2020 and beyond that as well.