Why the European Parliament Group's Kashmir Visit Backfired on India
The curated visit of far-right European politicians to Kashmir was a dangerous gamble for India's foreign policy.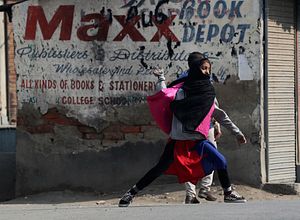 On October 29, the Indian government ushered 27 Members of European Parliament (MEPs) into the Kashmir Valley, which has been in a state of lockdown since its constitutionally-guaranteed partial autonomy was revoked on August 5. An obvious attempt at building bridges with sections of the international community, which has expressed concern at the state of affairs in the Valley, the "private visit" — reportedly orchestrated directly by the Prime Minister's Office (PMO) and the National Security Adviser (NSA) through an obscure Europe-based organization called the "Women's Economic and Social Think Tank (WESTT)"  — appears to have fallen back heavily on New Delhi.
According to Indian Prime Minister Narendra Modi, the visit was organized to give the MEPs a "better understanding of the cultural and religious diversity of the regions of Jammu, Kashmir and Ladakh." To some, the visit signaled a shift in the Indian government's approach toward international pressure on the Kashmir issue, heralding a modicum of transparency and good-faith state conduct to ease tensions and restrictions on civil rights.
But the aftermath has been no less than damaging. As the troubling antecedents, ideological positions, and political backgrounds of the 27 MEPs came to light, alongside the shadowy credentials of the so-called NGO that organized the visit, not only did the European Union (EU) mission in India distance itself from the tour, but a senior Indian diplomat also told the media that even India's own foreign ministry had nothing to do with it. Fair to say that there is little precedent of this nature in the history of India's foreign policy.
Besides the fact that the topmost rung of the government staging a "private visit" of foreign dignitaries to a conflict zone through an obscure NGO – which is listed as a lobbying entity by an EU lobbying watchdog – without looping in the foreign ministry sets a terrible precedent in domestic decision-making, selectively inviting far-right, Eurosceptic, and openly Islamophobic Western politicians marks a dangerous ideologization of India's foreign policy. It risks alienating a whole gamut of crucial international actors, such as the bulk of EU leaders, who detest that particular strand of politics and still believe in transparent multilateralism.
New Delhi is already facing escalating international rhetoric on pushbacks to its liberal democratic order by the ruling right-wing, Hindu nationalist Bharatiya Janata Party (BJP). The noise has only grown with the clampdown on Kashmir, which also entails an across-the-board communication blackout. The latest rebuke came from a recent United States Senate Committee on Foreign Relations hearing on "Human Rights in South Asia," where India's actions in Kashmir took center stage.
The most important concern in this regard has been the opaque and restrictive approach of the Indian government toward the presence of international media and concerned lawmakers in Kashmir. Add to this the lackadaisical attitude of the Supreme Court toward these excesses, which has also come under the radar internationally, most recently from the United Nations Office of High Commissioner for Human Rights.
The curated MEP visit serves well to sharpen the prevailing critique of New Delhi's Kashmir policies. So far, notwithstanding statements from international rights organizations and some progressive American politicians, including strong contender for the Democratic presidential nomination Bernie Sanders, Western governments and mainstream political establishments have believed India in good faith. One could argue that for the Narendra Modi government, this has been a diplomatically comfortable position to be in. By giving selective access to certain ideologically tilted political figures from the West, New Delhi stands to reverse this global neutrality over Kashmir, to its own detriment.
It is crucial to note India's consistent position that Kashmir is an internal matter and, as a mature democracy, it must be trusted to not commit any excesses. In general, the so-called international community, as represented at the UN Security Council, has concurred to this position. If anything, the rare UN Security Council closed-door meeting convened on August 16 to discuss Kashmir confirmed the reluctance of other members to over-internationalize the dispute, an outcome that India framed as a vindication of its own stance. But, by providing exclusive access to only one group of European political figures over others, that too while bypassing formal diplomatic channels with major Western blocs like the EU, New Delhi might do harm to this delicate arrangement and unintentionally give more credence to Pakistan's persistent attempts at internationalizing the issue.
In this regard, it is especially troubling that the Indian government and its security apparatus have so far not just barred members of Indian opposition parties from visiting Kashmir, but also reportedly denied permission to one U.S. Democratic Party senator, Chris Van Hollen, last month. What more, this "staged" MEP visit came after a series of much-hyped and controversial visits by National Security Advisor Ajit Doval and Home Minister Amit Shah to the Valley, clearly purported at vindicating New Delhi's "everything is normal in Kashmir" narrative.
Despite cherrypicking invites according to their ideological leanings, the government – or its proxy NGO that mediated the visit – continued to axe its own foot through the whole charade when it abruptly revoked the invite sent to British Liberal Democratic MEP, Chris Davies, after he requested permission to go around the Valley without security escort. Davies later said that he is not "prepared to take part in a PR stunt for the Modi government and pretend that all is well." As a senior politician in the United Kingdom, his sharp words are bound to have a lasting impact on how London and other governments in the region perceive India's role in the Kashmir dispute.
In a second embarrassment, one of the MEPs, Hermann Tertsch of Spain's Vox party, reportedly claimed that "some people were being kept away" from the delegation. If that wasn't enough, another member of the visiting delegation, German MEP Nicolaus Fest of Alternative for Germany (AfD), told the media that there is "some kind of disbalance" in India's Kashmir policies and that India's opposition politicians should also be let into the Valley if EU leaders are being allowed to visit.
There is much cause from this whole visit to argue that the Modi government's reckless foreign policy on the Kashmir issue could have a far-reaching impact on the soft power that India generally enjoys as a liberal democracy. It is this meticulously fostered image of a democratic country that often allows New Delhi to get away with its political misadventures and excessive uses of force in conflict zones such as Kashmir in front of the international community. This image also gives the required space to Western governments to justify good relations with India to their own domestic audiences. But, with this visit, that critical zone of mutual comfort might have shrunk significantly.
India should also remember that it is not China. As yet, it is far from enjoying the kind of geopolitical and geoeconomic leverage that Beijing boasts off at the international stage, which continues to shield it from any real criticisms on its undemocratic and aggressionist policies at home, including on Tibet and Xinjiang. India is also not a Saudi Arabia that can afford to keep the Western military-industrial complex up and running through oil money, while coming down hard on its own citizens. Neither is it a Turkey that sits at the intersection of Europe and Middle East and is member of a Western defense alliance, ensuring that its cross-border aggressions will be forgotten sooner than usual. It is also not an Israel that enjoys a historical intimacy with Washington, D.C., which serves as an all-weather insurance against international punitive action over its daily misconduct in Palestine.
Thus, Western governments would find it much easier to call out New Delhi on its excesses and, if needed, push it out of the international liberal order that India still is very much a part of. After all, when it comes to India's affiliations with the West, the bulk of the delicate relationship rests on India's democratic credentials, including as a secular republic. A curated visit of right-wing, anti-multilateralism, xenophobic, Islamophobic talkheads to a Muslim-majority conflict zone doesn't really speak to that image.
The ideologization of India's foreign policy that the visit signals must also be seen from the broader perspective of Modi's recent outreach to U.S. President Donald Trump. His not-so-subtle endorsement of Trump for the upcoming U.S. elections in the "Howdy Modi" rally in Houston has already made the American democratic establishment uncomfortable. In many ways, the recent Foreign Affairs Committee hearing that put the spotlight on India's conduct in Kashmir was an indication of this discomfort. The Modi-Trump love affair won't bide well with the Europeans either, and this "staged" visit only make things more awkward. On November 1, German Chancellor Angela Merkel, during her ongoing state visit to India, told the media that the situation in Kashmir is "not good and not sustainable." Within the EU, hers is an influential voice that could drive other like-minded partners to sharpen their stance on the conflict.
Ultimately, this episode showcases the perils of foreign policy centralization within a certain ideological context. Any reasonable consultation with domain experts would have prevented the organization of such a problematic visit. If anything, the Indian government has much to learn from this epic blunder. It has little option to course-correct other than easing the restrictions in Kashmir, giving access to opposition domestic politicians and independent media, keeping the foreign ministry looped in on all foreign policy decisions taken on Kashmir, and most importantly, avoiding any such future visits. Yet, one media report claims that many more visits of a similar nature are in the offing. If that is the case, New Delhi might find itself in a sticky situation of unprecedented nature. From there on, the international gaze on Kashmir might only become sharper and sourer, and for a long time to come.
Angshuman Choudhury is a Senior Researcher at the Institute of Peace and Conflict Studies, New Delhi, and currently a Visiting Fellow at the German Institute of International and Security Affairs, Berlin.
Prannv Dhawan is a student-researcher and policy commentator at the National Law School of India University, Bangalore (India), where he leads the South Asia Forum at the Council for International Relations and International Law.