The Politics Behind Australia's Submarine Maintenance Decision
National defense becomes a domestic political issue in Australia.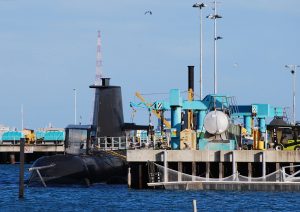 Discussion around national defense has a reputation for being bipartisan in Australian politics. Despite minor disagreements every so often, both sides have tended to take a consensus approach in considering national security. This is upheld by the belief that defense and security issues should be formulated in the best interest of Australia.
However, a decision earlier this year by Australia's Department of Defense to consider moving submarine maintenance to another city has resulted in a domestic political battle.
Currently, Australia's Collins-class submarine base is located in Perth, Western Australia. The maintenance work is, however, conducted in Adelaide, South Australia. The Australian Department of Defense has been considering moving maintenance work to Perth. This has resulted in a domestic political battle with representatives from both states (at the federal and state level) vying for their state to receive the maintenance rights. The eight-member Australian National Security Committee (NSC) is set to make the final decision as to which state will receive the maintenance work.
The potential move directly involves 700 submarine maintenance jobs and holds political importance for both state governments. The maintenance contract is estimated to be worth around 400 million Australian dollars a year to the local South Australian economy.  For WA, the potential move could bring about AU$8 billion to the economy as well as creating more than 3,000 jobs in the long term.
With decision day fast approaching, this battle has intensified in recent months. While some might argue that such a decision should be discussed solely in terms of what is in Australia's best interest, quite a lot of debate in the media has been consumed by the domestic political implications of such a move.
On a federal level, the Australian government relies on cross-bench support in the Senate (Australia's upper house) to pass legislation. This includes South Australian Senator Rex Patrick, whose party has two votes in Senate. Patrick has been campaigning for the maintenance work to remain in South Australia and expressed disappointment at the prospect of it moving to Western Australia. This has led to veiled threats by cross-benchers to thwart the government's legislative support in the Senate should the move to Perth go ahead.
On a state level, the premiers of Western and South Australia have been involved in a public war of words. Both claim that their state is more capable of conducting the maintenance work and also accuse each other of being greedy.
The issue unfortunately has led to an element of tribalism in federal politics. There has been concern from various South Australian media and government representatives over Defense Minister Linda Reynolds' potential "conflict of interest." Reynolds is also a senator representing Western Australia (unlike the American system, Australian cabinet ministers are not independent of the legislature and are drawn from the parliament). In addition, three of the eight NSC members are from WA while none are from South Australia. This has led to further concern that their personal loyalties might influence the decision.
Some have pointed to Reynolds' previous campaigning for GST reform in WA and being vocal in reinstating a Western Australian rugby team as evidence of her unwavering support for WA. However, these actions were taken in her capacity as senator for Western Australia. As defense minister, Reynolds will be expected to take the decision in the best interest for Australia. There will be further checks and balances as she will also be making the decision with other cabinet members from other states.
The South Australian government commissioned a report by an Adelaide-based university into why Adelaide would be the most suitable location for the maintenance work. In addition, there have been various lobbying efforts by state and federal politicians. Similarly, Western Australian state politicians have been putting forward their case as to why they should receive the contract.  This includes an advertising campaign valued at around half a million Australia dollars.
Various independent studies have found advantages and disadvantages in both options. Western Australia is seen as advantageous because of the demonstrable evidence proving it is in the national interest to have operations and maintenance in the same city. However, independent reports have also suggested that keeping maintenance work in South Australia would improve performance and cost-effectiveness.
While both state governments do cite the national interest in their bids to win the contract, the political gravity of the eventual decision cannot be discounted. Among the media noise in the domestic political battle between South Australia and Western Australia, the National Security Committee faces an important decision to make in the national interest.
Adil Cader is a recent University of Western Australia graduate, with a double masters in International Law and International Relations. He previously worked at the Australian Mission to the UN in New York and has been involved with a variety of international policy think-tanks. He is currently on the Australian Indonesia Business Council. His interests are Australian foreign policy and the impact of soft-power diplomacy.