Where Does the Asian Obsession With White Skin Come From?
There are no signs that this deep-rooted trend is subsiding, despite recent media attention.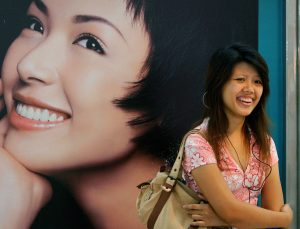 The obsession with white skin in Asia has not stopped making headlines in recent years.
The pervasive idea that lighter skin is more attractive is often spotlighted through various beauty pageants. For example, when the tan-skinned Nonthawan Thongleng was crowned Miss Thailand World 2014, it was hailed by some commentators as a chance to redefine beauty standards.
Nonthawan, also known as Maeya, said it meant a great deal to her "to achieve after the hard work put in and to become a future role model for the younger generation of Asians, from all ethnic backgrounds, with darker skin, to show them that they can achieve what they dream." Indeed, Maeya has become an inspiration for many Thais. Traditionally, dark-skinned women have been under-represented in Thailand, marginalized in favor of a lighter-skinned beauty standard.
In December last year, Catriona Gray became the fourth Filipino to be named Miss Universe, but her victory polarized Filipinos. Many criticized her victory online, claiming she looks like a tanned Caucasian. Gray was born and raised in Australia and is of mixed Scottish-Filipino descent. For some critics, she was "not Filipino enough." As one woman tweeted, "She's beautiful based on Western beauty standards. Show me my wide-nosed girls with darker skin and coarse, frizzy hair."
There is a deeply rooted cultural norm involved with these debates over skin color and beauty. In many societies, and especially in Asia, dark skin has long been associated with working in the fields and, therefore, rural poverty. On the other hand, pale skin is associated with living a more comfortable, cosmopolitan life indoors, out of the sun. Skin color is thus a sign of social class.
The stigma associated with darker skin can mean going to some lengths to stay pale. In the streets of Bangkok, it is not unusual to see Thais shading themselves with umbrellas or wearing long sleeves even during the hottest months of the year, in an attempt to avoid the sun's tanning rays.
This preference for white skin is reinforced via the media: television, magazines, and billboards. Pharmacies stock an array of skin-whitening creams; some even promise to lighten the color of the most intimate body areas, such as nipples or armpits.
The pressure to be white does not only affect women. "There is a range of products and services aimed at men who are interested in becoming paler," said Jaray Singhakowinta, an assistant professor of sexuality studies at the National Institute of Development Administration.
Jaray offered the example of men having glutathione substances injected into their skin to accelerate the whitening process. Indeed, there are clinics in Thailand offering "penis-whitening" treatments through the use of lasers and chemicals.
According to Kosum Omphornuwat, a gender and sexuality studies lecturer at Thammasat University, "the market economy, consumerism, social media and selfie syndrome reinforce the obsession."
In recent years, some advertising campaigns have attracted a backlash for their promotion of this beauty ideal. In 2016, one Thai company advertised skin-lightening tablets with the slogan "white makes you win."  The ad promoted "Snowz" supplement pills, distributed by the Seoul Secret company. It deployed Cris Horwang, a Thai actress and model, who attributed her success to her light complexion.
White skin may have long been an essential characteristic of Thai beauty, Jaray said, but that concept of "whiteness" has shifted.
"In Thai classical literature, heroines who are described as having a fair complexion, as if painted with gold, are considered as beautiful," he said. "So, it's the different shade of white that was a standard in the past. After the Western and Korean influences, the preferred shade is pinkish white."
Indeed, the soaring popularity of Korean entertainment – especially pop music and television dramas – has exacerbated this obsession with white skin. Jaray said the trend began about 20 years ago when a Korean costume drama, "Dae Jang Guem," which told the story of a female doctor elevated from being a royal maid during the historical Joseon period, became popular in Thailand, driving a new demand for Korean food and products.
"The images of Korean actors and beauty products have become common features of Thai entertainment sectors," he said. "Korean-style beauty has therefore become synonymous with universal beauty for many Thais." The proliferation of Korean beauty-related businesses in Thailand and their successful marketing have promoted Korean beauty standards; features include a V-shaped face, pearl-white skin, and a pointed, slender nose.
"I've heard a number of Thai tour operators have organized beauty surgery tours to Korea as their customers are very keen to have the same look as their favorite stars," Jaray said. Indeed, there are television programs, such as "Let Me In Thailand" and a spin-off, "Let Me In Reborn," that recruit people with facial disfigurements to compete for the chance to have plastic surgery in South Korea.
Today, whitening is big business. A World Health Organization survey found that nearly 40 percent of women polled in nations including China, Malaysia, the Philippines, and South Korea regularly use products for lightening their skin. Market intelligence firm Global Industry Analysts shows that the demand for whiteners is rising, projected to reach $31.2 billion by 2024
Kosum suggested the preference for pale skin is unlikely to subside in the immediate future, since "younger and younger children become more and more aware of the meaning of skin color encoded by social institutions."
But Kosum was heartened, though, by the "Dark Is Beautiful" media campaign in India, which aims to confront discrimination. Perhaps one day a similar consumer-based campaign may be brought to bear in Thailand, she said.
Turning the tables does not seem like an easy task. The proliferation of images favoring lighter-skinned people, and the deeply rooted norms behind those depictions, are so influential that many more winners like Maeya will be needed to make such a difference.
Ana Salvá is a freelance journalist based in Southeast Asia.