Before #MeToo, There Were the 'Comfort Women'
The survivors of Japanese sexual slavery started a pioneering human rights movement combating sexual abuse.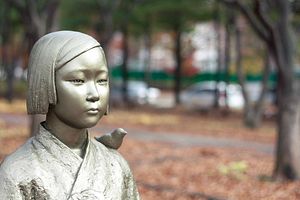 An array of social movements combating forms of sexual abuse have gained prominence in recent years and are transforming the narrative and recognition of sexual violence at all levels. Initiatives like the #MeToo movement have built upon the groundwork and practices set forth by pioneers of the advocacy and recognition of sexual abuse, managing to create global networks and gain extensive support.
Amid this advance toward greater accountability, it is fundamental to remember the movements that paved the way for the international recognition of crimes of sexual violence, and the avenues they opened for future activists.
One of these cornerstone initiatives was the comfort women movement, deemed both especially remarkable and historically unprecedented in its time due to being survivor-driven, demanding state recognition of systematic sexual abuses, and asserting the multilayered identities of survivors. Up until today, self-identification as a former comfort woman is itself a political act of rebellion that remains highly symbolic both at an individual and collective level within national memory.
The movement emerged as a response to the abuses of the euphemistically termed "comfort women" system, which referred to the imperial Japanese system of military sexual slavery that victimized between 80,000 and 200,000 women and girls during World War II. Between 70 to 80 percent of comfort women in this period were Korean; many also hailed from other Japanese colonial territories such as China and Indonesia. The comfort women system has become a paradigmatic case of gender-based war crimes, and led to the development of a human rights movement that has exerted notable political and social transformations not only within South Korea and Japan, but the broader East Asia.
The comfort women movement was born from the momentum generated by Kim Hak-soon, a former victim of the system, sharing her experience and demanding a legal process of redress. She was followed by other Korean survivors leading legal suits to demand responsibility from the Japanese government in 1991. Women that came forth as survivors of the comfort woman system began to rupture the long-imposed official silence regarding the systemized rape of colonized women during the Pacific War.
The comfort women movement is singular and historically unprecedented in its time, due to the manner in which the entirety of the narrative was driven by survivors asserting their multifaceted identities. The survivors are elders, women, and poor, subjects who were subordinated by both imperial colonial and national governments because of their gender and ethnicity. Thus, the plight of these women must be viewed as an intersection between human rights issues and colonialism.
The experience of these women reflected broader political, socioeconomic, and cultural issues, with the injustice of the comfort women system lying at the crux of oppressive structures of colonialism, military imperialism, patriarchy, and the dynamics resulting from their interaction. This meant that none of these variables could be separated or relegated to a secondary position, and demonstrated the necessity of addressing the victims' ordeal through an intersectional lens in order to understand their experiences under the comfort women system.
South Korea's progressive democratization and the rise of international feminist movements have been further driving forces helping break the structural silencing that followed the abuses. Within the comfort women movement, both Korean and Japanese feminist activists, have sought to develop a perspective that has redirected the conversation beyond nationalism to a victim-centered approach, defining it as contemporary international human rights issue.
Actors within the movement, like the Korean Council and a variety of NGOs, have made huge efforts in resolving the claims for reparation, and managed to establish a transnational movement with a focus on gender and human rights in East Asia. From claims of isolated collectives of survivors and researchers, the movement has managed to evolve into a transnational chain of organized action, able to navigate local, regional, and international spaces effectively. The movement today is adept at persuading international media, mobilizing nongovernmental actors across East Asia, and exerting pressure on both the United Nations and the Japanese government for recognition and reparations.
As we move forward and continue to build increasingly interconnected activist networks to combat sexual violence in all its expressions, it remains important to recognize the role of those that paved the way, and avoid a simplified Western perspective on what has always been a global struggle.
Esther Brito Ruiz is a Master's Graduate in Women, Peace and Security at the London School of Economics. She was previously a Global Shaper within The World Economic Forum, and currently serves as Chair and researcher within the Conflict, Security and Crime Student Research Committee at IAPSS and a Junior Research Fellow in the European Institute of Policy Research and Human Rights (EIPRHR).