First Australia Defense Secretary Brunei Visit Puts Bilateral Security Ties in Focus
The interaction spotlighted ongoing efforts by both sides to foster collaboration in their defense ties.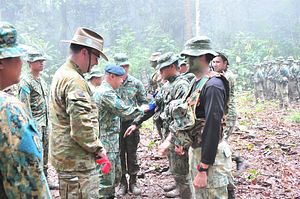 Last week, Australia's defense secretary paid a working visit to Brunei, the first by an individual in his position. The engagement highlighted the ongoing efforts by both sides to continue to develop the defense aspect of their relationship.
As I have noted before in these pages, Australia and Brunei have long had a defense relationship as part of their wider bilateral ties, which date back to when Brunei gained its full independence from Britain in 1984. Defense collaboration was formalized via a memorandum of understanding on defense cooperation inked in 1999, and covers various areas such as visits, exchanges, training, exercises, and information exchange involving key services.
That has continued on over the past few months as well. Last month, both sides held another iteration of their Joint Defense Working Committee (JDWC) meeting in Brisbane, Australia, one of the key mechanisms that had been agreed upon with the signing of their MOU. Both sides are also cooperating on the multilateral front in several ways as well, with a case in point being the fact that both are co-chairs of the ADMM-Plus Experts' Working Group on Military Medicine for the cycle from 2020 to 2023.
Last week, the defense aspect of the relationship was in the headlines again with the visit of Australia's defense secretary to Brunei. Australia's Secretary of Defense Greg Moriarty was in Brunei for what was characterized as the first working visit by a sitting defense secretary to the Southeast Asian state.
Moriarty's visit consisted of a series of interactions. In terms of meetings, during his short trip, he met with a wide range of senior officials including the commander of the Royal Brunei Armed Forces (RBAF), the chief of staff of the RBAF, the director of intelligence, the commander of the Royal Brunei Navy (RBN), the permanent secretary of Brunei's defense ministry, and the second minister of defense.
Per Brunei's defense ministry (MINDEF), the courtesy call by Moriarty on Brunei's second minister of defense, which was also attended by the permanent secretary of the defense ministry and Australia's high commissioner to Brunei, saw both sides discuss a range of issues tied to their bilateral defense ties as well as multilateral engagements. No additional specifics were publicly provided about their private deliberations.
Beyond these meetings, Moriarty's visit included a series of other interactions as well. For instance, per MINDEF, he visited Muara Naval Base, where he and his delegation held consultations and were also given a tour of the offshore patrol vessel KDB Darussalam.