Indonesia: Shore-Based Naval Gun Commissioning Puts Ongoing Weapons Development into Focus
The event spotlighted one of the aspect of Indonesia's development of its military capabilities.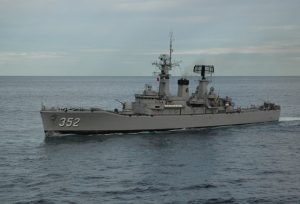 At the end of last month, Indonesia commissioned a shore-based naval gun. The commissioning at a weapons range put the focus on the cycles of military equipment and weapons development as Indonesia continues to develop its military capabilities.
One of the aspects of Indonesia's development of its military capabilities is the continued development of weapons. And this includes several lines of effort, including salvaging existing weapons on retired ships and installing them at facilities for further development. Examples of this have been evident over the past year as well, with a case in point being the salvaging of the 57 mm Bofors naval gun as Indonesia retired a Yugoslavian-built training ship KRI Ki Hajar Dewantara which had been non-operational since 2017, which was intended to be installed at Paiton in East Java which had previously served as a weapons firing range and subsequently converted into larger caliber weapons.
Last month, this aspect of Indonesia's military modernization was in the headlines with the commissioning of a shore-based naval gun. Per IHS Jane's, Indonesia's Navy, known as the TNI-AL, commissioned a shore-based 76 mm naval gun which had been installed at a newly built weapons range in Paiton, East Java.
Defense outlet IHS Jane's quoted an anonymous source close to the matter as saying that the gun was salvaged from the retired Slamet Riyadi, a Ahmad Yani-class frigate, handed over by Indonesia's state-owned electric company, PT Len, to the TNI-AL's Doctrine, Education, and Training Development Command (KODIKLATAL), and commissioned on December 6.
The reported commissioning is in line with previous developments. As Jane's noted, Slamet Riyadi had been decommissioned previously last August after over three decades of service, Paiton had been converted into a weapons range for naval equipment, and the inaugural test-firing of the shore-based 76 mm naval gun had been conducted in November last year.
Few additional details were publicly available regarding the shore-based 76 mm naval gun, how Indonesia plans on utilizing it, and what other weapons we may see deployed in Paiton. Jane's noted that the 76 mm gun was the first of several weapons types that the TNI-AL intends on operating as training and instruction aids at Paiton, with the water-cooled weapon incorporated with its revolving magazine and feeder assemblies, and a bridge, and combat information center simulator. As this new commissioning takes shape, related developments will continue to be important to monitor to assess how this capability is factoring into Indonesia's ongoing military modernization.