The 2010s: Reflecting on a Decade of Change in Bollywood
From digital streaming to the #MeToo movement, the last 10 years have left their mark on India's film industry.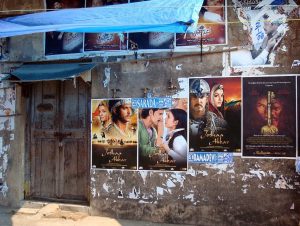 A seismic shift in how we consume Bollywood films is underway, one that many will have experienced toward the end of this decade. Digital streaming giants Netflix and Amazon Prime are making it easier than ever before to watch Bollywood films at home within weeks, rather than months, of their cinema releases. There's also a plethora of slickly-produced big-budget television content available via these streaming giants featuring and made by many famous Bollywood actors, producers, and directors.
Radhika Apte is fast becoming the darling of digital content, with recent appearances in Sacred Games (2018) and Ghoul (2018) and Sobhita Dhulipala – a worthy challenger to Apte's title – has made a name for herself this year in the series Made in Heaven (2019) and spy thriller Bard of Blood (2019), produced by superstar actor Shah Rukh Khan's Red Chillies Entertainment. Others have identified the lucrative potential of these platforms, including director-producer Karan Johar who announced a long-term partnership between his company Dharma Productions and Netflix earlier this year and spoke of the creative freedom this will offer beyond box office concerns.
It is impossible to reflect on the decade in India without considering the election of Prime Minister Narendra Modi and the Bharatiya Janata Party (BJP) in 2014 and his landslide re-election victory this year, arguably dampened by heightened accusations of promoting anti-Muslim sentiment following a series of controversial policy decisions. India has been gripped in recent weeks by nationwide protests – the most violent in recent years – in response to the Citizenship Amendment Act, which some claim is anti-Muslim and advances the BJP's Hindu nationalist agenda. Elsewhere, protests continue in the state of Jammu and Kashmir following the decision in August to revoke Article 370 of the Muslim-majority state's constitution, which provided it with special rights and autonomy.
Time will tell what the impact of these policy decisions will be on the Bollywood film industry, though the negative stereotyping of Muslims and promotion of Hindu religion in film is nothing new. The most frequent stereotypes depict Muslims as terrorists or criminals, as seen in Once Upon a Time in Mumbai (2010), Raees (2017) and in the series Bard of Blood (2019). This is despite My Name is Khan, the highest-grossing film of 2010, calling out the stereotypical on-screen association of Islam with terrorism. Following the success of My Name is Khan, the remainder of protagonist Shah Rukh Khan's decade was marred by a series of box-office flops including Chennai Express (2013), Happy New Year (2014) and Dilwale (2015), as well as the big-budget and experimental Fan (2015) and Zero (2018).
The triumvirate of leading male heart throbs – Shah Rukh Khan, Aamir Khan, and Salman Khan – all turned 50 this decade. While 50 signifies the onset of old age for many in India, academic Rachel Dwyer recognizes a culturally specific concept of aging masculinity that grants a certain status to the older man. For the three Khans, though their bread and butter characters remain as romantic hero for Shah Rukh, action hero for Salman and benevolent patriarch for Aamir, there has been a move from purely romantic and action-orientated narratives toward more age-appropriate roles such as those played in Dear Zindagi (2016), Dangal (2016), Tubelight (2017) and Secret Superstar (2017) which provide a new side to these heroes known for romancing significantly younger women on screen.
Stepping beyond action and romance, Akshay Kumar (who also turned 50 in recent years), has established himself as a well-rounded character actor following roles in Gold (2018) and Rustom (2016), for which he was presented the National Film Award for Best Actor. He has also cemented his status as India's everyman and comedic local hero in socio-political narratives like Toilet: Ek Prem Katha (2017) and Padman (2018) which brought India's development needs into focus.
The roles afforded to women in Bollywood have changed significantly this decade. Women-centric films are becoming mainstream with releases including No One Killed Jessica (2011), Queen (2014), Piku (2015), Dear Zindagi (2016), Simran (2017), Lipstick Under My Burqa (2017), Veere Di Wedding (2018), and Lust Stories (2018). The latter, Lust Stories, was released on Netflix as a more graphic and female sex-positive sequel to the earlier Bombay Talkies (2013). The film speaks to female masturbation and the different experiences of female sexuality, for which Radhika Apte received a Best Actress nomination for her portrayal of Kalindi, a married college professor who seduces her student. Netflix and Amazon Prime straight-to-streaming releases like Lust Stories have so far evaded the scrutiny of the censors and provided very interesting spaces for the significantly more graphic representation of women.
These women-centric films no longer gravitate around a man. They present the female character as an educated and often professional woman who has the means to travel internationally, who enjoys her sexuality, and who can balance tradition with her place in global modernity. Notably many of these films (representative of a wider trend) do not contain the song and dance sequences synonymous with older Bollywood. Academics Saba Hussain and Nazia Hussein recognize these new women as constructing their modernities in relation to consumerism and transnationality, against traditional ideas of womanhood that abound elsewhere in Bollywood.
In December 2012, the world was horrified by the brutal gang rape and murder of Jyoti Singh while travelling on board a bus in Delhi. Singh's murder sparked a fresh debate on the safety of women in India, which was further undermined by a Thomson Reuters Foundation report published in 2018. The report ranked India as the most dangerous country in the world for women and served to refocus the world's media attention on the rights and roles of Indian women five years after Singh's murder. The attack, as well as other high-profile instances of sexual violence, undoubtedly influenced several Bollywood films focusing on sexual violence, including Angry Indian Goddesses (2015), Pink (2016), and Mom (2017).
The #MeToo movement hit India in 2018, sparked by Tanushree Dutta's accusations of sexual harassment against Nana Patekar while they were filming together in 2008. There has since been a wave of accusations in Bollywood (as well as many other industries) by women stepping forward and claiming that actors, directors, and producers have behaved inappropriately and/or violently towards them. This has very recently started to influence the content of Bollywood films, most recently with Section 375 (2019) which provided a very pro-industry take on the impact of the #MeToo movement on the Bollywood industry.
This decade has also seen an interesting shift in the representation of white women beyond the blonde-haired, blue-eyed, and highly sexualized back-up dancers and nameless sexual conquests of the early 2000s. In recent years white women like Amy Jackson and Eli Avram have been assuming the roles of Indian characters as in Mickey Virus (2013) and Singh is Bliing (2015). White women are increasingly capitalizing on their racial ambiguity and the industry's preference for fair skin to perform in new and more exciting roles than those previously afforded to them.
The phenomenon of "launching" the children of established actors into the Bollywood industry has continued this decade with several star kids coming of age and being cast in heavily promoted films. In 2017, actress Kangana Ranaut called out Karan Johar as the "flag bearer of nepotism." Johar has launched several Bollywood star kids, including Alia Bhatt and Varun Dhawan in Student of the Year (2012), Janhvi Kapoor in Dhadak (2018) and Ananya Pandey in Student of the Year 2 (2019).
An interesting new trend involves a greater number of sequels being made. These include Salman Khan's Tiger series, Shah Rukh Khan's Don series, Akshay Kumar's Jolly LLB series, and Abhishek Bachchan's Dhoom series, as well as Vidya Balan's Kahaani series and Kangana Ranaut's Tanu Weds Manu series. There are some interesting linkages happening that play with the traditional concept of the sequel, like Rohit Shetty's police action films Singham (2011), Singham Returns (2014), Simmba (2019), The hotly anticipated Sooryavanshi, touted for a 2020 release, is expected to bring together the individual actors from the first three films for the first time.
The scale at which Bollywood – a mammoth powerhouse of an industry – is evolving in response to changes in technology, politics, culture, and society is impressive. As the industry enters the third decade of the millennium, it will be fascinating to see what the impact of these changes are on the content driven by this powerful industry and what impact Bollywood will have on India itself.
Alexandra Delaney-Bhattacharya is a postgraduate research student and works in privacy.