What Do Malaysia's APEC 2020 Priorities Mean for the Region and the Country?
A closer look at the country's focus areas within the context of its foreign policy and domestic politics.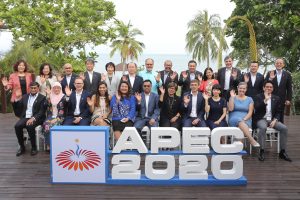 Last month, Malaysia's Prime Minister Mahathir Mohamad announced a series of key priorities for the country's hosting of the Asia-Pacific Economic Cooperation Summit (APEC) in 2020. The priorities deserve notice not only for their own sake but also in terms of how they relate to Malaysia's domestic politics and its foreign policy.
Malaysia is not new to APEC, which was first established in 1989, and the development of regional institutions more generally, which has been an ongoing process. Beyond being a member of ASEAN and an active diplomatic player in general, Mahathir was also more specifically actively involved in the shaping of institutions during his last stint as premier (1981-2003). Most controversially, he championed a version of Asian regionalism around key countries like Japan while excluding Western countries such as the United States and Australia through what was initially known as the East Asian Economic Caucus.
Malaysia last chaired APEC in 1998 when Mahathir was premier. At the time, though, headlines around the event, which has held as the region was dealing with the impacts of the Asian Financial Crisis, were dominated around then-U.S. Vice President Al Gore's rebuke of Malaysia at a time when the country had seen demonstrations after Mahathir deposed of his then deputy prime minister Anwar Ibrahim, with whom he recently mended ties and teamed up with to secure a shock election victory for the Pakatan Harapan government in May 2018 in a dramatic turnaround of events.
With Malaysia's hosting of APEC in 2020, Mahathir would be the first elected world leader to host the event twice. And last month, we heard a bit more about the general priorities that Malaysia will be focusing on during its APEC chairmanship year. In his remarks, Mahathir framed the context for Malaysia's APEC 2020 chairmanship, noting both the importance of the year with it marking the end of the 1994 Bogor Goals and the challenging environment for the institution given a confluence of factors, including simmering trade tensions and a "deficit of faith" in the prevailing global economic model among some public which played into Chile's decision to cancel the APEC Leader's Meeting last November. He also expanded on Malaysia's selected theme for its chairmanship "Optimizing Human Potential Towards a Future of Shared Prosperity," repeatedly emphasizing the need to acknowledge and address popular economic discontent and undertaking inclusive efforts to benefit everyday people.
As the year progresses, among the issues to watch will be how Malaysia's APEC priorities shape up in relation to its domestic politics and wider foreign policy. Some of this will involve incrementally building on APEC agenda items such as crafting a common post-2020 vision for the grouping, issue areas like financial inclusion, youth engagement, and promoting entrepreneurs, startups, and social enterprises. And beyond high-level engagements that make the headlines such as the APEC Leader's Meeting, a lot of this work will be advanced through a series of ongoing meetings and engagements that will not be as prominently in the headlines and will progress through the rest of the year as well. For instance, last month, at the APEC Informal Senior Officials' Meeting in Langkawi, Malaysia, Hairil Yahri Yaacob, Deputy Secretary General at Malaysia's Ministry of International Trade and Industry (MITI) and Chair of APEC Senior Officials in 2020, reinforced the fact that some areas of focus would be restoring public confidence in multiateralism and trade, the circular economy, and the digital economy.
But in addition to how Malaysia conducts itself in that respect as APEC chair, the other aspect to watch is how these priorities will factor into Malaysia's domestic politics and foreign policy. With respect to domestic politics, for instance, the alignment of Malaysia's APEC theme with that of the PH government's Shared Prosperity Vision 2030 will increase the scrutiny on the inroads Malaysia is making at home in achieving balanced and sustainable growth and fair and equitable wealth distribution despite the challenges inherent in this. Other broader issues, such as the country's continued management of the fallout from the 1MDB scandal and ongoing speculation on the Mahathir-Anwar transition, can also be expected to continue to be in the spotlight.
The other aspect of this is the foreign policy domain. As I've noted previously, the PH government's foreign policy approach has included a focus on economic priorities and regional institutions as well, and APEC will in and of itself serve as an example of this. But Malaysia's APEC 2020 chairmanship will also spotlight the more specific matter of how the government is dealing with a range of foreign policy challenges more generally. Beyond Malaysia's approaches to ongoing developments, from progress on trade agreements such as CPTPP and RCEP to palm oil restrictions recently enacted by India, there will also be more scrutiny on bold steps the PH government is taking and whether Malaysia can manage the risks and translate them into progress, be it realignments in the Middle East or criticisms directed at major powers such as the United States and China on aspects of their behavior.
Of course, Malaysia's APEC 2020 chairmanship is only one aspect of a wider set of developments in a busy year for the country at home and abroad, and on the economic side, there are a range of actors in the domestic context that will play a role in the shaping of policy including the finance and trade ministries. And as we've seen with APEC over the past few years, there can be unexpected developments that end up reshaping the significance of country stints and dominating the headlines, be it the non-issuance of a joint statement amid U.S.-China tensions in 2018 or Chile's summit cancellation in 2019. Nonetheless, how Malaysia's stated priorities factor into the country's active domestic politics and foreign policy will continue to be one area to watch for the rest of the year.