What's Next for Malaysia's Capabilities After Its Helicopter Decommissioning?
Ongoing efforts to decommission aging equipment spotlight the broader issue with the country's capabilities.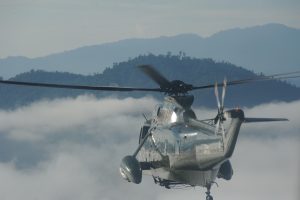 Last week, Malaysia moved closer to grounding a dozen aging helicopters tied to a series of crashes dating back decades. The development highlighted the ongoing challenge Malaysia faces with respect to the platform within its wider military capabilities.
As I have observed before in these pages and elsewhere, despite continued investments in its military capabilities, Malaysia continues to face challenges with respect to some of its key platforms. Addressing these challenges continues to be a priority for the current Pakatan Harapan (PH) government, including through the release of documents such as the defense white paper last year, which sets out areas of emphasis over the next decade.
Among the capabilities that have been in focus in recent years are Malaysia's helicopters. Though the focus has been on the potential acquisition of new helicopters, there is also the key question of what to do with the old Sikorsky A-4 "Nuri" helicopters. Malaysia has been operating its Nuri helicopters for over half a century and they have been tied to a series of crashes and emergency landings dating back to the 1990s.
Last week, this aspect of Malaysia's military capabilities was in the headlines again when Malaysia's air force chief announced that the country was moving forward with decommissioning its Nuri helicopters. Per local media outlets, Royal Malaysian Air Force (RMAF) Chief Ackbal Abdul Samad said that a decision had been made by the service to decommission 12 Nuri helicopters, with their service being discontinued.
"The Royal Malaysian Air Force (RMAF) strongly recommended that these Nuri helicopters be decommissioned," he said according to New Straits Times. "The wear and tear, after flying laboriously for 52 years, is beyond imagination with exorbitant costs for their upkeep that includes… maintenance, servicing, repair and parts. Frankly, they have come to their tail-end, especially due to logistics difficulties as well as time-consuming to source spare parts," he added.
How exactly things will progress with respect to Malaysia's capabilities in this regard remains to be seen. Ackbal said that the defense ministry was preparing documents for cabinet approval following the RMAF's decision. He also said that the RMAF had forwarded recommendations to the defense ministry to either lease or procure new helicopters, although he did not offer much in the way of specifics in that regard. These aspects and more will continue to be important to watch in this regard. While belatedly deciding to decommission aging helicopters may address part of Malaysia's challenge, it does not answer how the country will approach this capability move forward and adjust to resulting shortfalls in this respect.