What's Next for Taiwan's New Southbound Policy in Tsai's Second Term?
Tsai's reelection offers a valuable opportunity to build on a key foreign policy priority.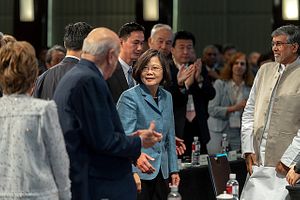 Over the weekend, Taiwanese President Tsai Ing-wen was comfortably reelected in the second-largest margin of victory since Taiwan has held its first direct presidential election in 1996. While her reelection has a range of domestic and foreign policy-related consequences, among the areas which will be interesting to watch will be the evolution of Taiwan's New Southbound Policy (NSP) in her second term in office.
While previous Taiwanese governments have also sought to "look south" to diversify their country's ties in a dynamic region and reduce dependence on mainland China, Tsai's NSP – which took shape early on when she took office in May 2016 and focuses on strengthening ties with Southeast Asia along with South Asia, Australia, and New Zealand – constitutes a noteworthy advancement in its foreign policy, with its focus on advancing ties with these countries in specific areas such as agricultural cooperation, medicine and public health, and youth exchanges.
Tsai's first term saw the NSP make some notable gains. Government statics demonstrated quantitative increases in tourism, education, and trade; landmark developments were seen within priority areas, be it the conclusion of a Taiwan-Philippine bilateral investment agreement in the economic realm or the setting up of a One Country, One Center Program with six Asian countries in the area of public health; and Taiwan was also able to sync up efforts with other like-minded countries such as the United States and Japan in areas like religious freedom and anti-corruption as part of their approaches to the wider Indo-Pacific region. Nonetheless, the NSP also saw its share of limitations and challenges that were clear to even some of its most ardent supporters, be it issues tied to resourcing and coordination among stakeholders on Taiwan's side or caution displayed among some regional governments afraid to get in the crosshairs of cross-Strait relations in some ways.
After Tsai's victory in the recent election, her second term offers the opportunity for Taiwan to build on the successes of the NSP as well as to address some of the remaining challenges. Of course, at the most basic level, Tsai's reelection itself has removed the lingering question that had loomed about the sustainability of the NSP under a different administration and itself paves the way for continuity. But beyond that, there is room for some expansion of policy areas that would enhance the NSP's attractiveness to the region relative to those of other Indo-Pacific actors by playing to Taiwan's strengths, be it on education, democracy, or approaches to certain non-traditional security challenges. Managing some of the NSP's domestic impacts, including human rights concerns and perceptions among some population segments about jobs or social cohesion, will be important since part of the NSP's appeal is tied to the
Of course, all this is easier said than done. Building on success and addressing challenges will require not only continued high-level commitment by Tsai and her team, but also the necessary resources and personnel at home as well as support from regional countries and Taiwan's partners abroad. And getting collaboration off the ground and changing perceptions will take time. But given the promise that the NSP has shown so far for Taiwan and for the region, Tsai's reelection offers a valuable opportunity to build on the foundations of a key foreign policy priority.