Australia and the Pacific Respond to Coronavirus Outbreak
Beyond China, Australia was one of the first countries to confirm a case of the virus.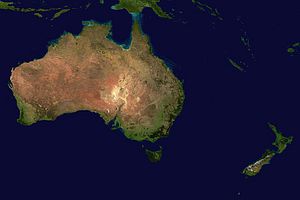 In a major breakthrough in the global fight against the coronavirus, scientists in Australia have developed a lab-grown version of the disease, which will allow scientists to begin testing any potential vaccine against the virus.
The re-creation of the virus was announced last Wednesday by scientists from Melbourne University's Peter Doherty Institute for Infection and Immunity. 
"Having the real virus means we now have the ability to actually validate and verify all test methods, and compare their sensitivities and specificities," the Doherty Institute's virus identification laboratory head, Julian Druce, said in a statement. 
"The virus will be used as positive control material for the Australian network of public health laboratories, and also shipped to expert laboratories working closely with the World Health Organization (WHO) in Europe." 
The sample-virus is expected to be used to generate an antibody test, which will allow detection of the virus in patients who haven't displayed symptoms, as well as enabling the assessment of effectiveness of trial vaccines, the Institute said.
The virus first spilled over into the human population in the Chinese city of Wuhan, in Hubei Province, where on the December 31, WHO was alerted to several cases of pneumonia. A week later, Chinese authorities confirmed that they had identified a new virus with pneumonia-like symptoms, such as cough, fever, breathing difficulties, and in more severe cases, organ failure.
Chinese authorities have been reluctant to share information on the virus or allow disease experts access to effected people, but the virus has so far killed at least 362 people, left around 17,300 infected, and has spread far outside of Wuhan and into at least 23 other countries. All but 146 of the confirmed infections have been in mainland China. 
Last Thursday, WHO declared the outbreak a public health emergency of international concern. 
On Sunday, a Chinese man died in the Philippines — the first death from the virus outside mainland China.
"The whole world needs to be on alert now the whole world needs to take action and be ready for any cases that come from the epicenter or other epicenter that becomes established," said Dr. Michael Ryan, the head of the WHO health emergencies program. 
Beyond China, Australia was one of the first countries to confirm a case of the virus. The government has since put in place strict border measures to detect unwell travellers entering the country, while the government remains in high-level negotiations with Beijing to dispatch a Qantas jet to rescue hundreds of Australian nationals stranded in Wuhan. 
The proposed evacuation would see those evacuated from Wuhan taken to Christmas Island to be quarantined for up to 14 days. Christmas Island is home to a notorious Australian offshore immigration facility. Reports suggest many Australians stuck in Wuhan would rather stay in China than be sent to Christmas Island. 
On Saturday, Australian officials announced that a 12th person had been diagnosed with the virus. The government has since updated its travel advice for China, to "do not travel." All Chinese travellers and travellers who have travelled through China will be now also be denied entry to Australia until the virus is contained. 
Dr. Mike Catton, the co-deputy director of the Doherty Institute, told the Australian Broadcasting Corporation that Australian scientific facilities were well prepared to deal with outbreaks like the coronavirus and that it's not as deadly as other viruses that have emerged in recent years. 
"It's dangerous, it does kill some people, but it hasn't got the lethality that viruses like Ebola do," he said. "I'd still say we're alert, but not alarmed."
Last Tuesday, the head of the Royal Australian College of General Practitioners (GPs) called on the federal government to urgently open the nations emergency medical mask stockpile as GP clinics prepared for a possible surge of coronavirus infections. The following morning, Prime Minister Scott Morrison told reporters that the government would release 1 million masks as it reviews its response to the virus outbreak. There is a shortage of masks in Australia due to the length and density of smoke exposure across the country since the beginning of last year's bushfire season.
Similar security measures have been put in place by Australia's pacific neighbors. There are no confirmed cases of the virus in Papua New Guinea, but the government there has preemptively banned travellers visiting from Asian countries. Going a step further, one provincial leader said he would stop all Chinese people from entering his province.
Vanuatu, too, has placed travel restrictions on all its citizens in travelling to Asian countries. Palau has suspended flights to China, Macau and Hong Kong for at least the next month and is restricting government workers from travelling to those destinations.  
President David Panuelo of the Federated States of Micronesia said in a statement that "a ban on travellers from China, are the most proactive options available to us."
The Marshall Islands has banned all direct travel with China.
Fijian authorities are holding six Chinese nationals in quarantine as a precaution after they failed to gain entry to Samoa. Samoa is said to be taking no chances after being ravaged by a measles epidemic which killed 83 people late last year. 
Earlier in the week, New Zealand and Australia had agreed to work together to get citizens out of Wuhan, but the day after Australia announced it would be sending people to Christmas Island to be quarantined, New Zealand announced it would be launching an independent rescue mission.
New Zealand said it would charter an aircraft with capacity for around 300 passengers to assist its citizens wanting to leave Wuhan, adding that the government was working to have the aircraft depart as soon as possible.
"New Zealand will be offering any additional seats to Pacific Island and Australian citizens as a matter or priority," New Zealand's Foreign Affairs Minister Winston Peters, said in a statement. 
The coronavirus is slightly more deadly than influenza with a 3 percent mortality rate compared to 1 percent for the seasonal flu. For now, what separates the new coronavirus from the flu, is that there is simply no vaccine, which means it is more difficult for vulnerable members of the population to protect themselves. 
The new virus shares many similarities to its cousin, the SARS virus, which emerged in China in 2002. SARS was much more deadly, with a mortality rate of about 10 percent. Like SARS, the new virus is believed to have also come originally from bats, meaning humans don't have antibodies to it, making it much more difficult for our immune system to fight. 
In a report published Wednesday, Chinese researchers estimated that each infection of the new virus led to 2.2 other infections on average, whereas the rate for SARS was estimated to be 3. The SARS virus was the first time an animal coronavirus spilled into the human population.
Early last week, WHO said it was encouraged that the bulk of cases outside of China involved Chinese tourists or people who had visited Wuhan, with only one case of human-to-human transmission outside of China believed to have occurred in Vietnam. Since then, however, human-to-human transmissions have skyrocketed, with at least eight cases confirmed across Germany, Japan, Vietnam and the United States.