Indonesia's Upgraded F-16 Aircraft in the Headlines with Maiden Flight
The development put the focus on the Southeast Asian state's ongoing efforts to build up its air force capabilities.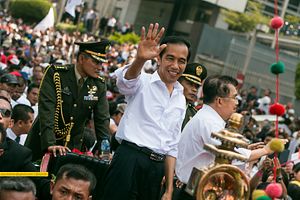 Earlier this month, Indonesia's upgraded F-16 aircraft underwent its maiden flight in the Southeast Asian state. The development spotlighted one aspect of the country's ongoing efforts to develop its air force capabilities within its broader military modernization and the opportunities and challenges it faces therein.
As I have observed before in these pages, Indonesia has long been looking to boost the capabilities of its air force (TNI-AU), with officials long noting that the country does not have sufficient modern aircraft to thoroughly cover its airspace and address the wide range of contemporary security challenges it faces.
In terms of fighter jets, among the platforms Indonesia operates is F-16s by the TNI-AU's Aviation Squadron 16 in Pekanbaru, Riau and by its Aviation Squadron 3 in Iswahyudi, East Java, which includes F-16 C/Ds and F-16 A/Bs. Plans have also been in the works to procure additional aircraft as well, even though some of the planned deals have faced delays in the past.
One aspect of developments tied to Indonesia's F-16 aircraft was a series of upgrades being made to Indonesia's F-16A/Bs that has been taking place. Ten of Indonesia's F-16s had been set to undergo the Falcon Structural Augmentation Roadmap (STAR) and enhanced mid-life upgrade programs involving Lockheed Martin, air force technicians, and local company Indonesian Aerospace (PTDI), with those upgrades including structural enhancements, enhanced avionics and weapon systems, and an extension of service life to 8,000 hours from 4,000 hours.
Last week, this aspect of the Indonesian air force's defense capabilities was in the headlines with the maiden flight of Indonesia's upgraded F-16 A/B fighter aircraft. The maiden flight was expected in 2020 following the planned upgrades that had been performed on the aircraft previously.
According to the TNI-AU in a statement, the aircraft, with serial number TS-1610 – the first of the F-16s to undergo the aforementioned upgrades – was on the flight that occurred on February 18. The aircraft took off as expected from the Iswahyudi Air Force Base in Madiun, East Java.
No further specifics were issued by the service about the maiden flight or subsequent developments that can be expected, including future flights or inroads in Indonesia's fighter jets more generally. As we head further into 2020, such developments will be key to watch in order to assess how Jakarta is managing the opportunities and challenges in this respect as well as making progress on its goals to build up its air force capabilities more generally as well.