Is the Pakistani Government Really Worried About Indian Muslims?
As India's Muslims come under siege, will Pakistan's concern amount to anything more than opportunism?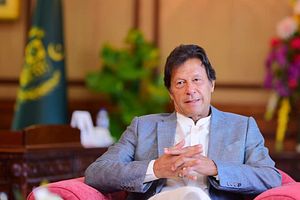 Pakistani Prime Minister Imran Khan in a statement asked the world to intervene to stop the ongoing "communal violence" in India. Khan, in a Twitter message, wrote that "IOJK [Indian occupied Jammu and Kashmir] was the beginning. Now 200 million Muslims in India are being targeted. The world community must act now."
While communal violence in India has risen recently, minorities in Pakistan have suffered for years. The Pakistani state's so-called drive to treat its minorities equally doesn't exist beyond social media messages as the country's leadership tries to present its performance as better than India when it comes to dealing with smaller religious and ethnic sections.
What is happening in India is tragic and should be condemned. However, that in no way makes Pakistan's story better. Last week, a major community center of the country's Ahmadi community was confiscated by local authorities and given to a group of Sunni clerks. Dozens of other mosques and Ahmadi places of worship have been ransacked by religious mobs in Pakistan.
A few months ago, a high-ranking government officer landed in trouble for merely mentioning Ahmadis in her speech. She was forced to clarify her statement in front of a handful of clerks, for they thought the civil servant had committed blasphemy.
"I talked about minority rights, I spoke about rights of non-Muslim Pakistanis, maybe I should have not even mentioned the word Ahmadi in that, then I spoke about how we should stay united and not discriminate against anyone so that we can protect against external enemies," she said. "They (Ahmadis) are non-Muslim according to the constitution and non-Muslim in my view as well," she added.
The issue of forced conversions in Pakistan has also continued unabated. According to a Human Rights Commission of Pakistan report, every year "Around 1,000 cases of Hindu and Christian girls being forced to convert were estimated in the province of southern Sindh alone."
The country's religious and political elite often targets minorities to negotiate with political parties in power or institutions that matter in Pakistan. In November 2018, Fazal-ur-Rehman, a hardline, right-wing Pakistani politician and president of Jamiat Ulema-e-Islam, targeted Sikh pilgrims in Pakistan by terming them a threat to Pakistan's unity. A few weeks ago, Khan's party leaders put up banners in Lahore calling for the persecution of Hindus because Muslims are suffering in Kashmir.
"Another update of the disgraceful act. Vandalizing a mosque! It seems to be a reminder to Muslims of the Babri Masjid episode. I think secular forces within India should rise against such barbaric actions," said Pakistan's President Arif Alvi in a social media message after recent violence in India.
In another statement, Khan said that "I want to warn our people that anyone in Pakistan targeting our non-Muslim citizens or their places of worship will be dealt with strictly. Our minorities are equal citizens of this country."
Both of the statements coming from the highest level arose in the context of ongoing communal violence in India. In one statement, Pakistan's president condemns violence against Muslims and in another, the country's prime minister cautions against any action that targets minorities.
However, no one in Pakistan is ready to condemn violence against Ahmadis or others if doesn't serve their political interests.
It's ironic that the leadership of the current government in Pakistan has not only participated in and encouraged communal politics, but has also incited violence against minorities in Pakistan, particularly Ahmadis. Several members of the ruling party have called for the isolation and subjugation of Ahmadis in Pakistan. Moreover, over the last few months, not a single attack on Ahmadi places of worship has been condemned by the leadership of the current government.
It only shows that the existing selective outrage coming out from Pakistan is mere politicking rather than a serious concern for people across the border. If Pakistan wants the world to take its concerns for global Muslim communities seriously then the country may also consider speaking up for the Chinese Muslim population and Ahmadis at home.
As things stand, the statements coming from Pakistan are nothing more than political opportunism.