What Does the New Australia-ASEAN Informal Defense Ministers' Meeting Mean for the Future of Security Ties?
A closer look at the importance of a recent development amid wider trends.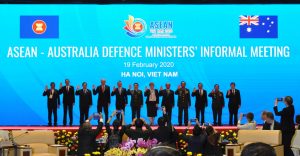 On February 19, Australia and the Association of Southeast Asian Nations (ASEAN) held what was the inaugural iteration of a new informal meeting between their defense ministers. The birth of the new mechanism spotlighted the status of the security aspect of relations between the two sides and the management of it amid wider trend and developments.
As I have observed before in these pages, Australia has long had an important role to play with Southeast Asia and ASEAN, including on the security side as well with manifestations including its membership in the Five Power Defense Arrangements (FPDA) and involvement in regional defense issues ranging from counterterrorism to maritime security.
Over the past few years, we have seen multiple Australian governments attempt to build on this even further both in terms of Australia's bilateral relationships with individual Southeast Asian states as well as with ASEAN as whole, amid broader developments in ties such as the prominent role accorded to the subregion in Australia's 2016 Defense White Paper and 2017 Foreign Policy White Paper and the holding of the first-ever Australia-ASEAN Special Summit on Australian soil in 2018. Inroads have been evident along the way, with cases in point including the setting up of a new defense policy dialogue with Vietnam, collaboration with regional states such as the Philippines and Indonesia on aspects of counterterrorism such as financing, and building out common areas of interest with ASEAN countries on aspects of a shared vision of the Indo-Pacific.
This week, the defense aspect of Australia-ASEAN relations was in the spotlight again with another notable first with the holding of the inaugural Australia-ASEAN informal defense ministers' meeting in Hanoi – in line with Vietnam's holding of the chairmanship of ASEAN this year. Australia's Defense Minister Linda Reynolds also used the inauguration of the new mechanism to unveil Australia's vision for its defense relationship for ASEAN in 2020, with a set of six priorities – mutual respect, ASEAN centrality, supporting sovereignty, addressing areas of shared priority, transparency, and respect for international law and norms; as well as eight priority areas – education and training, women, peace, and security, peacekeeping, countering terrorism, maritime security, military medicine, humanitarian assistance and disaster relief, and promoting communication, cooperation, and interoperability.
While the new informal defense ministers' meeting itself is not surprising given Australia's ongoing efforts to deepen defense ties with Southeast Asia and ASEAN as a whole, its potential significance ought to be understood. If indeed the institutionalization of the Australia-ASEAN informal defense ministers' meeting does stick, Australia would be among just a select few countries that have this regular engagement with ASEAN including the United States, China, and Japan, which is testament to its growing significance as a security player in Southeast Asia. And as Reynolds herself noted in her remarks, beyond symbolism and status, this would also provide more opportunities for Australia and ASEAN to engage on defense issues and further develop this aspect of their relationship.
To be sure, with the mechanism now in play, the focus will shift on how this will affect Australia-ASEAN security ties in general as well as the evolution of detailed collaboration in more specific areas. While the 2020 vision that Reynolds articulated is a good start in outlining what some of this will look like, there will now be increased scrutiny on the extent to which Canberra can make tangible inroads on both traditional areas of security collaboration with Southeast Asian states as well as the new package of measures introduced. This will come as Australia manages changes in its domestic politics as well as broader challenges in its foreign and security policy, whether it be balancing ties with major powers including the United States and China or resourcing its expressed priorities abroad.
But that should not detract from the significance of the birth of the new Australia-ASEAN informal defense ministers' meeting. Indeed, given the important if underappreciated security role that Canberra has played in Southeast Asia as well as contemporary trends and developments that are driving the two sides closer together, this mechanism and the evolution of ties more generally will continue to be key to monitor in the coming months and years.