ASEAN Must Do More to Help the Rohingyas
ASEAN must move from aid to rights advocacy in Myanmar's Rakhine state.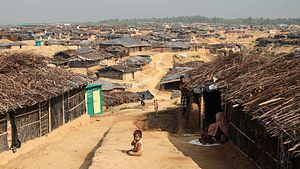 The deaths of more than a dozen Rohingyas on an overcrowded boat that was bound for Malaysia but capsized in the Bay of Bengal in early February highlighted the desperation that about a million refugees continue to face in the sprawling camps in southern Bangladesh. While the refugees' plight is of high concern, it often overshadows the fact that the situation has only gotten worse for the hundreds of thousands of Rohingya still in Myanmar's Rakhine state, where the refugees in Bangladesh lived before fleeing persecution and violence over recent decades.
In both Myanmar and Bangladesh, the desperate plight of the Rohingyas has no end in sight. This is particularly true for the often forgotten hundreds of thousands of Rohingyas who remain in Rakhine, where the conflict between the Arakan Army (AA) and the Tatmadaw, Myanmar's military, keeps intensifying.
The shelling of a school in northern Rakhine's Buthidaung Township on Myanmar's Children's Day last month, which injured about 20 primary school students, should have been the final straw of the violence. Instead, thousands of civilians from all communities in Rakhine continue to live in fear as the number of casualties and injuries, as well as those displaced, grows every day.
How many more people have to suffer and how many more villages need to be hit by artillery as so-called "collateral damage" before Myanmar takes its obligations seriously and protects all civilians in the restive state?
On top of the conflict-related violence, communities in Rakhine state face the added ignominy of living under one of the world's longest-running telecom shutdowns, which has been in place in one form or another since June 2019. The internet blackout has a disproportionate impact on local civilians, hampering their access to livelihoods and to basic information, while also obstructing the work of journalists, human rights monitors, and aid organizations.
Humanitarian groups have been prevented from providing crucial aid to many areas where the Rohingyas live, leaving thousands at risk of starvation. Meanwhile, state-imposed restrictions on freedom of movement mean that the Rohingyas cannot even flee for safety if the conflict encroaches close to where they are living.
The situation in Rakhine state is troubling for all communities, but particularly so for the approximately 600,000 Rohingyas who remain trapped in an apartheid system that has been ongoing for almost eight years. Not only are their villages being caught up in the violence, but there is credible evidence that they are being used as forced laborers in Tatmadaw camps, as "guides" to find AA fighters in remote areas, and as sentries in villages. All this while continuing to face severe restrictions on their rights to citizenship, freedom of movement, and access to education, healthcare, and livelihoods.
Put simply, Myanmar authorities have done nothing to improve the situation for the Rohingyas living in Rakhine state in recent years, and in many ways the conflict and the government's imposed restrictions mean that the situation has only gotten worse. Amid this environment, how can ASEAN and other countries even begin to talk about repatriations taking place?
ASEAN's efforts to facilitate and promote the repatriation of Rohingya refugees to Myanmar is rushed and one-sided. It has totally embraced Myanmar's narrative on the ongoing situation in Rakhine state and failed to consult and engage with Rohingya refugees.
The lack of progress clearly calls for ASEAN governments to do more to help resolve the protracted crisis.
Yet, despite ASEAN's charter — the bloc's legally binding founding agreement — claiming to adhere to "respect for and protection of human rights and fundamental freedoms," ASEAN member states have been too eager to hide behind its policy of noninterference regarding a member's domestic affairs to avoid questioning Myanmar's highly defensive narrative.
Instead, members of the ASEAN Plus Three grouping, comprising the bloc's member states as well as China, Japan and South Korea, are supporting humanitarian and repatriation efforts in Rakhine state. In recent months, Indonesia and South Korea have donated half a million U.S. dollars each to support ASEAN efforts for the repatriation of the Rohingyas.
However, with conditions on the ground deteriorating, and most refugees not willing to consider moving back without guarantees for their rights and safety, ASEAN's aid will be of little benefit to the Rohingyas if the bloc does not play a role in helping Myanmar tackle the root causes of the crisis and take steps toward restoring citizenship rights, lifting discriminatory movement restrictions, and ensuring full accountability of those responsible for the atrocities. Humanitarian aid is in dire need, but highly flawed if its access is being restricted and no measures are taken toward a sustainable solution that means that aid is no longer required.
Further, by only relying on Myanmar's word about the situation in Rakhine state, how can ASEAN governments even be sure that their money and aid are being used to benefit all communities? ASEAN members should request access on the ground to verify and evaluate that their contributions are being spent effectively and having a positive impact — something that can only be achieved by consulting all communities, including the Rohingyas, directly.
An opportunity for progress emerged recently, when the International Court of Justice ordered Myanmar to not commit any acts of genocide and to prevent the destruction of potential evidence. Myanmar must submit a report back to the court within four months of the January 23 decision, and every six months thereafter.
The ICJ case relates to the most heinous crimes under international law, and should lead to greater urgency among ASEAN member states to prevent war crimes, crimes against humanity, and possible genocide against the Rohingyas. A welcome step would be for ASEAN member states to offer assistance in helping Myanmar meet its reporting obligations for the ICJ ahead of the May 23 deadline.
Myanmar has consistently said it needs time to deal with the complex issues in Rakhine state, but ASEAN must start questioning Myanmar's lack of progress toward improving the situation on the ground. ASEAN can be a constructive player in resolving this crisis but must recognize that helping Myanmar — a member state — to overcome the ongoing issues in Rakhine is a collective responsibility that requires more than humanitarian assistance. The impacts of the crisis are being felt across the region and will continue to do so as long as Myanmar's government refuses to tackle the root causes of the crisis and ensure accountability.
We need to finally start seeing concrete progress in Rakhine, so that the issue moves toward a resolution, and justice for the Rohingyas can finally be served.
Kasit Piromya is the former foreign minister of Thailand, a former member of Parliament, and a board member of ASEAN Parliamentarians for Human Rights (APHR).