COVID-19: Countering the Economic Contagion
Preventive steps to prevent infection may produce an economic crisis that risks exacerbating poverty, hunger, and health issues.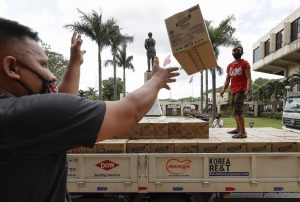 At the rate it is spreading across the world, COVID-19 has become a global nightmare. Since China informed the World Health Organization (WHO) of a cluster of 41 patients with mysterious pneumonia on December 31, 2019, the world has seen COVID-19 cases balloon to 334,981 across 189 countries and territories, with 14,652 deaths, at the time of writing. In the Philippines, from the first case confirmed on January 30, 2020 (a 38-year-old Chinese national), COVID-19 cases have since shot up to 462 confirmed cases, with 33 deaths. Based on big data analysis, there is evidence of undertesting and under-reporting in the Philippines, raising concerns that undetected cases could number in the thousands.
COVID-19 produces two waves of contagion. The first is a disease-based contagion that can swamp domestic healthcare and social protection systems, as well as cripple workers and factories through adverse health outcomes. The second type of contagion refers to the "chilling effect" of COVID-19 on both the economic demand and supply sides of a growing number of countries, notably those in "factory Asia." Adequate and coherent policy responses on both fronts will be necessary to prevent this health crisis from turning into an even bigger economic crisis.
Economic Contagion
Recent research on the pandemic's effects on the global economy by the Asian Development Bank traced the impact to several main channels, including the decline in domestic consumption in disease-affected countries, the chilling effect on tourism and business travel, disruptions in trade and production lines, and the effects on health due to disease and mortality risks. Their study estimates income loss of $77 to $347 billion (or 0.1 percent to 0.4 percent of global GDP). Up to two-thirds of the total is accounted for by China, which is expected to be worst hit not only because the pandemic started there, but also because of its position in the global production chain.
Similarly, analysis by researchers from the Center for Economic Policy and Research (CEPR) based in Washington,  D.C. note that COVID-19 hit the heart of "factory Asia," including not just China, but also Japan, South Korea, and Singapore. They describe the knock-on effects of virus-related disruptions as "supply chain contagion," demonstrating that what was once seen as a world-beating supply chain system could now be exposed for its over-concentration under a disease outbreak scenario.
Almost all of the Group of 7 largest economies in the world have been hit by COVID-19. Collectively, the United States, China, Japan, Germany, the U.K., France, and Italy account for 60 percent of the global economy, 65 percent of global manufacturing, and 41 percent of global manufactured exports. Based on CEPR researchers' calculations, countries like Japan could face 10 percent GDP loss, while Germany and the United States could lose up to 8 percent of GDP each.
Analysts have also raised the risk of a global debt crisis due to financial fragility in the wake of COVID-19 — financing for many emerging market economies could experience a sudden stop due to both a real supply side slowdown, combined with a significant turn in consumption and investor sentiment across the world.
Countercyclical Responses
A variety of countries have already initiated stimulus measures, including those focused on particularly vulnerable sectors. For instance, Australia has created a holistic crisis response package that will not only stimulate the economy, but will also buttress the pay for apprentices and contract workers, as well as small firms expected to be most affected by the growing risk of a COVID-19 triggered economic downturn. In the United States, there are talks of an unprecedented $2 trillion relief package to stabilize the flagging U.S. economy and protect workers and businesses.
In addition, some large firms in Asia — like Singapore Airlines in Singapore and, in the Philippines, Cebu Pacific, JGSummit, Jollibee, Ayala Corporation, and MVP Group of Companies — have taken it upon themselves to help protect their workers and partner businesses, including by cutting senior managers' pay instead of laying off workers and by crafting relief packages for their worst-hit employees and partners.
On top of this, the Philippine government announced a 27.1 billion Philippine pesos (around $500 million) stimulus package, but business groups have countered by asking for a counter-COVID-19 response over 10 times larger than what the government mustered (281 billion pesos).
Perhaps more important than the headline figures, these economic packages will need to be specially designed and targeted since health-minded policies (e.g. travel bans, quarantines, lockdowns, etc) will blunt the economic effect of any normal fiscal or monetary stimulus.
Policy Coherence
Uncalibrated policy responses could cause further damage if many industries slow down and tens of thousands of small firms are scuppered. And this could destroy income streams for millions of workers and their families — all during a time when they might need funds the most.
Government and private sector closures, travel bans, and city-wide quarantines or lockdowns could help to ease the spread of the disease; but if implemented callously, these could also trigger food supply disruptions, economic dislocation, and heightened uncertainty and panic under an already tense situation.
The Philippine government also started to contemplate a national emergency bill that would allow the government to reallocate budgetary resources and take over private enterprises as part of the counter-COVID-19 effort, including hospitals, hotels, and even telecommunications facilities. Such emergency powers are not necessary, as other options on procurement and resource reallocations are possible; they may also end up souring business and investor sentiments even further. In short, draconian measures that seek to contain the virus contagion could be unwittingly exacerbating the economic contagion, if policy responses are not balanced, or are too rigid.
In the Philippines, health-minded community quarantine and travel restriction policies (at least initially) ended up disrupting food supply chains and placed more obstacles on healthcare workers trying to go to hospitals. Many informal sector workers facing "no work, no pay" conditions also tried to defy the travel ban. Up to 40 percent of the country's 45 million labor force are less likely to have formal work arrangements, with little access to social protection and insurance. If they lose their jobs (or if their companies close down because their workers do not report to work), then the preventive steps to prevent a health contagion may produce worse implications from the economic contagion, exacerbating poverty, hunger, and health issues.
Fortunately, some Philippine government agencies — notably local governments — have adjusted their policy responses. Food lanes have been created to mitigate the disruption of food supplies, exemptions on travel have been made for healthcare personnel and other critically important workers in food manufacturing and other parts of the economy, and food distribution and other support mechanisms have been put in place for poor and low income households badly hit by the quarantine. Some local governments have also resorted to immediate cash transfers and income support schemes, particularly for the transport sector and blue collar and informal sector workers paralyzed by the quarantine. As the crisis expands, and quarantine protocols linger, it is critical to elevate these efforts with more resources and expanded coverage.
Further resource allocations in the healthcare sector (for frontline COVID-19 contagion response) and social protection (to blunt the effects of economic contagion due to COVID-19) will be critical in the weeks and months to come. Government agencies must be given the leeway to recalibrate policy responses based on evidence and guided by broader goals of protecting both health outcomes as well as the broader economy and the millions who  depend on it. Otherwise,  it is possible that the "cure" may prove worse than the disease.
Manuel M. Dayrit is former Dean at Ateneo de Manila University's School of Medicine and Public Health and a former Secretary of Health of the Philippines.
Ronald U. Mendoza is Dean at Ateneo de Manila University's  School of Government. This article draws on their recent paper, which can be downloaded here.