How the City of Ahmedabad Became Central to Indian Diplomacy 
India's paradiplomacy is growing fast, and nowhere is that more true than in Gujarat's largest city.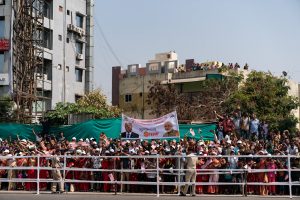 Ahmedabad — the largest city in India's westernmost state of Gujarat — dazzled with U.S. President Donald Trump's arrival on February 24.
In a grand spectacle of diplomacy, Prime Minister Narendra Modi escorted Trump through a roadshow spanning several kilometers to Sabarmati Ashram, the residence of India's freedom icon Mahatma Gandhi in Ahmedabad. Setting aside trade tensions between India and the United States, the pair inaugurated the newly built Motera stadium — the largest cricket stadium in the world — and addressed a gathering of 100,000 people in a mega event referred to as "Namaste Trump," an echo of the "Howdy Modi" rally in Houston last year attended by tens of thousands of Americans.
Gujarat, with its long coastline of 1,600 kilometers and a border with Pakistan, has long been one of India's most prosperous states. The state is an industrialized hub with its main commercial city Ahmedabad informally titled the "Manchester of India" on account of its huge textile industry. The Gujarati people are renowned for their sense of dynamism and spirit of entrepreneurship and business. Perhaps nowhere is this spirit of entrepreneurship and innovation more apparent than in the local cuisine, with its plethora of delicious vegetarian dishes, fusion food, and "farsan" (snacks).
The state has enjoyed a higher economic growth rate compared to the national  average. According to a 2017 article, "If Gujarat were a country with a 10 million-plus population, this would be the third-fastest growth rate in the world, after China and South Korea." Thus the "Gujarat model of development" has been widely touted (although eminent political scientists such as Christophe Jaffrelot have debated the merits of this term). As Sharik Laliwala from the Center for Equity Studies put it in an interview with NPR, the Gujarat model is "about infrastructure, 24-hour power, better roads, water supply to agricultural lands, big dams, deregulation."
Gujarat is, of course, also Modi's home state and where his political career kickstarted. He was chief minister there for almost 13 years, making this business-friendly state the only one where the Bharatiya Janata Party (BJP) has continuously been in power since 1998.
For the United States too, Gujarat is an important state. The 4 million Indian Americans — whom Trump hopes to woo through his visit — are America's wealthiest and most educated ethnic community. Gujaratis make up a large chunk of that group. In fact, Gujaratis are amongst the most successful diaspora communities in several countries, including Britain, Kenya, and Fiji. A report by the Vishwa Gujarati Samaj claims Gujaratis can be found in 129 of 190 sovereign nations listed by the United Nations.
More recently, Ahmedabad has garnered attention for fresh reasons — it has become a frontline city for Indian diplomacy. As Gujarat's current Chief Minister Vijay Rupani says, "Gujarat has not only done the branding but also bonding with the world. We have proved ourselves and now Gujarat has become a gateway to the world."
In traditional international relations, sovereign states are the sole actors in foreign policy and diplomacy. In India too, foreign affairs are highly centralized and constitutionally under the exclusive jurisdiction of the center. But India's states are now increasingly emerging as important actors in India's foreign policy in what is called subnational diplomacy or paradiplomacy. The concept of paradiplomacy was coined in 1990 by American scholar John Kincaid, who "outlined a foreign policy role for local governments within a democratic federal system."
Long before becoming prime minister, Modi envisioned a greater role for states as drivers of India's economic growth. He also saw the need for exchanges beyond national capitals. As chief minister of Gujarat, Modi made trips to  several countries — including China, Japan, and Singapore — and recognized the potential of regional actors as vital players in Indian diplomacy.
Even though paradiplomacy was first conducted by Andhra Pradesh Chief Minister N. Chandrababu Naidu in the 1990s, it is Modi who is universally credited for this paradigm shift in Indian policymaking. Modi's innovative conduct of paradiplomacy on the state level was instrumental in his pursuit of putting Gujarat on the world map. He pioneered the biennially held Vibrant Gujarat Summit in 2003, an international investor summit that developed Gujarat as a prime investment location in India. Attended yearly by heads of state, top CEOs, and international investors, it has now become a model for several state-based summits including Progressive Punjab, Vibrant Goa, and the Madhya Pradesh Investors Summit.
Modi — with his history of being one of India's strongest regional leaders — has taken his Gujarat vision national. One of the first things Modi did after coming to power through the 2014 general elections was create a States Division in the Ministry of External Affairs (MEA), in line with his vision of a "Team India" where states can attract foreign investment and compete with each other through "competitive federalism." Modi granted greater autonomy to states, urging them to directly pitch their unique potential and comparative advantages to foreign investors. This has, in turn, enabled a limited decentralization of India's foreign policy and also strengthened India's federal structure.
Foreign heads of state no longer make trips only to the national capital, New Delhi; they increasingly visit Modi's home state and several other states. Trump is just the latest in a host of world leaders to visit Ahmedabad since 2014, including Chinese President Xi Jinping, Japanese Prime Minister Shinzo Abe and Israeli Prime Minister Benjamin Netanyahu. Many other leaders –such as Uzbekistan President Shavket Mirziyoyev, former Denmark Prime Minister Lars Rasmussen, Czech Prime Minister Andrej Babis, former Malta Prime Minister Joseph Muscat, Canadian Prime Minister Justin Trudeau, and former Bhutanese Prime Minister Tshering Tobgay – as well as other important guests — such as former U.S. Secretary of State John Kerry, former World Bank President Jim Yong Kim, and former UN Secretary General Ban Ki Moon, among many others — have visited Ahmedabad and Gandhinagar, Gujarat's political capital, as part of their India trips or as participants in summits. These visits and summits have often translated to huge investments and support for colossal projects like smart cities and bullet trains.
Roadshows showcasing India's immense cultural heritage and diversity are becoming popular during state visits, based in part on the ability of India's local administrations to easily mobilize people to put on a spectacle. Abe, Netanyahu and now Trump — three famous "bromances" of Modi — have all been treated to spectacular roadshows in Ahmedabad as part of their welcome. Modi and Netanyahu also flew kites to commemorate Uttrayan, Gujarat's famed kite-flying festival, where the "sky is the limit" bonhomie was on full display.
Beyond Gujarat, Modi has also regularly hosted world leaders outside New Delhi to showcase India's diverse potential – Xi in Mahabalipuram, Tamil Nadu; French President Emmanuel Macron in Varanasi and Mirzapur in Uttar Pradesh; German Chancellor Angel Merkel in Bangalore, Karnataka; and many more.
Another aspect of paradiplomacy has been the signing of sister-city agreements aiming to develop cultural and economic links and exchange best practices. Ahmedabad and Guangzhou were paired as sister cities in 2014, while Gujarat and Guangdong are sister provinces.
Paradiplomacy is especially important in a large country like India where states are hugely disparate with unique cultural, geographical, and economic characteristics – and these differences extend beyond international borders thanks to diaspora populations. As analyst Tanvi Ratna elaborates, the concept is still relatively new in India and states are nowhere as empowered as in the cases of Quebec in Canada and Sao Paolo in Brazil. But Indian states are increasingly overcoming their relative passivity in foreign relations and harnessing their ability to promote trade and investment. Regional actors are becoming important in India's growth story, and Gujarat and its key city Ahmedabad are pioneers in this trend.
As if Amdavadis — the Gujarati term denoting the residents of Ahmedabad — weren't already basking in this international spotlight, in 2017 Ahmedabad was recognized as a "UNESCO World Heritage Site," making it the first Indian city to make it to this envied list.
Given all these accolades, it isn't a stretch to assume that Gujarat will continue to remain a BJP bastion for a long time.
Shairee Malhotra is a widely published international relations professional with several years of experience working in the global think tank sphere in India and Europe. She has an MA in International Relations from Queen Mary University of London.