How the US Can Compete in 5G
Ironically, succeeding in the cutting-edge industry might require dusting off a precedent from the Reagan era.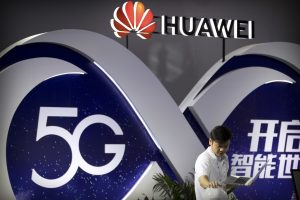 At the Munich Security Conference, U.S. Secretary of State Mike Pompeo, U.S. Secretary of Defense Mark Esper, and House Speaker Nancy Pelosi repeatedly hammered Huawei, trying to convince U.S. allies to forsake the Chinese company's 5G technology on national security grounds. "Huawei and other Chinese state-backed tech companies are Trojan horses for Chinese intelligence," Pompeo said. Esper repeated the call for countries to shun Chinese telecommunications equipment, saying "Huawei and 5G are today's poster child for this nefarious activity."
Despite American warnings about Huawei, the company continues to expand at a fast clip, accounting for the largest share of the global 5G market. Already active in many developing countries, Huawei is making inroads with U.S. allies; the United Kingdom recently elected to use Huawei equipment in its 5G networks, and Germany appears ready to follow suit.
The Trump administration seems unable to convince many likeminded countries to follow its lead in banning Huawei, partly because it has not offered a credible alternative to Chinese 5G technology. Although American companies produce some of the most advanced 5G software, they do not manufacture much of the hardware necessary to build digital infrastructures, limiting their global competitiveness.
Given the limitations of existing Western 5G providers, the administration is also considering trying to create American alternatives or supporting existing companies. Washington is contemplating funneling cash to European 5G providers Nokia and Ericsson, and Trump himself has reportedly lobbied American telecommunications companies like Oracle and Cisco to join the 5G fray by manufacturing the back-end radio access network (RAN) hardware.
Domestic telecom operators, however, have balked at entering the low-margin industry, claiming it's not worth their time or money. Instead, they remain focused on the more advanced and profitable areas such as the integrated chip platforms that are key components of RANs – Intel recently announced it would begin manufacturing its most advanced 5G chip yet. Though the administration floated creating a government-financed and -run 5G network, essentially nationalizing the industry, President Donald Trump himself recently shot down the idea.
To this point, the United States has relied primarily on market forces to compete in 5G technology, while China has taken a more state-directed approach. Heavy subsidies and favorable credit lines have boosted Huawei's global rollout, as has the company's willingness to operate in hazardous markets and appetite for low-profit projects. Prior to the outbreak of COVID-19, which has disrupted China's 5G rollout, Huawei planned to manufacture 1.5 million base stations, part of RANs, to support 5G connectivity. An increasing percentage of those base stations do not feature any U.S. components.
Clearly, in order to compete with such a company, American firms will need support, and the administration should take inspiration from the United States' approach to improving its competitiveness in the semiconductor industry over 30 years ago.
The Case of SEMATECH
In the 1980s, the United States faced the prospect of losing its position as the world's pre-eminent economic juggernaut to Japan. Tokyo was on a tear, assuming global leadership in industries from consumer electronics to cars.
One of the most concerning developments for the United States, however, was Japan's increasingly competitive semiconductor industry. Though the full range of uses for the new gadgets was not clear at the time, technologists and scientists alike understood that these complex chips would power a revolution in all manner of industries. It followed that whichever country made the best semiconductors would reap untold profits and drive technological innovation in the coming years.
U.S. companies had dominated the semiconductor industry until the 1980s but were increasingly losing market share to Japanese firms that benefited from cheaper capital, protected markets, and the ability to dump inexpensive chips and semiconductors in the United States. American producers of the machinery required to manufacture semiconductors were falling behind their Japanese competitors, making the American semiconductor producers evermore reliant on foreign equipment. Furthermore, as Japanese companies became more profitable, they began to overtake the United States in R&D investment, allowing them to further close the technological gap. Fearful of the economic and national security ramifications of losing both competitiveness in the industry and market share to Japanese firms, the U.S. government stepped in.
In 1987, the Reagan administration created SEMATECH, a government-backed consortium of 14 American companies, aiming to reassert domestic firms' global competitiveness. As explained in Rising to the Challenge: U.S. Innovation Policy for the Global Economy, the organization was formed following a failed, purely private effort to form a consortium. Through SEMATECH, Congress agreed to match industry contributions to spur greater investment in R&D that could help the U.S. semiconductor industry better compete with Japan.
The administration doled out heavy subsidies, violating some basic tenets of free market economics. But the public-private partnership allowed private companies to focus on "design, quality, and innovation," while still devoting considerable resources to "precompetitive research." This meant companies could continue to focus on highly profitable growth areas while maintaining their research and competition in the core industries that were needed to manufacture semiconductors.
While government-backed consortiums were not new, as many military-industry complex projects employed similar models, SEMATECH was innovative in its approach. It maintained management autonomy from the government, was led by a respected industry champion, and used a number of different organizational tools to prevent competition among its member companies (and the employees that private companies allocated to SEMATECH) from overtaking cooperative efforts. By 1993, just six years after the creation of SEMATECH, the United States once again held the largest market share of the global semiconductor market, overtaking Japan.
As of 2017, semiconductors were the United States' fourth most valuable export, and the industry employed more workers than the entire domestic steel business. That said, the success of the U.S. semiconductor industry over the past 30-odd years cannot be attributed to SEMATECH alone. U.S. trade policy that ensured a more level playing field with foreign competitors and Japan's fall from economic grace were other important factors. The consortium, however, played a critical role in revitalizing a struggling industry deemed central to U.S. economic and national security interests.
Lessons for 5G
If, as the U.S. government says, the presence of Huawei equipment in 5G networks could lead to Chinese espionage, either through poor security features or direct theft of information, the United States should do all it can to create a viable alternative. That will mean, as Elsa Kania recently noted, doing its best to "level the playing field." It's partly thanks to the efforts of SEMATECH that the United States even stands a chance at competing, because of its continued primacy and unparalleled advances in the semiconductor industry, which is vital to the creation of 5G networks.
By funding established companies, Washington can bear some of the cost burdens that currently inhibit domestic firms from manufacturing critical 5G hardware. Moreover, in supporting promising startups, the administration could finance software breakthroughs that negate the importance of such hardware, which would lessen Huawei's current advantage. While initially expensive, such an approach could boost U.S. competitiveness in the industry and allow it to compete on a global scale, offering both developed and developing countries an alternative to Huawei's equipment.
On top of the above advantages, a SEMATECH-like consortium would require firms to work together, which could lead to the creation of shared 5G standards and improved interoperability, or the ability of devices manufactured by different companies to work with one another. 5G technology is predicated on constant, fast exchanges of information, and a fully integrated American 5G architecture would go a long way in catching up to Huawei.
So far, Washington has focused its fight against Huawei by implementing stringent export controls banning U.S. companies from selling to Chinese 5G producers and limiting imports of Huawei technology. Recent developments, however, may indicate a step in the right direction. Congress recently approved new legislation that would provide $1 billion in funding for current users of Huawei and ZTE equipment to "rip and replace" it with what the government deems more secure technology. Furthermore, the Senate is considering a bill that would provide more than $1 billion for 5G-related R&D – a miniscule sum compared to the $15 billion Huawei spent last year.
While a SEMATECH-like approach would contravene the Republican Party's professed support of free market economics, Trump appears to care little about such dogma, as evidenced by his demands of increased Chinese purchases of U.S. goods. Furthermore, other Republicans, such as Senator Marco Rubio, seem to be coming around on the government's important role in economic decision making. A 5G consortium would solve many economic and national security issues facing the United States. Not considering the option would be foolish.
Lucas Tcheyan is a research analyst at the Carnegie-Tsinghua Center in Beijing.
Sam Bresnick is an editor at the Carnegie-Tsinghua Center.