In India, Kashmiris Face Deepening Discrimination
Already the subject of suspicion, following the abrogation of Article 370, Kashmiris in India have faced escalating prejudice.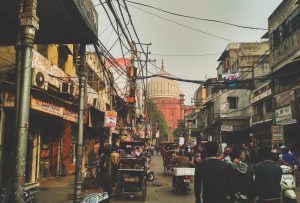 In August 2019, 24-year-old Umer Sofi, a resident of Jamia Nagar, was unexpectedly forced to leave his rented apartment. The reason for his eviction was his Kashmiri identity. He struggled to look for another apartment, not many people were ready to accommodate him.
Sofi's eviction happened around a week after the abrogation of Article 370 of the Indian Constitution. Like Sofi, many Kashmiris living outside Kashmir have been put in similar situations. 
On August 5, the Central government in India abrogated Article 370 of the Indian Constitution which had given special status to the state of Jammu and Kashmir based on an instrument of accession signed by Maharaja Hari Singh in 1947 according to which Indian government could make decisions in only three areas — foreign affairs, defense, and communication. In the eyes of many, Article 370 was a thread of trust that bound Kashmir with the rest of India.
Internet and communication services in Kashmir were blocked and a curfew was imposed. These measures haven been partially lifted but still continue seven months later. This gave rise to apprehensions and fear among Kashmiris living in as well as outside the state. Those living outside the state began facing problems in their day-to-day lives, including discrimination based on their identity while looking for accommodations. They are often either denied or are asked for inordinately high rents.
Since he first came to Delhi to study engineering in 2016, Sofi's experience with renting homes hasn't been good. 
"Before moving to Delhi, I had already spoken to a broker and made arrangements to stay in a flat for which I had also paid the security deposit. I had all my belongings with me and when I called the landlord, he told me that I cannot live there because I am from Kashmir. I was standing in the middle of the road with my luggage and didn't know where to go," he said.
Sofi had to live with friends until he found a place for himself. He repeatedly faced such problems but the situation worsened after Article 370 was abrogated. 
"I was living in one of the apartments in Jamia Nagar and my landlord asked me to leave the place for no reason. When I asked why he is doing this suddenly, his answers would vary every time. One day he told me that his relatives would live there and the next day he said that he wants to renovate the flat. I was given only two days to vacate the flat, after which I couldn't find a place until a month, of course due to my Kashmiri identity," he said.
Sabia Shah, a former college student in Delhi faced similar problems last year, because she was a Kashmiri and a woman who wanted to live alone. 
"While looking for my second house in Delhi, which I wanted to be in a quiet place, I faced rejection from a number of places. People living in quieter neighborhoods wouldn't allow Kashmiris at all, so I started looking for a place in populated areas with Muslim majority and there too I got similar reactions. It didn't matter to them if I'm a Hindu or a Muslim, all that mattered was that I'm a Kashmiri," she said.
From taunts to stereotyping and blatant discriminatory remarks, she heard it all. "'A Kashmiri girl who wants to live alone? For once it's fine that you will be living alone, but you're a Kashmiri.' These are the kind of reactions I got. Some would day bizarre things like 'last time we rented our flat to Kashmiris, they broke things in the house and kept it unclean.' Some simply wouldn't talk on getting to know that I am from Kashmir," said Shah.
Suspicious gazes follow Kashmiris everywhere. They are forced to prove their innocence at every possible step. Five years ago, Ahmar Zargar came to Delhi to pursue his bachelors in economics and back then he and his flatmate, who is also a Kashmiri, did not face any difficulties in finding a flat near Kalkaji Mandir where majority of population is Hindu.
Zargar lived there for two years. However, when he was looking for a flat last year after the scrapping of Article 370, he faced rejection at several places. "After hearing 'no' from several places, we found a flat in Ghaffar Manzil, where the landlord was a doctor. He agreed to rent his place to us and we thought that since he's an educated man he wouldn't discriminate but when we told him that we're from Kashmir, his tone shifted and he said he'll let us know. A few hours later, we got a call from the broker saying that the landlord is not comfortable with us living there because we're from Kashmir," he said.
Irfan, one of the brokers in Jamia Nagar locality has several times heard landlords asking him to give excuses to deny housing to Kashmiris. The reason he says is that they're suspicious because of the negative image of Kashmir and its people. "The owners think that Kashmiris might be involved in illegal activities, they're all scared because nobody wants to be stuck in any such case. I think that a few dirty fishes turn the entire pond bad, the same is the case here," he said. 
In a move to defending dilution of Article 370, Prime Minister Narendra Modi said that Kashmiris will have the same rights as the rest of the citizens of India. But soon after the abrogation many Kashmiris took to social media saying that several hotels denied them lodging citing that it is an order from the central government. "My friends and family members from Kashmir have been outrightly denied stay in hotels in Delhi after their ID proofs were checked. This has happened several times after the abrogation, despite it being against the law," said 23-year-old Mehreen, a college student in Delhi.
Hanan Zaffar, a research professional and journalist, says there's no fast-track key to solving this situation and that various factors are responsible for prejudice toward Kashmiris. "Discrimination while leasing homes, on basis of religion, caste and region has been normalized in Indian cities. People living in Hindu majority areas prefer renting their homes to Hindus from the same caste and same goes for people from other religions," he said.
Zaffar says culture, eating habits, and region are other factors that are looked at and that in Kashmir's case, people are suspicious individuals might have a certain political ideology, different from their own. "The discrimination escalates every time an incident involving Kashmir occurs like the Pulwama attack or the abrogation of Article 370. According to a report in Indian Express, Kashmir was the safest place for tourists in India because the crime rate there is very low compared to other states but often the media chooses to highlight only one side forming a negative image of Kashmir and Kashmiris," he said.
 Danish Pandit is a freelance journalist and student of Jamia Millia Islamia.