India's Assault on Muslims Is Rooted in Economic Incompetence
Modi is solidifying his core Hindu base because, with his economic record, he cannot count on support from a broader constituency.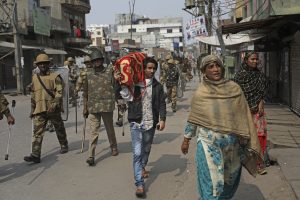 The recent riots in New Delhi left almost 50 dead and close to 300 injured, disproportionately impacting Muslims. In the aftermath, over 2,000 Muslims remain displaced because their homes, business, and neighborhoods were burned by Hindu mobs. All eyes are on the increasingly intolerant and nationalist narrative of the Hindu right and the inaction of the Modi government. But the recent assault on India's Muslim population is also rooted in the sluggish performance of the Indian economy.
Widely perceived to be India's economic savior, Prime Minister Narendra Modi has been anything but. In the last quarter, ending in December 2019, India's GDP grew at 4.7 percent, its lowest rate in seven years. But this poorer performance wasn't due to a global slowdown or fears stemming from the impact of the coronavirus, both of which had yet to take effect at that point. The reasons for the growth slump are structural and regulatory roadblocks, as India never built on the liberalization of trade and industrial licensing since the 1990s. More recent economic blunders by Modi, like demonetization and a very cumbersome and costly Goods and Services Tax (GST), have led to a serious economic contraction.
Last year, the periodic labor force survey conducted by India's National Sample Survey Office was suppressed by the government because it reported the 2017-18 overall unemployment rate at 6.1 percent — the highest in 45 years. The leaked version of the report brought even more alarming news: The unemployment rate for young urban men (aged between 15 and 29) stood at 18.7 percent; for young rural men, it stood at 17.4 percent. Unemployment rates among young women (15-29) in urban areas were the worst, at 27.2 percent. And unemployment is high despite a fall in the labor force participation rate from 55.9 percent in 2011-12 to 49.8 percent in 2017-18. The latest numbers from the Centre for Monitoring the India Economy paint an even bleaker picture, with the current unemployment rate at 8 percent.
With more than one-third of its 1.35 billion people between 15-24 years old, India has the world's youngest population. Thanks to the internet, young Indians have global aspirations, but fewer opportunities to find a job and fulfill those dreams. As India adds 10-12 million entrants to the workforce annually, without creating a similar number of jobs, future employment opportunities look even bleaker. For young men, especially upper caste Hindus, there's a real threat to their social standing. Many of these unemployed and underemployed young Hindu men join organizations like the gau rakshaks ("Cow Protection Army") to have a sense of social purpose and dignity — and to improve their relative status, compared to minorities, lower-caste Dalits, and women. They are a fringe group compared to the larger nationwide right-wing Hindu nationalist and supremacist organization Rashtriya Swayamsevak Sangh (RSS).
In her book Dreamers, Snigdha Poonam interviews gau rakshaks who proudly admit that instilling fear and beating up minorities (or anyone suspected of having beef in their possession) gives them respect within their community. Modi follows many such gau rakshaks and sangh members on Twitter, conveying the ultimate symbol of social status and respect. Even before the recent violence against Muslims in Delhi, India had seen many instances of Muslim mob lynching by gau rakshaks and sangh members lauded by the ruling political elite.
Liberalization since 1991 has lifted 270 million Indians out of poverty and improved incomes overall, but urban upper caste Hindus received the largest gains. As India's economic growth slows down and unemployment worsens, young upper caste Hindus coming of working age no longer have access to opportunities that line up with their aspirations. Unless India's growth and employment rates improve, we should expect the ranks of, and support for, gau rakshaks and sangh members to increase.
Unemployment and stagnating incomes have led to a broader change in the narrative and politics. In 2014, Modi's campaign slogan in Hindi was "sabka saath, sabka vikas," which loosely translates to "winning with everyone's support for everyone's development." But after the disastrous consequences of demonetization, GST implementation, and the overall gloomy economic sentiment, in 2019, Modi no longer campaigned on economic development.
Instead, the tone changed to more aggressive Hindu nationalism, promising to remove the special status of Kashmir and build a Hindu temple at the disputed site in Ayodhya. Unlike the reforms promised in 2014, which were never executed, Modi fulfilled the 2019 promises to the Hindu nationalist base with great alacrity last year. The Indian Citizenship Amendment bill excluding Muslims from neighboring countries, coupled with a long-rumored National Register of Citizens, is the next frightening step toward appeasing the Hindu base.
Modi is solidifying his core Hindu base because, with his economic record, he cannot count on support from a broader constituency. Consequently, the demographic dividend that India had earned with its large working-age population has turned into a communal nightmare with a sluggish economy.
Shruti Rajagopalan is a senior research fellow with the Mercatus Center at George Mason University.