New Southern Philippines Deployment Puts Brunei Security Engagements into Focus
The development highlighted Brunei's continued role in the southern Philippine peace process and its role in regional security issues.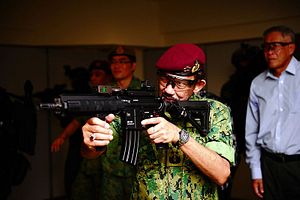 Last week, Brunei confirmed its deployment of personnel to the southern Philippines as part of an independent decommissioning body tied to the ongoing peace process there. The development spotlighted an aspect of the Southeast Asian state's regional security role.
As I have observed before in these pages, Brunei, Southeast Asia's smallest country by population, nonetheless continues to play an important role in the security realm, be it on issues such as the South China Sea where it is a claimant state or in terms of areas such as engagement of major powers including Japan, Britain, and the United States.
One of the aspects of this is Brunei's involvement in the southern Philippines peace process. Brunei has a few uniformed personnel that have been deployed, initially as part of the International Monitoring Team (IMT) headquartered in Cotabato city in Mindanao to help monitor the peace process ongoing in the southern Philippines since 2004. While the level of involvement has been relatively small, it has nonetheless been a manifestation of the Southeast Asian state's defense role as well as its ties with Manila on the security side more specifically.
Last week, Brunei's role in this respect was in the headlines again with the confirmed deployment of four Brunei personnel to the Philippines. In a ceremony, Brunei confirmed that it would be sending the personnel from the Royal Brunei Armed Forces (RBAF) for a tour of duty in Mindanao in the southern Philippines as part of the Independent Decommissioning Body Verification, Monitoring and Assistance Team (IDB VMAT) in Mindanao, which currently consists of other countries including Turkey and Norway.
According to Brunei's defense ministry (MINDEF), the deployment was confirmed via a ceremony held at Bolkiah Garrison Gymnasium. The ceremony was attended by a range of high-level officials including the RBAF commander, the permanent secretaries of the defense and foreign ministries, the service commanders, the defense attache from the Philippines, and other officials from the defense ministry and the RBAF.
MINDEF characterized the move as "another significant milestone for Brunei Darussalam in contributing towards the peace process in Mindanao." Unsurprisingly, the statement did not mention any further specifics, including the exact role that the personnel would have within IDB VMAT and what additional assistance if any Brunei would be providing in this respect. Even so, as we see wider developments in the Philippines in an important year for the peace process, the evolution of Brunei's presence will be significant to observe to assess how it plays out as well as its wider significance for the Southeast Asian state and for the process itself.