The Rise and Rapid Fall of Han Kuo-yu
'Taiwan's Trump' lost his presidential bid. Now Han could lose his mayorship thanks to a recall movement.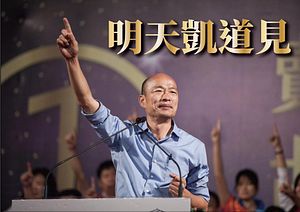 After the election of U.S. President Donald Trump in 2016, a wave of conservatism spread throughout other countries, making the victories of conservative candidates seem far more likely. In some countries, candidates who adopted Trump-style politics met with great success whereas others faced backlash.
Unfortunately for Kuomintang candidate Han Kuo-yu, his eerie similarity to Trump is, perhaps, one reason for his downfall during and after the 2020 presidential election in Taiwan.
Initially, Han grabbed Taiwan's attention when he exploded into the limelight as a fringe KMT player who unexpectedly won the 2018 mayoral election in Kaohsiung, Taiwan's second most populated city. This victory was surprising because Kaohsiung has long been considered a Democratic Progressive Party (DPP) stronghold, with its last KMT mayor being Wu Den-yih in 1998.
After announcing his presidential candidacy, early polls showed Han with a nearly 30-point lead over incumbent President Tsai Ing-wen of the DPP. But eventually, his popularity faltered and polls swung in the other direction, leading to Tsai's landslide victory in January 2020. Now, voters in Kaohsiung are calling for Han to be removed from the mayor's office.
During the campaign, Han was often described as "Taiwan's Trump," and with good reason. Han, like Trump, campaigned as an anti-intellectual, anti-elite "businessman," appealing to voters dissatisfied with mainstream politicians. Han had an early political career with a small spell in the Legislative Yuan during the 1990s. However, he took a long hiatus from politics with a foray into the business world, working his way from unemployed husband to general manager of the Taipei Agricultural Products Marketing Company. This position earned him the "businessman" reputation.
Both Trump and Han also employed nationalistic slogans to garner support throughout the campaign process. When Han thrice shouted "long live the Republic of China" during the first Taiwanese presidential debate in December 2019, the slogan quickly became a rallying call for supporters at KMT rallies as well as a tactic his opponents mocked. Han's slogan evoked the same nationalistic sentiment and response from Taiwanese people that Trump's famous "make America great again" slogan promoted throughout the United States.
The most troubling similarity between the two, however, is their tendency to threaten female opponents. During the first Taiwanese presidential debate, Han promised, "If elected, I will set up a special investigation team to investigate why Tsai's [Forward-Looking Infrastructure Plan] will cost NT$880 billion," implying she was using funds for other corrupt purposes. He said he expects anyone found guilty of corruption to be sentenced to life in prison without the possibility of parole and given only one meal per day (Han added that he would hold his own administration to the same standard of accountability). His ominous threat is reminiscent of Trump's promise to "instruct [his] attorney general to get a special prosecutor to look into" Hillary Clinton's email scandal, goaded by Trump supporters chanting "lock her up." Trump and Han both opted to discredit their female opponents through empty legal threats.
Although not directly endorsed by Han, his supporters promoted an unsubstantiated campaign claiming Tsai's doctorate from the London School of Economics was falsified. Some supporters went as far as to wear their doctoral gowns to Han rallies with signs that read "honesty and integrity" as a dig at Tsai. Of course, many will remember that before and during his presidential campaign, Trump asserted numerous times in tweets, closed-door conversations, and news interviews that "Barack Obama's birth certificate is a fraud."
But while Trump won the presidency, Han faltered. And now even the fruits of his previous election win are in jeopardy — Han faces a recall campaign in Kaohsiung. Han is accused of neglecting his mayoral duties and abandoning Kaohsiung during his presidential campaign.
Dr. Chen Te-Sheng, research fellow at the Institute of International Relations specializing in local government and governance studies, weighed in about the potential Han recall. Chen noted that a sentiment best summarized by the idiom "do not pursue a beaten enemy" exists in traditional Taiwanese culture. This sentiment might suggest that the people of Taiwan would be more tolerant, electing not to strike another blow against an unsuccessful presidential candidate. However, Chen stressed that realistic politics are not so simple; Han's political opposition will likely want to wipe him out in one fell swoop.
The recall effort is now in the third and final stage, with a referendum expected to be held in mid-June. A recall will succeed as long as a simple majority votes in favor, with participation from at least 570,000 people, or 25 percent of eligible voters. In Kaohsiung, over 1 million people voted for Tsai while only 61,896 voted for Han in the 2020 election. These green-leaning voters could prove to be a threat to Han.
It looks like the future of Han's mayorship is in danger. Taiwan has never successfully recalled a mayor; if the recall passes, it will mark a historic moment for Taiwan.
Only time will tell if Han, like Trump, will successfully evade removal from office. However, so far the most striking difference between the two is that Trump has continually triumphed while Han has faltered.
Dominique Reichenbach is a Boren Scholar based in Taipei. She currently works as a research intern and teaching assistant at National Chengchi University. The views expressed in this article are hers alone and do not represent the official policy or position of the National Chengchi University or the Boren Scholarship program.