Uneven 'Extremism' Justice in Kyrgyzstan
In Kyrgyzstan, there are people serving time for a crime no longer in the books.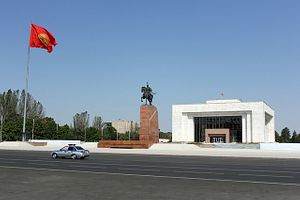 Each week, a young man who sells shoes at a market in southern Kyrgyzstan loses a day of work to travel to the open prison where he is serving a three-year sentence. But the crime for which he was convicted, possession of "extremist" material, no longer exists.
When Kyrgyzstan overhauled its criminal code in January 2019, it decriminalized the possession of videos, pamphlets, songs, and other material the authorities label extremist. The charge had been widely used to imprison people for nonviolent behavior, such as practicing fundamentalist interpretations of Islam, or for even more innocuous legitimate activities. Since then, possession of such material can be treated as a crime only if the accused disseminated it or showed an intent to do so.
Kyrgyzstan has stepped up efforts to counter violent extremism in recent years in response to hundreds of its citizens joining extremist armed groups in Iraq, Syria, and Afghanistan. But its crackdown has led to serious abuses. The country's overly broad definition of "extremism," for example, includes acts of "hooliganism" and "vandalism," allowing it to be misused against political and other targets.
In 2018, Human Rights Watch found that Kyrgyzstan's offense of "possession" in particular resulted in hundreds of people being convicted and imprisoned for up to five years for possessing material that contained no call for ideologically or politically motivated violence. Many of those convicted said they were unaware that they were committing a crime. Human rights law incorporates the principle of legal certainty, which requires defining a criminal offense clearly enough that a person would know when they are violating it.  
While overhauling the criminal code in 2019 was a positive move, there is clear cause for concern about how the changes are being carried out. A colleague and I examined the cases of eight people, including the young shoe salesman. We concluded they did not receive a fair review of their cases after the possession of extremist materials was decriminalized. 
The shoe salesman's saga with law enforcement began a week after his wedding, in June 2017. The police seized his phone during a house search, and said they found songs on it from two groups banned as terrorist, which contained lyrics deemed extremist. The songs were in Arabic — a language the shoe salesman says he does not understand. "I spent my honeymoon in pretrial detention," he said. He was sentenced to three years in a minimum-security prison that allows prisoners to live at home for purposes of employment, as long as they pay a monthly fee to the penitentiary system and check in once a week. 
In early 2019, he learned from prison officials that possession of extremist material was no longer a crime. They told him he could write a letter asking a judge to review his case and that he would be assigned a state lawyer.  
After writing the letter, he said: "I never saw this lawyer… (Prison officials) said it will happen, wait, it's being reviewed." 
Only six months later, when he sought help from an independent lawyer, did he learn that a regional court had rejected his petition. In October, Kyrgyzstan's Supreme Court rejected his appeal. The judge ruled that he showed intent to disseminate the materials even though there was no mention of this in his 2017 conviction. People have a right to a fair trial, and the prohibition of double jeopardy guarantees that nobody should be tried or punished again for an offense for which they were already convicted. But in cases like this, in addition to reviewing cases without even notifying the person involved, Kyrgyzstan's courts appear to be retroactively substituting a conviction for one offense with another, completely flouting fair trial standards. 
In January, we requested information from the Justice Ministry, the Supreme Court, the General Prosecutor, and the State Penitentiary Service of Kyrgyzstan asking how many people were still serving sentences exclusively for possession of extremist material. We also asked why courts can substitute a conviction and sentence for a cancelled offense with another one for an offense still on the books, but did not receive a response.
Continuing to serve a sentence for an act that is no longer a crime can result in severe hardship even for those who are serving sentences in open prisons. Five people we interviewed who were still serving sentences said they had to spend anywhere from four hours to a day each week to check in. They were paying monthly fees into the penitentiary systems of around 2,000 soms ($28), a burden to a family earning only 10,000 soms ($140) per month. One man, a builder, said he had gone into debt to keep up with payments.
Under Kyrgyzstan's law, people serving prison sentences for terrorism or extremism offenses can also be added to a blacklist that effectively freezes their assets, and several people we interviewed said they had struggled financially as a result. They all were barred from traveling abroad, limiting their ability to seek employment or visit relatives, and all said they were emotionally burdened by the criminal convictions still hanging over their heads. They feared that they could be charged again at any time —this time as repeat offenders with heftier sentences. 
One single mother, whose 2017 sentence for possession of a video deemed extremist was postponed because she has young children, has yet to serve time in prison. But her conviction was upheld by a regional court last year, and unless she is vindicated by the Supreme Court, she will go to jail as scheduled, when her oldest child (now 8) turns 14. "The sentence is hanging over me — I feel it, my children feel it, [the fact] that I could go to prison."
New cases brought since the January 2019 criminal code reforms suggest some questionable practices continue. Specifically, lawyers expressed concerns that courts are adopting an overly elastic interpretation of "intent to distribute" material they deem extremist to circumvent the 2019 decriminalization of possession alone. 
Kyrgyzstan should ensure that anyone serving a sentence for possession of extremist material has an effective and prompt review of their conviction, with the assistance of legal counsel. The review needs to be fair, and courts cannot be allowed either to retroactively change the offense for which a conviction was handed down, or to place the person in double jeopardy. It should also narrow the definition of extremism to ensure that those exercising their right to freedom of expression, as protected under international law, do not become victims of these overbroad measures. 
Kyrgyzstan's partners should ensure that their security and counterterrorism cooperation is not marred by a partner's abusive practices. International organizations including the UN and the Organization for Security and Cooperation in Europe (OSCE), as well as the European Union and its member states, in their dealings with Kyrgyzstan, should require measurable improvements in the country's protection of people's rights in cases of suspected extremism. 
People serving sentences for the defunct offense of possessing extremist material should not continue to pay for a crime that never should have been on the books to begin with. Rather than perpetuate this abuse, Kyrgyzstan should fix its system, and not just on paper.
Laura Mills is a Europe and Central Asia researcher at Human Rights Watch.