Virtual Foreign Ministers' Meeting Highlights Indonesia-Malaysia Cooperation Amid Growing Coronavirus Challenge
The engagement spotlighted the development of ties amid wider domestic and regional changes.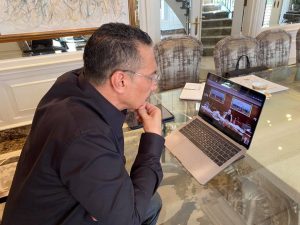 Last week, the foreign ministers of Malaysia and Indonesia held a virtual meeting amid the rise of a new government in Malaysia and the rising global coronavirus pandemic. The meeting put the spotlight on how the bilateral relationship is evolving amid wider domestic and regional developments.
As I have pointed out before in these pages, despite some disagreements that they continue to manage – ranging from the treatment of domestic workers to illegal fishing to the outstanding Ambalat dispute – Malaysia and Indonesia, the two major Muslim-majority Southeast Asian states, do maintain a healthy overall relationship. Yet the relationship has been developing amid significant change in recent weeks, with the advent of a new government in Malaysia following the sudden collapse of the Pakatan Harapan government last month as well as rising coronavirus cases in Southeast Asia.
Last week, the bilateral relationship was in the spotlight again with the holding of a meeting between the two foreign ministers. Indonesian Foreign Minister Retno Marsudi and Malaysian Foreign Minister Hishammuddin Hussein held a meeting, conducted through videoconference due to the global coronavirus pandemic, at their respective offices last Friday.
During the 45-minute video conference, both sides discussed a range of issues, including the postponement of Prime Minister Muhyiddin Yassin's visit to Indonesia and the status of the ASEAN engagements this year. This was the first official interaction between the two ministers since Hishammuddin's appointment to his position.
Unsurprisingly, per the official accounts of the meeting by both ministers, the meeting was dominated by the discussions regarding COVID-19 – with Malaysia currently having the highest number of reported cases in Southeast Asia and Indonesia having the highest death rate. Hishammuddin said "the majority" of the meeting was focused on sharing experiences of both countries, including handling stranded citizens abroad and managing outbreak from clusters, including those linked to a religious gathering in Malaysia that has been in the headlines. Marsudi added that the two sides had agreed on cooperation on the coronavirus occurring both bilaterally as well as "in the framework of ASEAN."
To be sure, not much in the way of specifics were publicly disclosed about the private deliberations, and we will have to await more meetings between the two sides to assess how Malaysia-Indonesia relations are playing out amid the aforementioned domestic and regional developments, including potentially between Muhyiddin and Jokowi. Nonetheless, the interaction between Hishammuddin and Marsudi helped spotlight the evolution of this bilateral relationship amid these broader events and the continuity and change therein.